Why You Need To Plan A Girl's Getaway
Unless you were hiding under a rock or went to Mars, you've seen, heard of or binged watched every episode of Sex and the City – and if they taught us one thing it was that we wanted to live in New York City and be fashion queens. Wait, no that's not where I was going with this…it was that while spending time with your significant other, acquaintances, and children is important, every woman needs some quality "girl time" – some? Ok lots. As Carrie Bradshaw said, "Friends don't magically last forty years; you have to invest in them. It's like your savings: you don't expect to wake up one day when you're old and find a big bucket of money waiting there." Scheduling in some quality time with your besties doesn't have to be elaborate – you don't have to fly to New York and recreate 6 seasons in one weekend – a few simple (but still fun) days away is all you need. With our annual Girlfriends' Getaway Weekend coming up in November, we thought we'd list the best reasons why getting away with your girl's is a need, not a want.
Plain old fun without a schedule! It's YOUR weekend with the girls which means you girls can do whatever you want whenever you want. No need to think about rushing home to make dinner, or the dirty dishes in the sink, or calling your partner to tell them you're running late or anything outside of catching up with your besties, drinking that glass of wine sitting in front of you and planning your outfit for the night (did someone mention Wonder Women – Unleash Your Inner Super Hero party?). Yes, there may be lots you want to do over the weekend, but don't stress because at the end of the weekend the only thing that matters is that you made time for each other.
Indulging in the second dessert or that third glass of wine – with no judgement. These are your BEST friends, they don't care if you have that second piece of chocolate cake or another glass of wine – in fact, they are probably right behind you. Whether it's a 3-course sit down dinner or a relaxed buffet dinner (because it's all about 'Ourselfies') that has all the goodies you want, you don't need to hold back on a girls' weekend – if you did, your friends would know…
Retail therapy. Shopping helps work anything out, adding in your friends, now that's a recipe for success. Find a sexy dress you so desperately want, but talk yourself out of? They'll talk you into it – and that's something we all need. Need an honest opinion on anything – sweaters, jeans, new lingerie – they'll give it to you without any hesitation. Our onsite girlfriend's marketplace has amazing local vendors so you can find that pièce de résistance, then head to downtown Huntsville and browse the many local shops – you might as well as take advantage of having your own personal panel of judges right there to help you decide what to buy.
Becoming dancing queens again. Yah we know all you want to do is pretend like you are starring in Mamma Mia…and you can! Just because you are not 19 anymore does not mean you can't hit the dance floor like you used to. With the Friday night party: "Wonder Women – Unleash Your Inner Super Hero", fitness workshops like Army of Sass – Heels Dancing and the Saturday night concert with the "Let's Get Wild" after party you'll have moves better than 'Jagger'.
You guessed it, boy talk. No matter how old you are, boy talk never gets old and always finds itself into any girls' weekend. You need it.
Too much going on in life to plan a girl's weekend? Our annual Girlfriends' Getaway Weekend helps make planning easy – all you have to do is set aside the date and book. Our weekend packages include; accommodation, a themed party, some meals, fitness and workshops, onsite marketplace, shuttles to downtown Huntsville and Saturday night concert, and this year's special guest is MOON VS SUN featuring Raine Maida and Chantal Kreviazuk. So call up your girls and start planning – you've still got over a month! Learn more about Girlfriends' Getaway Weekend here.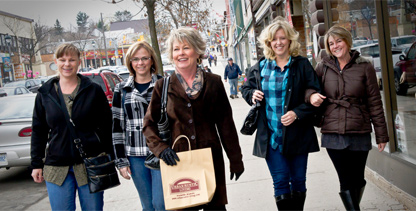 Photo credit Kelly Holinshead
"Maybe our girlfriends are our soul mates and guys are just people to have fun with. " – Carrie Bradshaw
Posted October 7, 2015 by Ainsley Theis