Easter Weekend Maple Madness at Deerhurst Resort
Experience the Magic of Maple this Easter Weekend at Deerhurst
Why celebrate Easter the regular old way when you can head to Muskoka and take part in Deerhurst Resort's Easter Weekend Maple Madness? Chock-full of fun, the weekend aims to bring a decidedly Canadian touch to Easter celebrations, which fall right in the thick of maple syrup season. 
Roll Your Own Maple Taffy
Kids – and adults can enjoy maple themed activities like 'roll your own maple taffy' on the patio of the resort's aptly named Maple Pub & Patio, while relaxing by an outdoor campfire, learning about the syrup making process and watching maple sap boil down to create that 'liquid gold.'  Guests can even visit the resort's own sugar shack to see the modern evaporator at work boiling down sap from 2,000 taps in the surrounding hardwood maple forests.  
Family Fun Cooking Demos – with Maple!
Families can also take part in daily cooking demos led by the chefs at Deerhurst Resort and learn new tips and tricks for cooking with kids. And the best part? The chefs are cooking up everything maple!
Easter Egg Hunt + The Search for the Golden Eggs
You've got to have an Easter egg hunt over Easter which takes place on Saturday afternoon for the kids, but Deerhurst is doubling the fun with a weekend-long golden egg hunt where resort guests will have the chance to win an overnight stay. Adults (and kids) will be searching high and low for these special eggs! 
Fun Both Inside and Outside
With spring weather in the forecast, families can enjoy guided treks to Deerhurst Resort's lookout where sweeping lake views are in high supply. Or head over to the stables and mingle with new furry friends at the petting farm. A kid favourite is the Kids'n Ponies program offered at the stables where kids get to learn horsemanship skills as party of their ride experience. 
Back inside, Deerhurst has an activity line-up that will guarantee fun whatever the weather. From a giant inflatable playzone to arts & crafts, colouring contest and of course their feature entertainers Brent & Sarah's Comedy Magic Show happening Saturday night, families will have a blast both inside and outside.
A perennial favourite in Muskoka, Eclipse Restaurant will also be offering their famous Easter Sunday Brunch at additional cost, where kids and kids at heart can enjoy bountiful breakfast goodies including a chocolate fountain – hey it's Easter right? 
Book the Easter weekend package at Deerhurst Resort and enjoy tons of free activities starting from just $139*/night.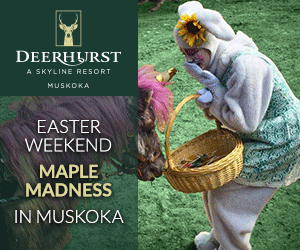 Posted March 2017 by Ainsley Theis.