World Water Ski Show Tournament 2018
World Water Ski Show Tournament
September 7 – 9, 2018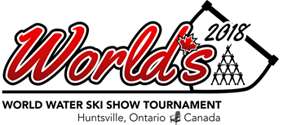 The World will be watching when top show skiers from Australia, Belgium, China, Germany the US and of course Canada show up to Huntsville, Ontario to compete for the title of World Waterski Show Team Champion September 7 – 9, 2018.
The 2018 tournament hosted in Huntsville, Ontario, will be the first time the World Championship will be held outside of the US. The tournament will host over 250 athletes and 5,000+ spectators throughout the week of the tournament leading up to the podium ceremony on September 9. Throughout the tournament over 175K webcast viewers will watch the opening ceremonies and two days of ski shows by each country. Past tournaments have brought in over $2 million to the local community.
Opening ceremonies take place September 7 at 6:30pm and are open to the public. Tickets for the two competitive tournament days can be purchased online here. 
Read more about the tournament in this article here.