Book Direct for Our Guaranteed Best Available Rate:
BOOK NOW
The Spirit of Tom Thomson Package
The Spirit of Tom Thomson – SOLD OUT
A Weekend of Art & Algonquin Adventures
Presented by Eclipse Art Gallery and Deerhurst Resort
September 20 – 22, 2019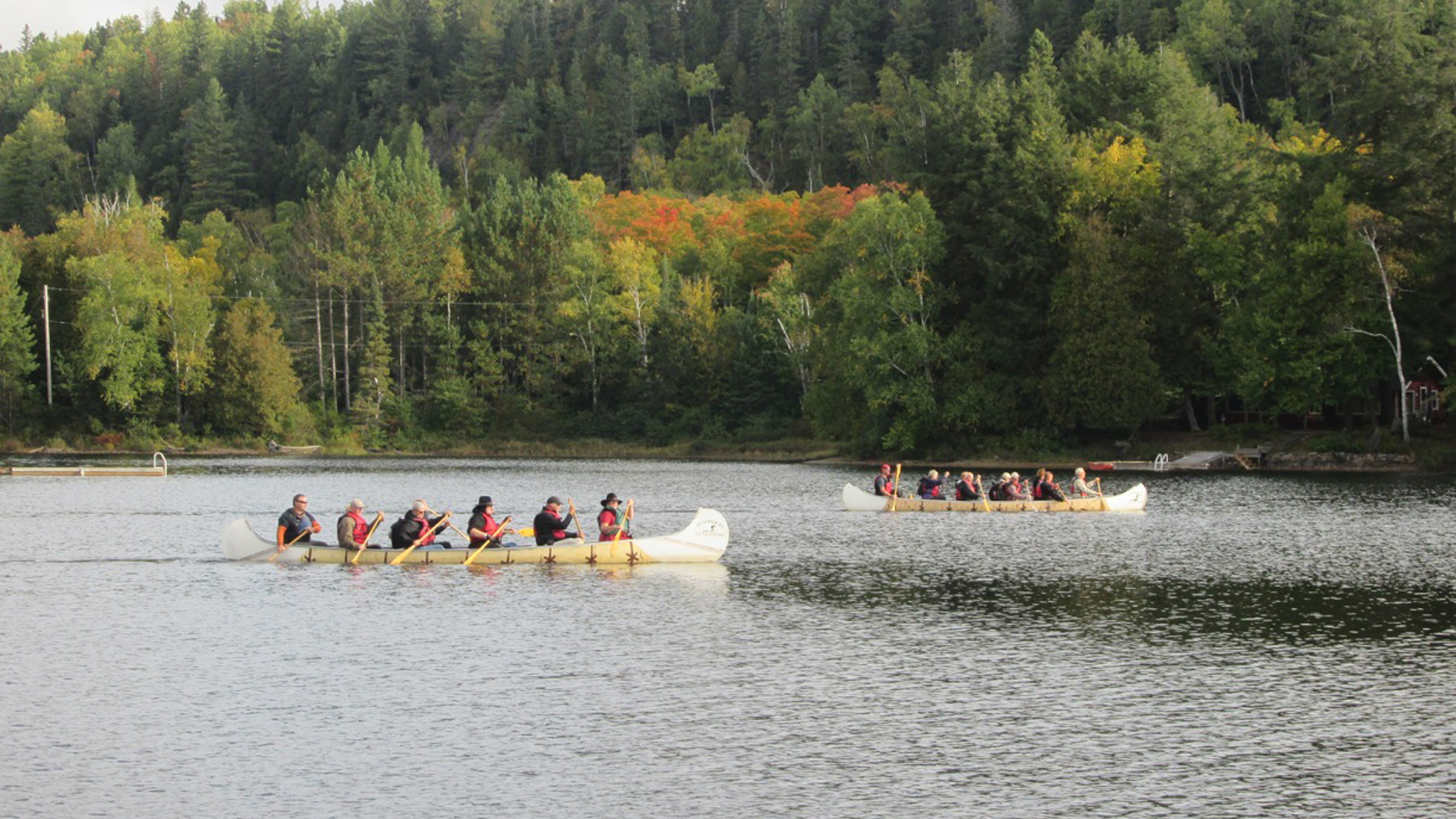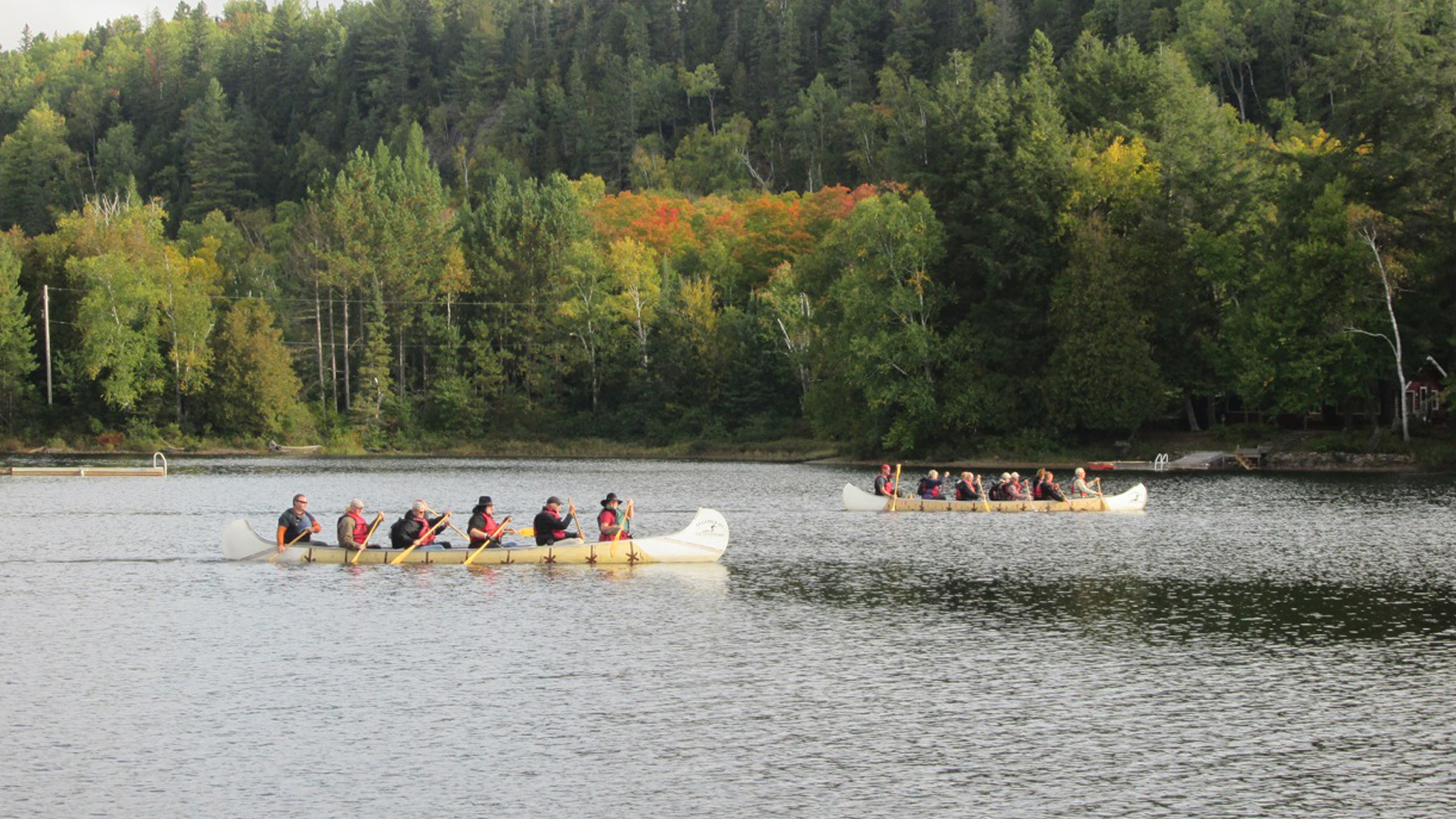 Eclipse Art Gallery and Deerhurst Resort invite you to follow in the footsteps of legendary artist Tom Thomson whose mysterious death in Algonquin Park has intrigued both art and wilderness lovers for over a century. 
This unique weekend experience starts on Friday evening with a wine reception in the Eclipse Art Gallery at Deerhurst Resort, where a bust of the legendary painter will greet you along with gallery manager, Karin Kriekaard and your artist guide for the weekend, Gerry Lantaigne.  The founder of Huntsville's Group of Seven Outdoor Mural Gallery and a respected artist in his own right, Gerry is both passionate and knowledgeable about Tom Thomson and the influence of Algonquin Park on his art. 
On Saturday morning, join Gerry and Karin for guided paddle in an 8-person canoe on Thomson's cherished Canoe Lake in Algonquin Park where you'll visit some of Thomson's favourite painting spots and stop at his memorial cairn.  After a picnic lunch, head back to the resort for an afternoon paint & sip session where you can unleash your own creativity by re-creating a small Tom Thomson painting under Gerry's guidance. The weekend will wrap up on Sunday morning with a leisurely Group of Seven outdoor mural tour through historic downtown Huntsville, starting at the live size bronze statue of Thomson with his paintbox, canvas and canoe at the ready, at Huntsville's town hall. 
During your stay, you'll also be treated to the Eclipse Art Gallery's art show, 'Crazy About Muskoka' right within the Deerhurst premises. Eclipse Art Gallery is well known in the area for showcasing beautiful works either by Muskoka artists or about the natural beauty of Muskoka and Algonquin Park. 
Two-night package includes:
Two nights shared accommodation
Breakfast buffet Saturday 
Friday welcome reception – 7:30pm – 8:30pm 
Saturday guided canoe trip in Algonquin Park  including: transportation from Deerhurst to Algonquin Park, park permit, canoe rental, guides, picnic lunch and return transportation. Departs resort at 8:15am. Canoe trip (in 8-person canoes) approximately 2.5 hours on the water.
Saturday afternoon painting class with a glass of wine at 4pm (approximately two hours)
Sunday morning Group of Seven Outdoor Mural tour in Huntsville – 11am – 12:30pm. (Transportation not included.)
From $364*/person for two nights, based on double occupancy
A nightly resort fee provides additional benefits and services like use of canoes, kayaks and SUP boards at the resort and green fee at Deerhurst Lakeside after 4pm.
Attire: Hat, comfortable shoes, weatherproof jacket, gloves for paddling, sunglasses and sun screen
NOW SOLD OUT 
Dinner is additional to the package – please see dining options and reservations information here.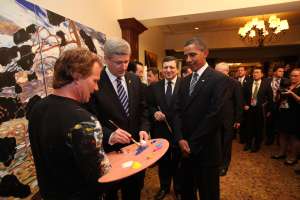 About Artist Guide, Gerry Lataigne
Gerry Lantaigne is a graduate of The Ontario College of Art and Design, where he spent three years studying set design and scenic painting at the college's off Campus Program in New York City. Gerry has applied his skills in the sign and mural industry in Toronto and Montreal. In 1997 Lantaigne created The Group of Seven Outdoor Gallery located in the Huntsville/Lake of Bays and Algonquin Park areas which features over 80 murals in the collection to date. The success of the Outdoor Gallery brought him face to face with the World Leaders during the G8 Summit at Deerhurst Resort in 2010, where he instructed them on adding their own brush strokes to his replica of Tom Thomson's The West Wind.
About Eclipse Art Gallery
Eclipse Art Gallery has been proud to work with Deerhurst Resort since 2004 presenting works of many local and area artists celebrating the beauty of the northern landscapes in Muskoka and Algonquin.  The works of these artists, which include painters, sculptors, jewellry designers and photographers, are displayed throughout the resort's hallways and in the main gallery space and are available for purchase. 
The gallery's current exhibit, "Crazy About Muskoka" runs thorugh September 21. No visit to Deerhurst is complete without a visit to the Eclipse Art Gallery. 
Visit Eclipse Art Gallery's Webpage
*Package rate is per person based on double occupancy (two adults per room). No children's pricing. Rates shown are applicable to select accommodation, and may fluctuate based on dates and availability. Subject to availability and minimum stay requirements. (i.e. two night stays may be required on select weekends). HST and resort fee are additional.
Deerhurst Resort is not responsible for any package components or recreational facilities made unavailable due to weather and/or circumstances beyond our control. Advance booking is recommended for show, spa and other recreational activities. For complete details, including our deposit and cancellation policy, please click here.