Book Direct for Our Guaranteed Best Available Rate:
BOOK NOW
Your Deerhurst Experience This Year
Our Commitment to Covid Safety for Our Guests, Hosts and Community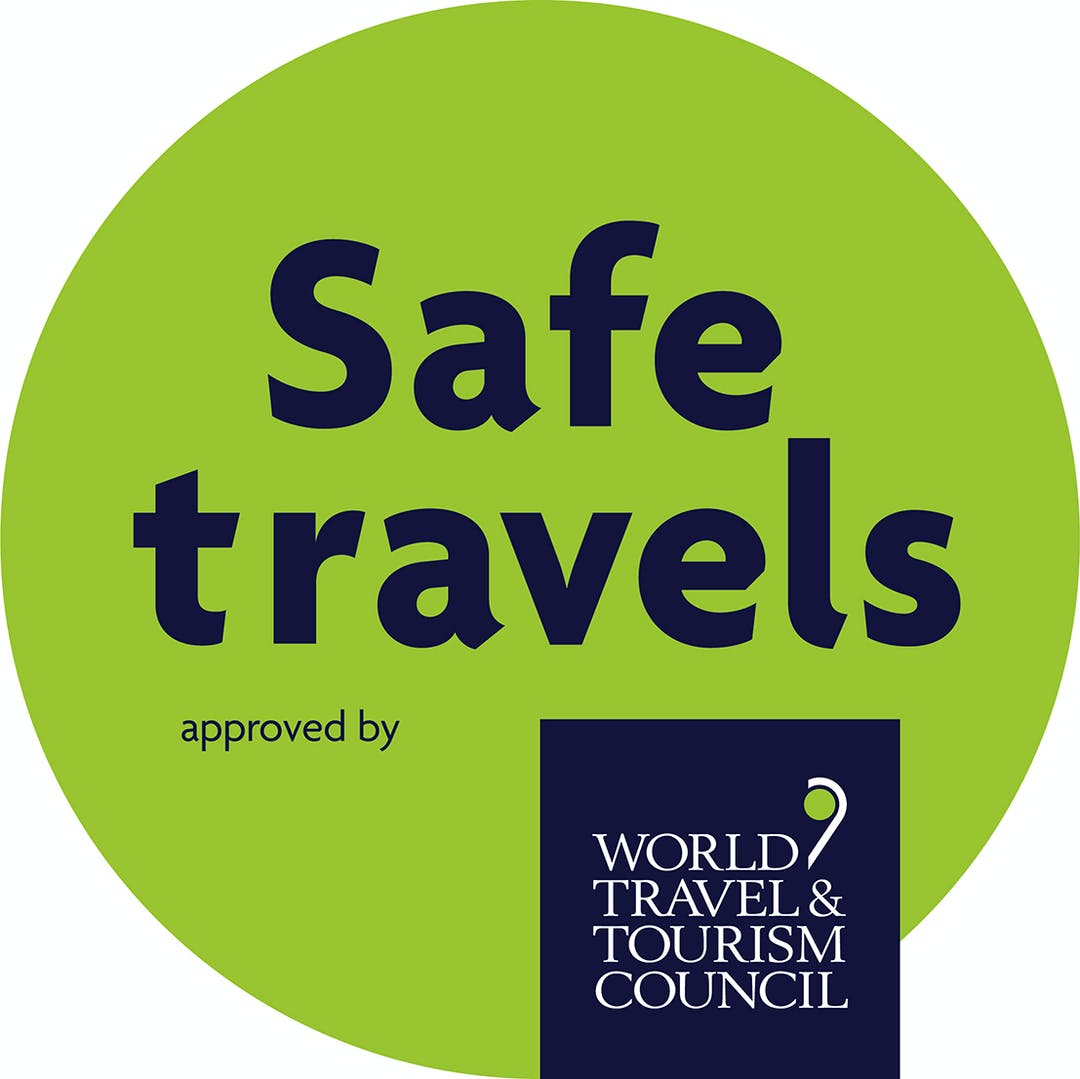 Deerhurst Resort has been awarded the Safe Travels Stamp for practising the standardized global health and hygiene protocols of the World Travel & Tourism Council (WTTC). The Safe Travels Stamp is an international symbol designed to allow travellers to recognize companies around the world who have adopted the WTTC's health and hygiene protocols. For more information, click here.
How Your Deerhurst Resort Experience Has Been Tailored to These Times
While the resort experience has been altered somewhat to ensure Covid prevention measures are in full force,  everything you love about Muskoka – the lake, natural beauty, fresh air and cottage country relaxation – are available for you to enjoy,  just as it has since Deerhurst opened in 1896.  Be assured that we are taking the utmost measures for the safety and comfort of our guests, our hosts and our community and entrust any 
PROVINCIAL COVID MEASURES LEVEL
As of November 23, 2020, the health unit region where Deerhurst is located, Simcoe-Muskoka, is at the Restrict (intermediate measures) – Orange level within the Ontario provincial designations. Updated restrictions are noted below but see complete provincial information here. 
KEY MEASURES IN PLACE:
Temperature checks and screening are required prior to check-in or entering any resort restaurant. Should anyone in your party have symptoms, been in contact with a confirmed or possible Covid case, traveled outside the country or have a temperature of 38C or higher, we will be unable to permit entrance as a safety precaution for all our guests and hosts. Guests with a fever or other symptoms will be required to depart the resort, isolate and seek medical attention.
In restaurants maximum seating per table is 4 people. Social distancing and limited capacity in of 50 people in effect for all restaurants. Servers wear face shields or eye protection in addition to face masks.  Contact information for all patrons is collected and kept for one month, to be disclosed only to a medical officer of health when required for contact tracing. 
Alcohol can only be served between 9am and 9pm. All restaurants to close at 10pm, with no consumption of alcohol allowed after 10pm. 
Face masks are required in indoor public spaces as mandated by the Simcoe Muskoka Health Department. Please be prepared to wear a face mask at any public indoor space at the resort including the lobby, hallways, washrooms, spa or in restaurants when not seated.
All guests and hosts (staff) will be required to follow Covid measures including wearing face masks in inside public spaces, social distancing, hand washing hygiene and staying home and seeking medical attention if feeling unwell
All hosts are required to complete and pass a screening test prior to arriving at the resort 
All hosts will wear face masks or face shields in public areas
Frequent disinfecting of all high touch areas
Hand sanitizer stations at key traffic areas and entrances
No housekeeping service in guest rooms during stay 
Curbside Menu take out (guests and public) and delivery service to guest rooms 
Specific chaise lounge and Muskoka chair placement to ensure social distance at waterfront 
Debit or credit payment only; no cash transactions
No resort shuttle service 
Limits for organized gatherings in staffed facilities is 50 people indoors, with social distancing in place. 
WHAT TO BRING:
Personal supply of hand sanitizer or wipes
Your own face masks or other PPE if using them
Your favourite board games! (Deerhurst will not be lending board games since they cannot be effectively sanitized)
Grocery staples if staying in a unit with kitchen facilities to avoid local grocery trips
RESORT ACCESS: 
Please be aware that Deerhurst's waterfront and grounds are for the exclusive use of resort guests and homeowners.  Especially with social distancing limiting capacity, no outside visitors are permitted to use amenities that are provided through the resort fee, even if visiting registered guests. This is to ensure all guests can fully enjoy the facilities they are paying for. Thank you.

GUEST WRISTBANDS are required to access the waterfront, grounds and the activities and benefits included with the  resort fee. Guests five years of age and under will not need to wear a wrist band. Separate  wristbands are provided for waterfront activities after signing a waiver.