Meeting Ideas To Fall For
Looking for new ideas on where to take your next meeting this fall? Why not get out of the office and start inspiring your employees and colleagues to think differently by providing a change of scenery.
Fall in Muskoka is incredibly breathtaking – and a great way to bring about new ideas, strong connections and a sense of reward.
Incorporating Muskoka's natural surroundings into your meeting is easy when it's (literally) all around you. Here are the top 5 ways to colourize your next meeting.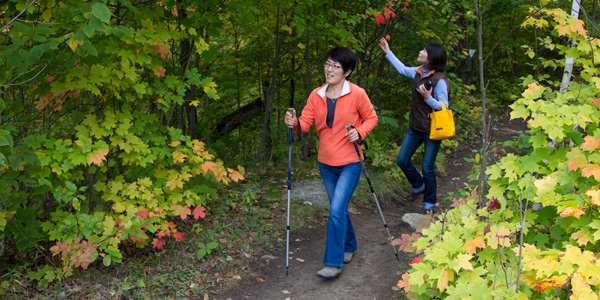 1. Fall Colours Cruise
Explore the lake and catch all the reds, yellows, oranges and blues on a scenic boat cruise. Seeing all the fall colours reflect off the blue lakes is a stunning sight, and is made even better by cruising the lake. Boat cruises are a great option for small groups or executive retreats.
2. Wilderness Hike
Going on a group hike is a great team building exercise that is fun and an activity everyone can take part in. Deerhurst Resort offers two trails – Lookout Trail and the New Sanctuary Trail that provide great views, and are easy to moderate in difficulty. Another great lookout trail is located in the Town of Huntsville and offers sweeping views of the town and surrounding lake. Or head to nearby Arrowhead Park, or the Dorest Fire Tower – which is quite the hike up but worth it for the view. Looking for a guide? Adventures in Excellence can help organize a group hike, so you don't have to worry about getting lost!
3. Treetop Trekking
Where better to see all the fall colours than, well, being immersed in them? Treetop Trekking in Huntsville offers groups the chance to zip, climb and stride on an unforgettable journey through the Muskoka forest. Be among the trees and enjoy innovative games like suspended bridges, Tarzan swings, monkey cables, balancing logs, zip lines and so much more. A wide range of courses accommodates all skill levels – so everyone is bound to have fun while catching the colours from the best spot possible!
4. Day Trip to Algonquin Park
Algonquin Park is well known for some of the most spectacular fall colours in Canada and it brings tourists from all over. Just a short drive from Huntsville, it's worth the trip – especially midweek when it's less busy. There are great hiking trails right off of HWY 60 to see all the fall colours and local tour operators like Algonquin Adventure Tours are great for small groups or executive retreats. Adventures in Excellence also provides group canoeing, hiking and biking excursions in Algonquin Park, which include transportation, snacks, drinks and a guide.
5. Classic Muskoka Bonfire
Take in the fall colours while watching the sunset with a group bonfire. It's a great way to catch up after a day of meetings, and a time to sit back and relax together. Deerhurst Resort just created new Muskoka Theme Events which makes incorporating the authentic Muskoka experience, like a Muskoka craft beer night easy! Offering classic Muskoka theme dinners, bonfires and great add-ons like live music on the beach, taking your fall meeting outdoors is easy – and fun!
So when planning your fall meeting – think Muskoka!
Ready to start planning your fall meeting? Submit an RFP here or connect with a group sales manager at 1-800-461-6522 | meet@deerhurstresort.com.
Posted August 2016 by Ainsley Theis.
---