Eclipse Art Gallery at Deerhurst Resort
Eclipse Art Gallery at Deerhurst Resort
We'd like to extend a warm welcome to Eclipse gallery!
Our unique art collection is beaming of wonderful artwork by our favourite artists but also by new members in our gallery family.
Our art show is titled 'Back to Normal'.
As we all agree, we have been in a confusing and restless period. Our artists have felt this very much so and have poured their energy and (artistic) emotions into their art while isolating. Viewing the artwork, you will recognize that the subject matter often shows the solace and personal reflection the artist put into the work while creating. We hope that these great art pieces will bring you a feeling of peace and wellbeing here at the gallery and maybe at your home!
The gallery is open to the public and we are inviting you to come and visit and view the artwork at your convenience.
Please contact us if you would like to meet our staff for personal assistance and to purchase artwork. We are at the gallery from 9.30 am until noon and by appointment in the afternoon.
You can call, email or text us to set-up a time convenient for you at:  705 783-2579/
info@eclipseartgallery.ca
  or ask our front desk team members for immediate assistance. Guests are always welcome to stroll around the gallery to enjoy the art work anytime during the day or evening.
The Last Taxi – Lori Meeboer
30″x40″ acrylic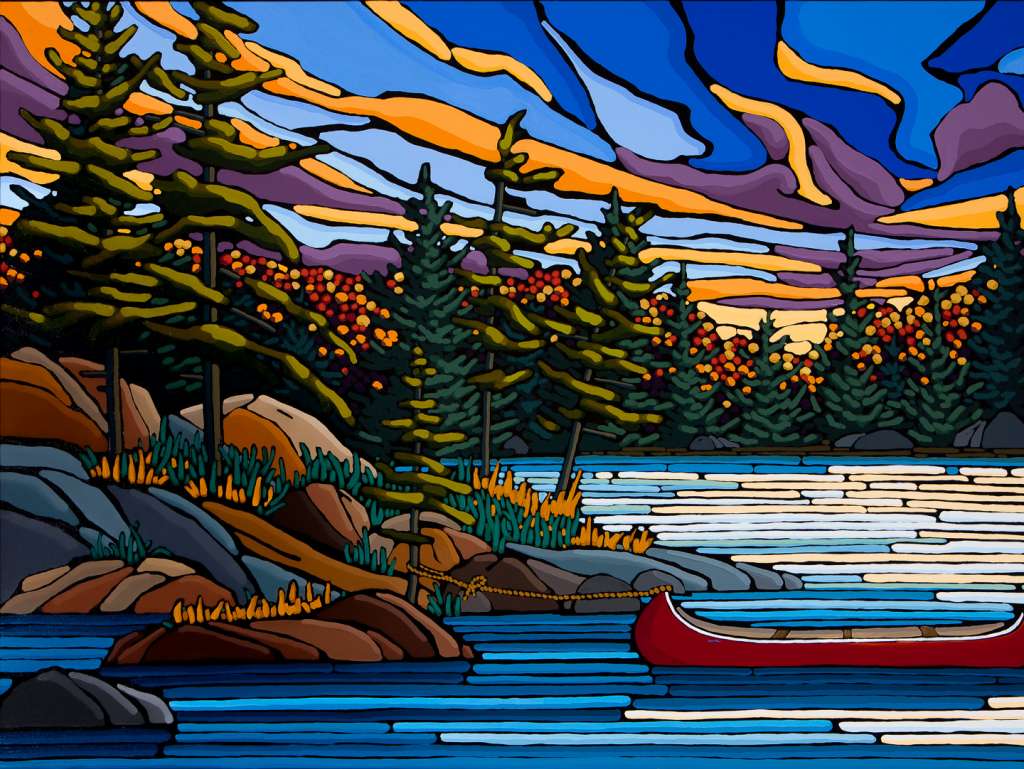 ---
2021 Eclipse Art Gallery Contest
During the 125th anniversary of Canada as a nation (2017) & following year the celebration of 125 years of Algonquin Park (2018) Deerhurst Resort & Eclipse Art Gallery have organized an Art Contest for artists to enter their artistic impressions of Muskoka and Algonquin Park.
Deerhurst Resort and Eclipse Gallery are now in their fifth year of opening the content, having received submissions from across Ontario and have found selecting the winning artist amongst the high-quality art challenging but successful. 
The prime location of the chosen artwork, at the front desk of the resort's main entrance, has given first-time visitors a glimpse into the exquisite natural beauty of our area. 
This year's winner is Lori Meeboer! Lori lives and works in Corbyville, Ontario and is a full-time artist. She takes her inspiration from the beauty of the rugged Canadian landscape and the determination of the Canadian Spirit. 
Colour and texture play a vital role in her work and she uses them to capture a moment and invoke a memory. Lori works primarily in acrylic and her focus is mainly on abstract Canadian landscapes. 
It is her goal that her work will remind you of a childhood cottage, favourite camping trip or perhaps a Sunday drive in the country.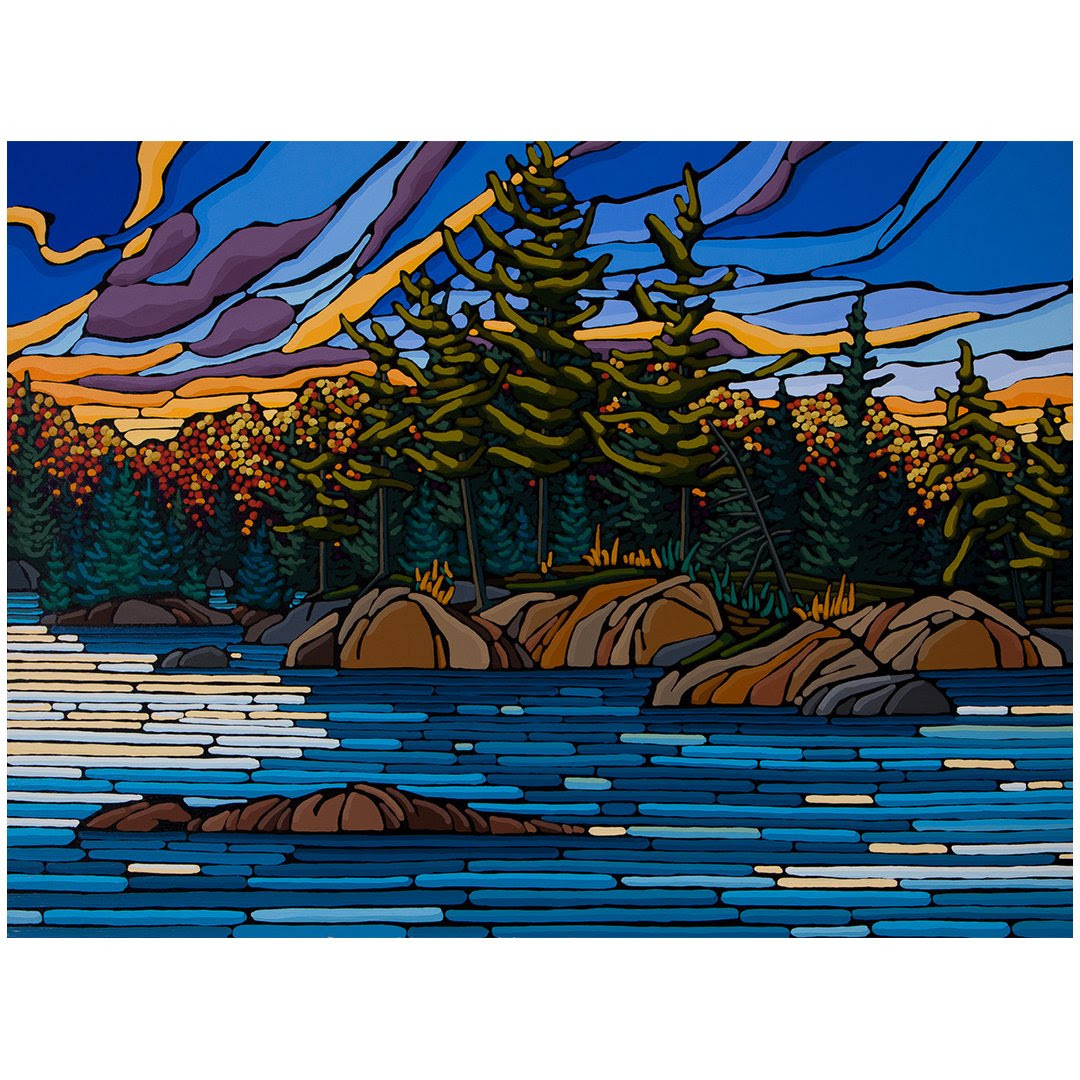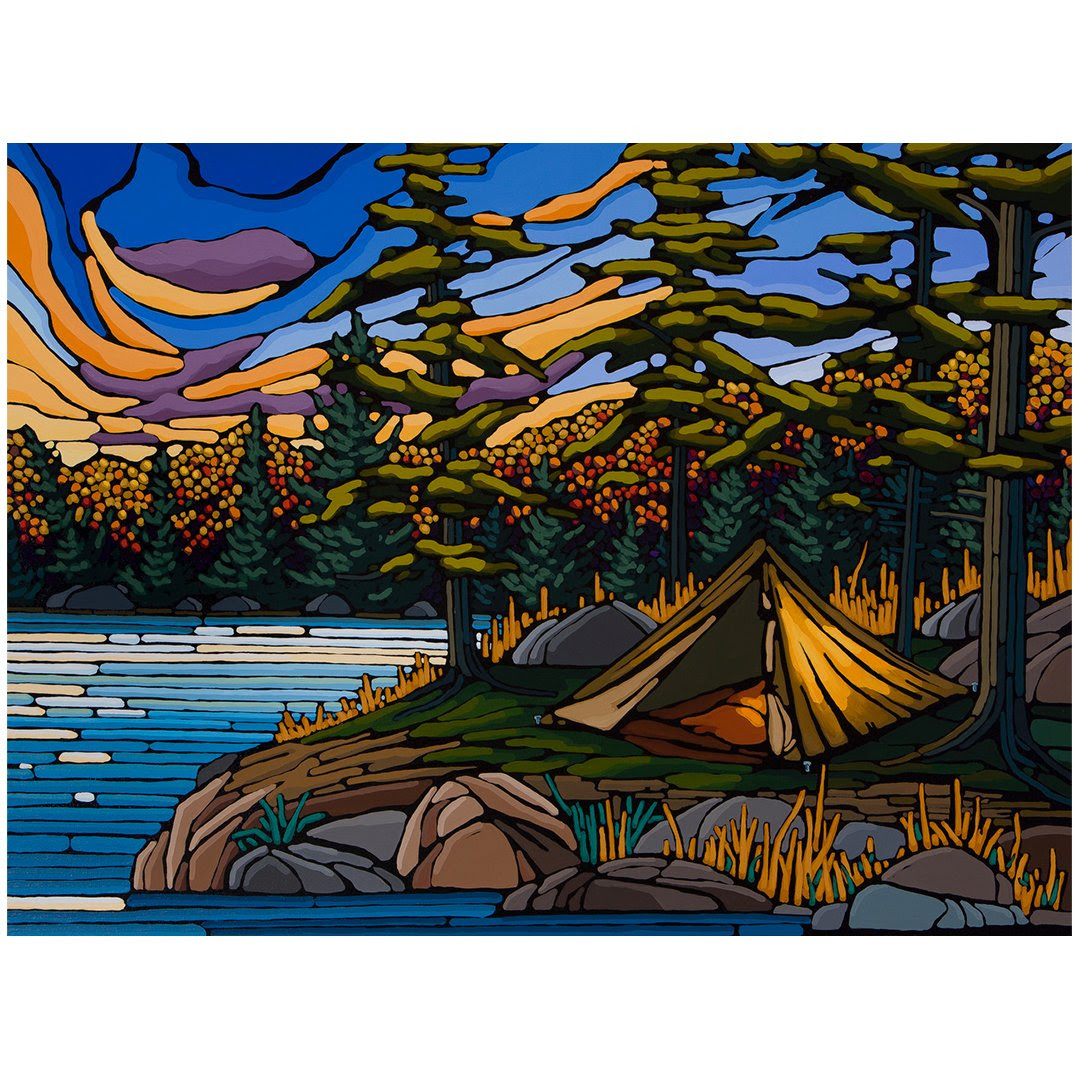 ---
2020 Eclipse Art Contest Winner
Every year the Eclipse Art Gallery invites talented painters to submit three entries to be prominently displayed at Deerhurst Resort's front desk for a year. This year's Eclipse Art Gallery contest winner is Monica Morrill, whose unique colourful paintings will brighten and delight resort guests and visitors for the next twelve months.
A self-taught artist, Monica began creating artwork using acrylic paints on canvas as a way to fill her home with colourful images of nature for her family to enjoy. She aspires to illustrate the supernatural aspects of the world around us and to capture a sense of peace and tranquility that is sometimes overlooked.  She was born on Southern Vancouver Island where she grew up exploring the beaches, forests and mountains of the west coast. Always interested in art, she spent much of her time drawing pictures of wildlife. She moved off the island to complete a university degree and spent the next several years living in various cities across Canada. She currently resides in Ottawa with her husband and children.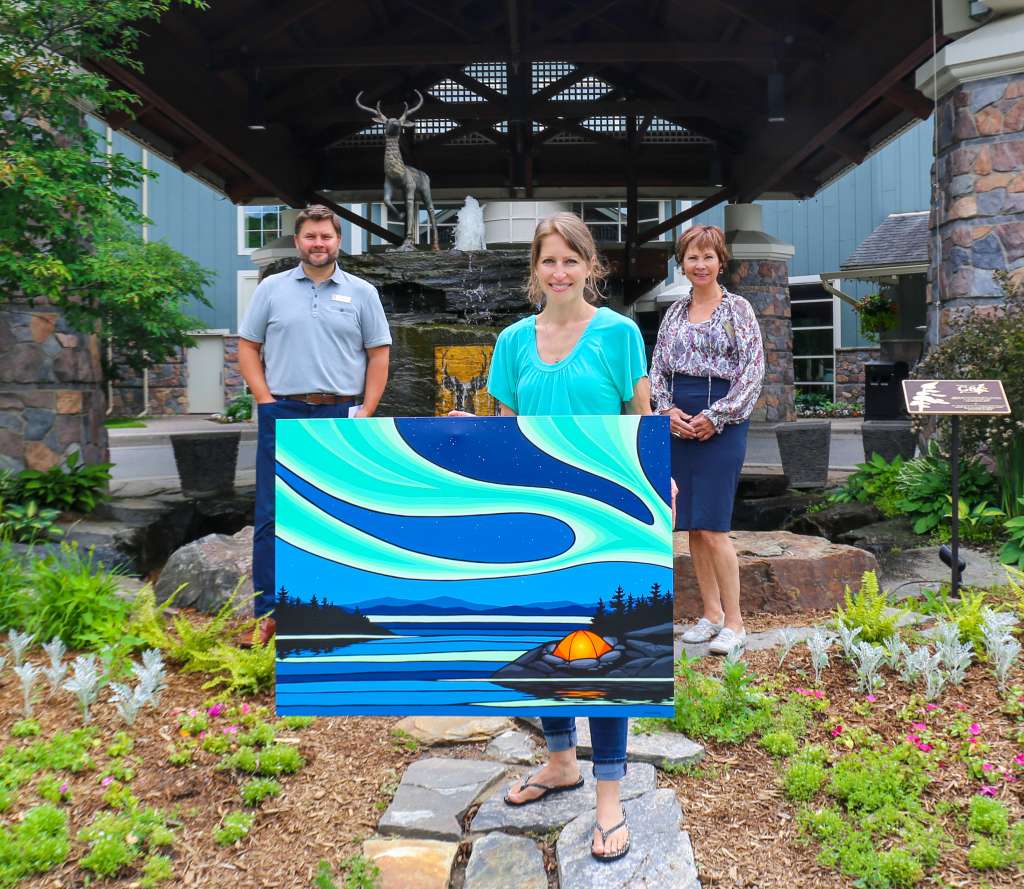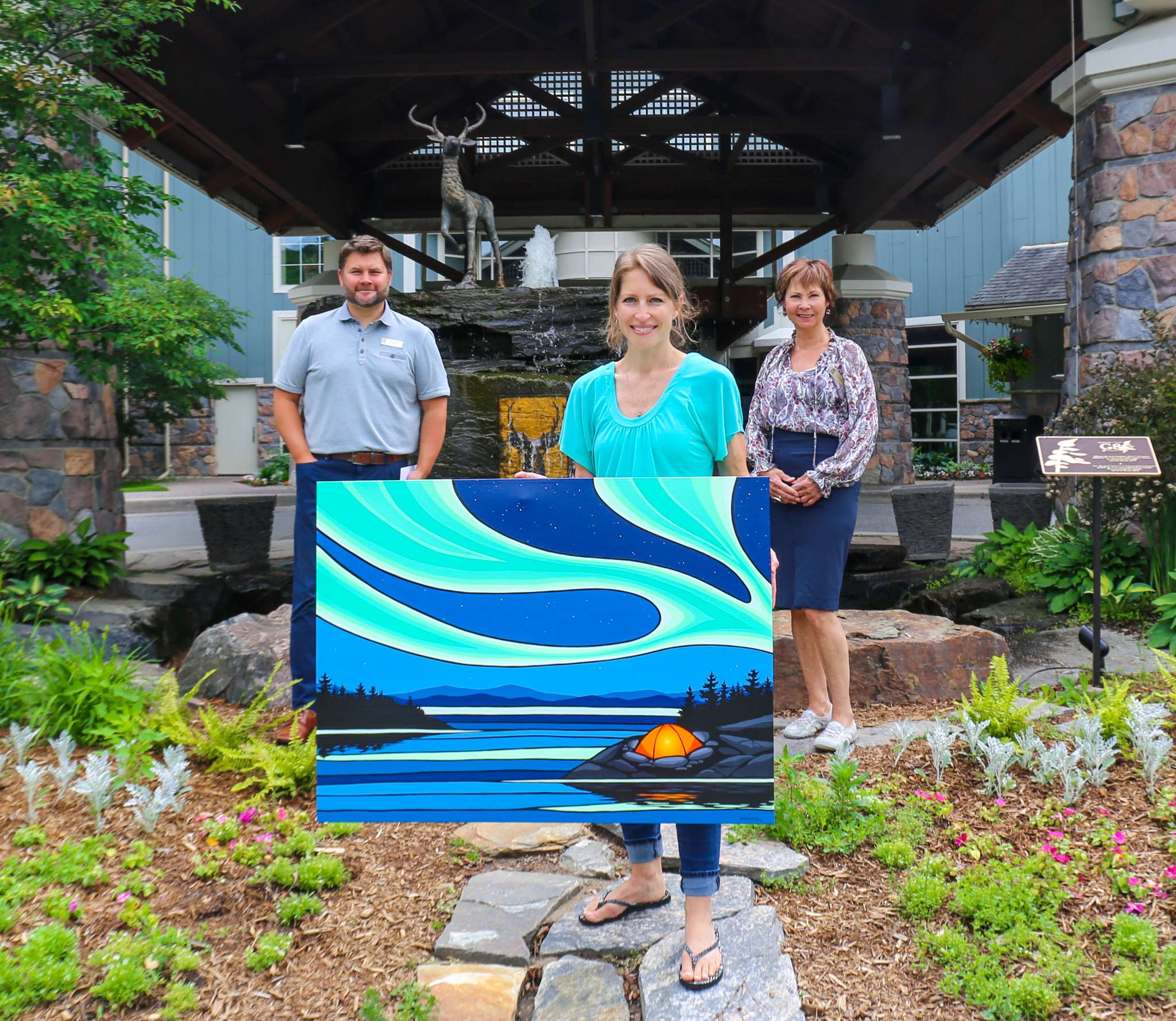 Art

Contest winner Monica Morrill (centre) shows off one of her paintings that will be 

d

isplayed at Deehurst's front desk for a year as the winning entry of this year's Eclipse Art Gallery contest. Shown with Deerhurst GM, Jesse Hamilton (left) and Eclipse Art Gallery owner Karin Kriekkard (right).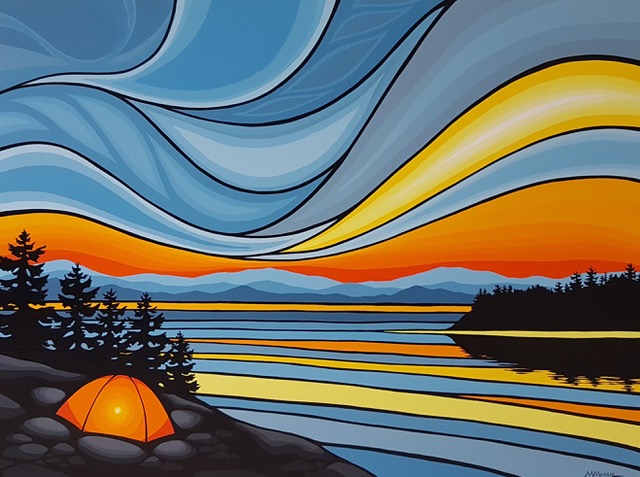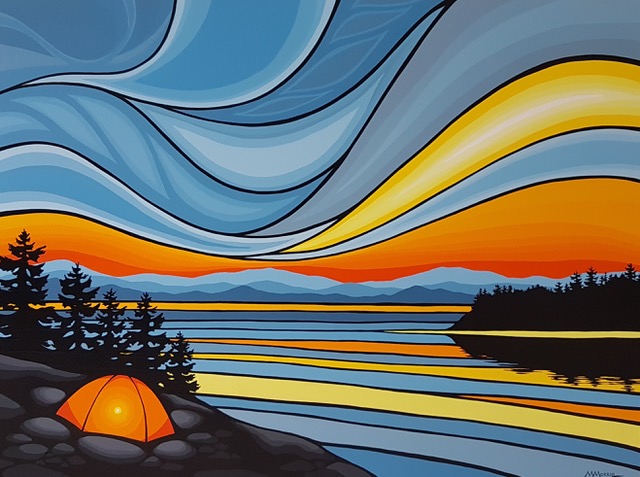 ---
Past exhibits: 
Niveous | Winter 2020 
                                                                                                                                       Making Snowmen 16″x 20″
by Terry Ananny
 Terry's bright and colourful acrylic paintings of hockey, children at play and seasonal village scenes cheerfully capture the spirit of Canadian life. Her early years spent in summers on Lake Muskoka and traveling to Quebec enriched the artist with lasting impressions of the beautiful Canadian landscape and diverse Canadian culture.  Her works are held in many Canadian and international corporate collections. Canadian Prime Ministers, Governor Generals and the Government of Canada have collected her work over the past two decades.
                      Hockey 16″ x 20″                                                                                                                                                                                                                                                                                                                                                                                               Fresh Snow 24″ x 30″
---
Chris Keene
                                                                              "The Stand-Off"     Acrylic on Canvas 24″x36″
Chris Keene attended Rhode Island School of Design.  Chris created for several years stunning visual effects and digital characters for Walt Disney. His work is prominently displayed in several live-action and feature animated films, two of which were nominated for an Academy Award. Keene returned to Toronto in 2011 to return to his artistic roots. The abundance of wilderness and animal life soon became the driving influence in Chris's work. Keene turned to acrylic paints on canvas as his creative medium. His graphic skills from Disney are some of the techniques Keene utilizes to create his unique compositions.
---
Elva Hook 

                                            Waterview Trail 40″x60″   Acrylic on Canvas 
---
Live Edge Forest
                                  Blue River Wood Clock 30″                                                                                                                                                                            Aureola Ammonite 30″                                                                                                                                                                                                                                                       
---
Elizabeth Johnson
---
Rock Cliff at Livingstone Lake 30″x40″ Oil on Canvas
Canadian Log Home in the Woods  24″x30″  Oil on Canvas 
John Kinsella
                                                               Island on a frozen lake 22″x30″ oil on masonite
Approaching Snowstorm, Arrowhead Park 10″x12″                                                                                                                                                                                                                                                                        Snow Hill, Muskoka 30″x40″ oil on canvas
---
Crystal Clarke
                                                                                    Night Stalker  10″x10″ Pastel
---
Join Us for a fun Paint Night during the Christmas Holidays at Deerhurst Resort.
with art facilitator Helena Renwick
$35.- pp materials included – Limited space available –
Children  8 and up  welcome 
Book through Eclipse Art Gallery or Activity Desk,  Deerhurst Resort.
                               Dec 20th- 7 pm      Dec 21& 22- 4pm     Dec 27th – 7 pm    Dec 28th & 29th  4 pm
---
Frank Didomizio
Wood turning
---
Ed Ambros 
Algonquin in Blue 28″x 54″ Multimedia
---
From our Family to Yours, We Wish you a Happy Holidays Season!
---
Labradorite, Lapis, Kyanite sterling silver Inuksuk Pendants by 'Originals by Andrea'