Eclipse Art Gallery at Deerhurst Resort
Eclipse Art Gallery at Deerhurst Resort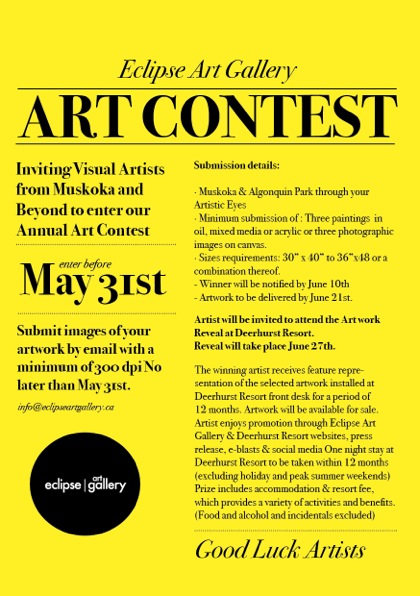 Explore the works of artists inspired by the local landscape
Eclipse Art Gallery is situated within the main building of Deerhurst Resort right outside of the Eclipse Restaurant. The gallery is dedicated to displaying art from the Muskoka area and beyond. Works from the gallery can now be admired throughout the main building with our walk-thru exhibit. Visit the Eclipse Art Gallery during your stay at Deerhurst and immerse yourself in the work of these talented artists.
---
Current Exhibit
Spring Fever | March 21 – June 21
After our long and sometimes very cold winter days we are longing for Renewal; Sun, bright colours, fresh energy. Meet our known and new artists who will reflect just that. Colour, light and motion will be our focus in this show.
---
Check our website at www.eclipseartgallery.ca for more show information.
Eclipse Art & Design | Karin Kriekaard
Phone: 1-705-783-2579
Email: info@eclipseartgallery.ca