Book Direct for Our Guaranteed Best Available Rate:
BOOK NOW
Eclipse Art Gallery at Deerhurst Resort
Eclipse Art Gallery at Deerhurst Resort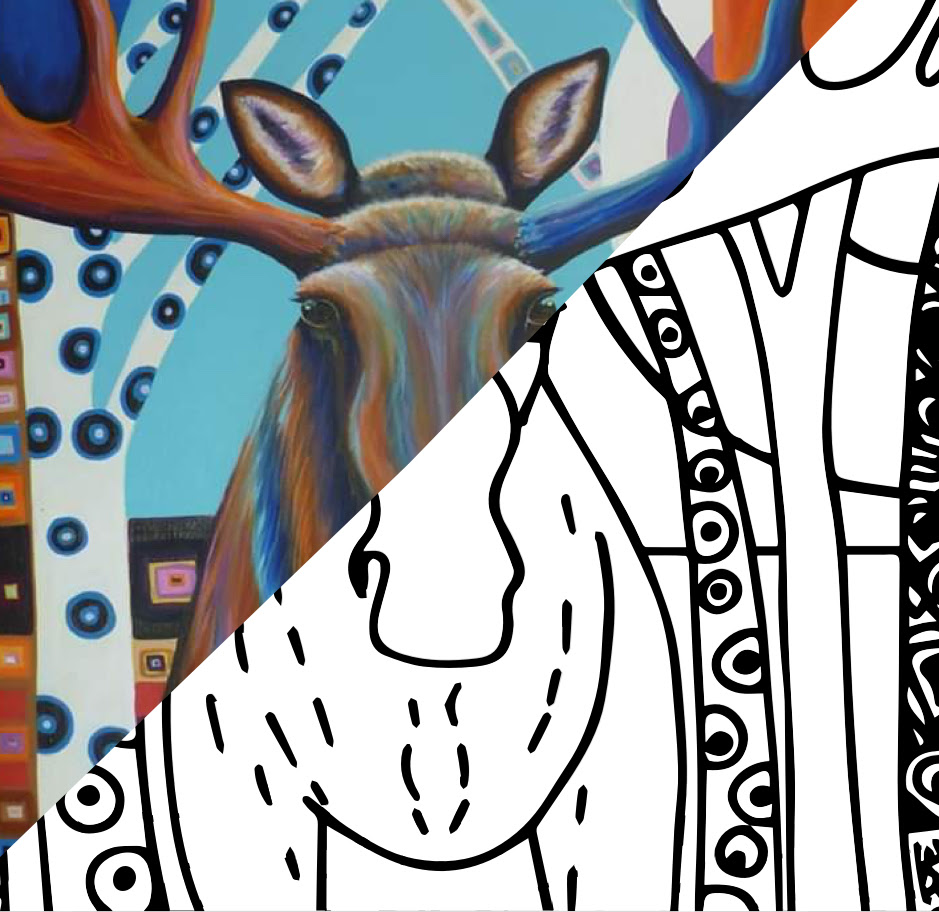 COLOUR WITH ECLIPSE ART GALLERY! Download this Exclusive Free Colouring Book
Eclipse Art Gallery would like you to take your mind off everything and spend some stress-free time colouring! A select group of gallery artists have sketched one of their favourite works for you to colour. The artists would love to see your artwork! Post your coloured masterpieces on Instagram using the tags #eclipseartgallery,  #colourwitheclipse and the artists for your chance to win an amazing art prize.  We hope you enjoy supporting our talented Canadian artists by checking out their beautiful work on Instagram:
@wynneparkin  @jennygordon  @terryananny @lindasorenson  @crystalclarke  @cathymark  @karenrichardson  @eleanorlowden  @diannebrowngreen  @elvahook
When the Gallery Reopens, Explore the works of artists inspired by the local landscape
Eclipse Art Gallery is situated within the main building of Deerhurst Resort right outside of the Eclipse Restaurant. The gallery is dedicated to displaying art from the Muskoka area and beyond. Works from the gallery can now be admired throughout the main building with our walk-thru exhibit. Visit the Eclipse Art Gallery during your stay at Deerhurst and immerse yourself in the work of these talented artists.
Check our website at www.eclipseartgallery.ca for more show information.
Eclipse Art & Design | Karin Kriekaard
Phone: 1-705-783-2579
Email: info@eclipseartgallery.ca
---
Past exhibits:
Niveous | Winter 2020
 Making Snowmen 16″x 20″
by Terry Ananny
 Terry's bright and colourful acrylic paintings of hockey, children at play and seasonal village scenes cheerfully capture the spirit of Canadian life. Her early years spent in summers on Lake Muskoka and traveling to Quebec enriched the artist with lasting impressions of the beautiful Canadian landscape and diverse Canadian culture.  Her works are held in many Canadian and international corporate collections. Canadian Prime Ministers, Governor Generals and the Government of Canada have collected her work over the past two decades.
 Hockey 16″ x 20″                                                                                                                                                                                                                                                                                                                                                                                               Fresh Snow 24″ x 30″
---
Chris Keene
 "The Stand-Off"     Acrylic on Canvas 24″x36″
Chris Keene attended Rhode Island School of Design.  Chris created for several years stunning visual effects and digital characters for Walt Disney. His work is prominently displayed in several live-action and feature animated films, two of which were nominated for an Academy Award. Keene returned to Toronto in 2011 to return to his artistic roots. The abundance of wilderness and animal life soon became the driving influence in Chris's work. Keene turned to acrylic paints on canvas as his creative medium. His graphic skills from Disney are some of the techniques Keene utilizes to create his unique compositions.
---
Elva Hook

  Waterview Trail 40″x60″   Acrylic on Canvas 
---
Live Edge Forest
  Blue River Wood Clock 30″  Aureola Ammonite 30″
---
Elizabeth Johnson
---
Rock Cliff at Livingstone Lake 30″x40″ Oil on Canvas
Canadian Log Home in the Woods  24″x30″  Oil on Canvas 
John Kinsella
 Island on a frozen lake 22″x30″ oil on masonite
Approaching Snowstorm, Arrowhead Park 10″x12″                                                                                                                                                                                                                                                                        Snow Hill, Muskoka 30″x40″ oil on canvas
---
Crystal Clarke
 Night Stalker  10″x10″ Pastel
---
Join Us for a fun Paint Night during the Christmas Holidays at Deerhurst Resort.
with art facilitator Helena Renwick
$35.- pp materials included – Limited space available –
Children  8 and up  welcome
Book through Eclipse Art Gallery or Activity Desk,  Deerhurst Resort.
 Dec 20th- 7 pm      Dec 21& 22- 4pm     Dec 27th – 7 pm    Dec 28th & 29th  4 pm
---
Frank Didomizio
Wood turning
---
Ed Ambros 
Algonquin in Blue 28″x 54″ Multimedia
---
From our Family to Yours, We Wish you a Happy Holidays Season!
---
Labradorite, Lapis, Kyanite sterling silver Inuksuk Pendants by 'Originals by Andrea'