Meet the Chefs of Deerhurst
Meet Gustav Gulmar, Deerhurst's New Executive Chef
Above Photo: Chef Rory Golden (front left) passes the torch to his culinary successor, Chef Gus Gulmar (front right) as new Executive Sous Chef (centre) and members of Deerhurst's culinary team look on.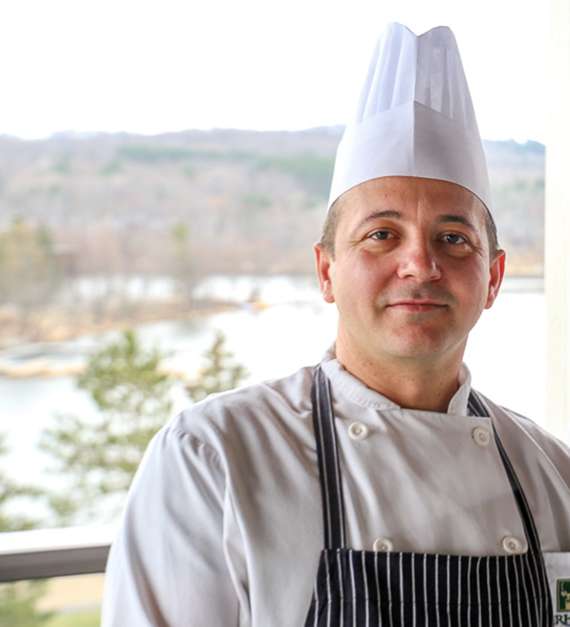 As restaurants, weddings and corporate banquet events return to normal in 2022, the timing was right to hire a new Executive Chef to take over the Deerhurst's burgeoning culinary operations. Over the past two years of the pandemic, long time chef, Rory Golden, had been doing double duty as Director of Food & Beverage as well as Executive Chef, but knew that he couldn't continue that forever. But where to find a qualified, team-driven executive chef who would understand the resort's vast scope of culinary needs and markets?
As it turns out, the perfect candidate was already right there at Deerhurst. Chef Gus Gulmar, who has now taken on the new revised role of Executive Chef has been an integral part of Deerhurst's multi-faceted culinary team since 2003. Rising from Chef de Partie to Executive Sous Chef, Chef Gulmar's almost 20 years of experience makes him uniquely qualified to take the resort's culinary operations to the next level.
"It wasn't simply a matter of passing the torch," explained Golden. "We considered about 45 resumes before both Gus and I realized that absolutely no one was better qualified than him. He's already driven the day-to-day kitchen operations during the past two years, and he embodies the team culture here one hundred percent, which isn't a given in the culinary world." Golden will remain as Director of Food & Beverage overseeing the resort's restaurant and banquet service direction.
Modern cooking and presentation is something that Chef Gulmar is passionate about. Having completed his culinary education in both Europe and Canada, Gulmar pulls inspiration from around the world while still maintaining a focus on using locally sourced products in an upscale manner.
Now, Chef Gulmar's first priority is to finish rebuilding a strong culinary team based on Chef Golden's legacy of positive dynamics in the kitchen. International chefs from Mexico, Barbados and Columbia will soon be joining a dedicated existing team who bring influences from their respective native countries including Hungary (Gulmar's birthplace), Austria, Jamaica, El Salvador and of course, Canada. Before accepting the position, Gulmar consulted with the kitchen team to make sure they were comfortable with his new leadership role. The feedback was unanimously positive.
An important part of that team will be new Executive Sous Chef, Vince Dion, who will be joining the Deerhurst kitchen full time. While he comes to the resort from Grandview Golf Club where he managed the clubhouse culinary operation on a seasonal basis, Chef Dion will also provide a sense of continuity at Deerhurst after working there for three years during the off season.
While they've both got big shoes to fill, Gulmar and Dion are equally excited about continuing Golden's strong sense of mentorship and teamwork in the Deerhurst kitchen. Over 25 cooks who apprenticed at Deerhurst over the years are now executive chefs throughout North America. Gulmar would love to add to that legacy of success for his team.
With an estimated 300,000 meals to be prepared in 2022 for resort guests, including restaurant patrons, wedding guests and corporate groups, cultivating his team's culinary passions in a positive work environment is more important than ever.
"I love creating menus and connecting with guests about how they enjoyed their meals, but I'll still be very hands on in the kitchen, " says Gulmar. "There's nothing I enjoy more than working alongside a great team. It's good to know we've got each other's backs, and that's what matters most at the end of the day."
Updated April 6, 2022
---
The "Golden" Touch Continues
While he's stepped back from his long held executive chef role, Rory Golden's influence and experience will still strongly impact the dining experience at Deerhurst Resort. As Director of Food & Beverage, Golden's main focus is now on the myriad restaurant and banquet service delivery at the resort. The story of his incredible career, which earned him a lifetime achievement award from the Tourism Industry Association of Ontario in 2021, is a fascinating one.
Back around 1980, when Deerhurst Resort executive chef Rory Golden was hunting for his first kitchen job, he walked straight into Winston's, then downtown Toronto's top power lunch spot, and offered his services for a month – free.
"I was young. I really wanted, and got, the chance to prove myself," he chuckles.
This aspiring food expert also discovered a dedicated mentor in his new boss, French master chef Georges Chaignet.
And, after quickly working his way up through Winston's restaurant group's ranks, the aptly named Golden also got his first taste of the discretion and quiet command needed to satisfy celebrity clients, while creating private dinners for Canada's business and political elite like Conrad Black and John Turner.
Following a stint as head chef for the Elmwood Club & Spa, where celebrity Chef Lynn Crawford apprenticed under his leadership, Golden arrived at Deerhurst in 1987 as executive sous chef. He then became Executive Chef in 1994, guiding the resort's culinary direction for the next several decades. And yes, he personally prepared breakfast, lunch, coffee breaks and dinner for some of the world's most powerful leaders at the time, including Barack Obama, Angela Merkel and Nicolas Sarkozy, when Deerhurst hosted the 36th annual G8 Summit.
But if you ask Golden what career achievements he's proudest of, he's quick to share the love. His first professional passions are clearly mentoring talented culinarians and promoting Muskoka's 'eat local' movement, which he helped start as a founding member of Savour Muskoka.