Meet Executive Chef Rory Golden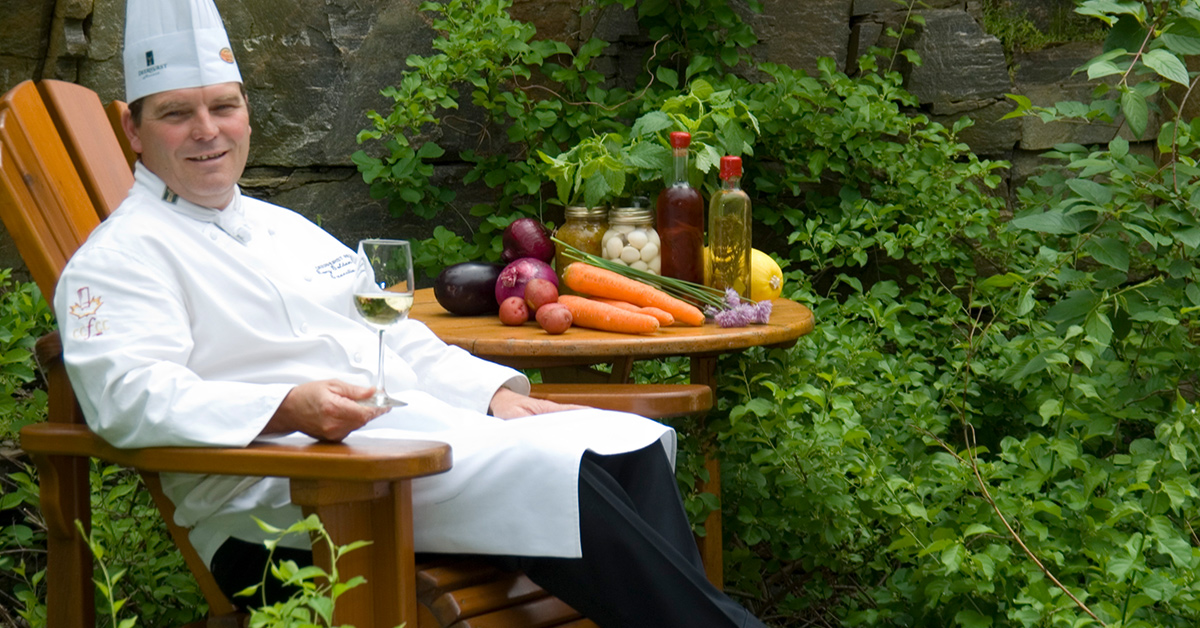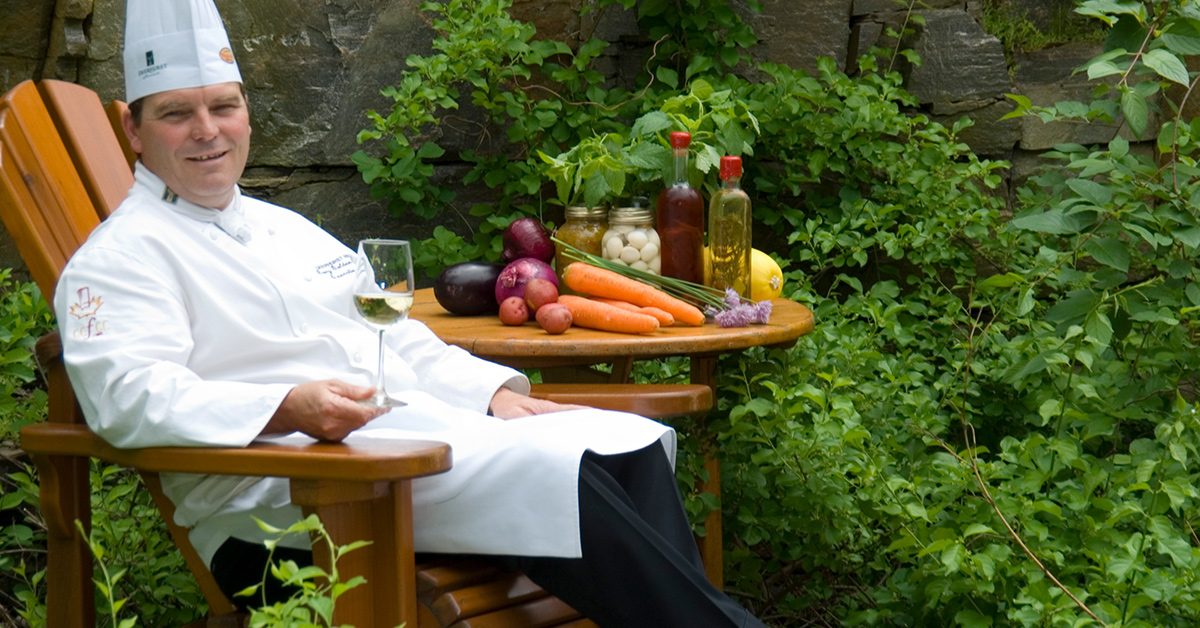 Dinner for presidents or backyard barbecue, Deerhurst's Rory Golden keeps it "real, simple and local, with a little surprise".
Back around 1980, when Deerhurst Resort executive chef Rory Golden was hunting for his first kitchen job, he walked straight into Winston's, then downtown Toronto's top power lunch spot, and offered his services for a month – free.
"I was young.  I really wanted, and got, the chance to prove myself," he chuckles.
This aspiring food expert also discovered a dedicated mentor in his new boss, French master chef Georges Chaignet.
And, after quickly working his way up through Winston's restaurant group's ranks, the aptly named Golden also got his first taste of the discretion and quiet command needed to satisfy celebrity clients, while creating private dinners for Canada's business and political elite like Conrad Black and John Turner.
Following a stint as head chef for the Elmwood Club & Spa, Golden arrived at Deerhurst in 1987.  And after a variety of roles he now manages both the culinary and food service operations of the resort as Executive Chef and Director of Food & Beverage.
Golden now leads his own loyal brigade of over 60 chefs, cooks and staff at the landmark Muskoka retreat, taking responsibility for four restaurants,  conference and event dining for up to1,000 people, golf course refreshments, plus off-site catering gigs.
And yes, he personally prepared breakfast, lunch, coffee breaks and dinner for some of the world's most powerful leaders at the time, including Barack Obama, Angela Merkel and  Nicolas Sarkozy, when Deerhurst hosted the 36th annual G8 Summit.
But if you ask Golden what career achievements he's proudest of, he's quick to share the love.  His first professional passions are clearly his staff and their role in the growing Muskoka's 'eat local' culinary trail, which he helped start as a founding member of Savour Muskoka.
The resort currently works with over 20 local suppliers, "And my team is always discovering more," he notes.  For him, going local from farm to fork before it became fashionable is about more than just flavour, or having a positive economic impact on your backyard.
"One of the quickest ways we can show someone what our great destination, Muskoka, is all about is on a plate.  We all have to eat. And great food is something we can all share, wherever we come from. If you see the same ingredients and products every place you go, you lose that sense of place."
"Muskoka shops and farmer's markets offer a whole flavour profile you maybe wouldn't expect, like Muskoka Roastery coffee blends (his favourite is the strong Spirit of the Wilderness), Belly super-premium ice cream (made by a former protégée,) heirloom veggies, and all kinds of fantastic bakeries.  
Golden also connects food with smart environmental stewardship, foraging for, pickling and preserving wild ingredients like cat tails for a crunchy salad (they taste like a cross between cucumber and hearts of palm), ramps (wild leeks great with lamb or in pasta), and sumac (for sauces) and composting all the green waste from Deerhurst's kitchens, on-site.
Building from the resort's existing take-away and golf course dining containers, Golden also sourced and ordered 250,000 pieces of biodegradable plate ware for the G8 including sturdy flatware sets made from a corn by-product, and "more cups than you can imagine." As of 2018 the resort also uses paper straws – and only when requested.
---
Meet Chef de Cuisine Gusztav Gulmar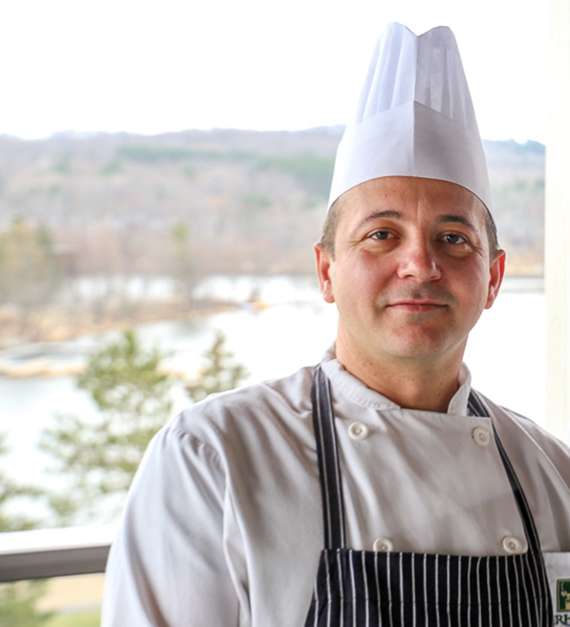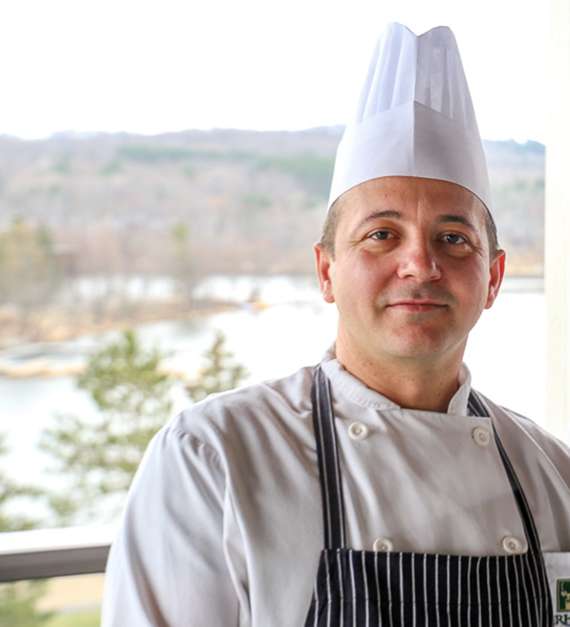 Modern cooking and presentation is something that Deerhurst's new Sous Chef, Gusztav is passionate about. Having completed his culinary education in both Europe and Canada, Gusztav pulls inspiration from around the world while still maintaining a focus on using locally sourced products but in an upscale manner.
With over 18 years of experience in professional kitchens, Gusztav has taken on many roles in the culinary industry including Chef de Partie at Fripp Island  Resort in South Carolina and various other positions at venues including Norwegian Cruise Line, Beau Rivage Casino Resort and Proof of the Pudding in Atlanta Georgia.
Since 2003 Gusztav has held the role of Chef de Partie at Deerhurst Resort where he worked under Rory Golden and Chef David Bakker which has allowed him to understand both the business and cooking side of the resort, in addition to assisting in the G8 Summit held at the resort which played host to world leaders. His contributions to creating the ultimate Muskoka dining experience at Deerhurst exemplify his unique take on food and make him well-suited for the role of Sous Chef at Deerhurst Resort.