Corporate Holiday Parties with Top Canadian Talent
Holiday Concert Party Packages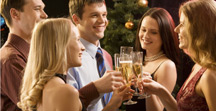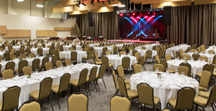 Eat, drink and be merry with a Canadian music icon! Wow your crowd with a unique end-of-year celebration that's ideal for groups of all sizes. Include accommodation to put any driving worries to bed, or ask about easy transportation options.
Overnight Package: From $159*/person (based on double occupancy) includes:
Festive 3-course dinner | See menu here
Headliner concert (see this year's artists & dates below)
DJ dance party
Shared accommodation
Dinner & Concert only: $99*/person (plus tax and service charge) includes:
Festive 3-course dinner | See menu here
Headliner concert
DJ dance party
All parties take place in the candlelit surroundings of Legacy Hall, glowing with holiday decor and a festive ambiance. Party seating is reserved in sections for each group.
To get your party started call 1-800-461-6522
---
Small Town Pistols | Saturday, December 3, 2016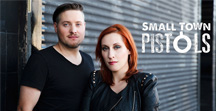 You may know Tyler and Amanda Wilkinson from their time with Juno-winning hit makers, The Wilkinsons ("26 Cents," "Boy Oh Boy") but this brother/sister duo is now taking over the Canadian country charts as the Small Town Pistols. With the success of their first album (featuring "Blame it On the Radio" and "Living on the Outside"), they were nominated for Album of the Year at the 2014 Junos, won Album of the Year at the 2014 Country Music Association of Ontario Awards, and then won the big one, Group of the Year, at the CCMAs. Their next album, Pistology, has earned acclaim for songs like "I Only Smoke When I Drink" and "Jester in a Crown." Contemporary country with wide-spread appeal, a live performance by Small Town Pistols is not to be missed.
---
Trooper Holiday Party | Saturday, December 10, 2016 | SOLD OUT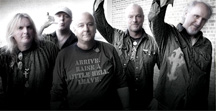 Catch "the Canadian version of Mick Jagger and Keith Richards" live right in the heart of Muskoka. Having produced a number of records, won a couple dozen Juno Awards for Band of the Year and ongoing sold-out shows across Canada, Trooper is one of Canada's top five selling bands of all time. What makes Trooper, well Trooper are great performances and great hits like "We're Here for a Good Time (Not a Long Time)", "Raise a Little Hell", "The Boys in the Bright White", and "Two For the Show" and so many more.
---
The Jim Cuddy Band | Saturday, December 17, 2016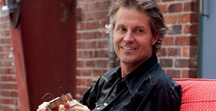 Back by popular demand for the 3rd year in a row, Jim Cuddy is an audience favourite at Deerhurst. Along with a long string of hits with Blue Rodeo, Cuddy is a Canadian icon in his own right with his solo albums and live performances earning him a widespread following. Cuddy wows crowds with his 'driving country-rock rhythms …and one of the truest and most expressive voices in contemporary music." (Toronto Star)
---
Private Dinners & Customized Parties
Let our catering specialists customize a private celebration – from a gala evening to a casual luncheon.
Festive 3-Course Plated Holiday Dinner available Sunday – Friday | See menu here
Festive Buffet Holiday Dinner available Saturdays | See menu here
Horse-drawn carriage rides, fireside reception, winter bonfire & more holiday touches
Photo booth or group photo options
For easy options or customized events, call 1-800-461-6522
*Pricing based on a minimum group size of 10, subject to availability. Accommodation package rates are person, based on two people each paying that rate in a shared room. Single occupancy rates available. Tax, meal gratuity and resort fee extra. Some conditions apply.