ATV Touring: Fun on Four Wheels (no not your car!)
ATV Touring: Fun on Four Wheels
Muskoka is the perfect place to get out and explore on four wheels, and no we don't mean your car! ATVing is quickly becoming one of the best ways to explore on land – fun, exhilarating and safe! Whether you're a rookie or a seasoned rider, there's options and experiences waiting for you!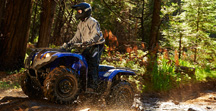 Yamaha Riding Adventures, which is located at the Deerhurst Adventure Park is one of the best places to get started. Offering riding adventures for all ages, this is where you can kick-off and explore the rugged beauty of Muskoka on specially maintained trails . At Yamaha Riding Adventures, their first concern is safety and under the guidance of their expert instructors, all tours start with an in-depth safety lesson.
Bob Island, Senior Instructor is passionate about off road riding, and has been a long time off-road instructor with Yamaha – as well as riding in the Muskoka area for over 30 years himself! Then there is Clinton Smout, Chief Instructor at Yamaha Riding Adventures who has been teaching off-road riding for decades, and his national renowned program has taught thousands of people of all ages the fun, and safety of off-road adventures.
Bob Island mentions that "People are surprised to find out that most of our customers have never ridden before, but once they learn that we cover safety and provide all the protective riding gear…they want to give it a go!" Bob says that Yamaha Riding Adventures provides all the riding gear from head to toe, catering to all sizes – properly fitting the equipment and then off we go on the latest Yamaha equipment, "We start our training in a safe area and we give our customers a chance to practice basic skills. Once they are comfortable, we then lead them through our specially maintained forested trails – offering a variety of levels of difficulty, with great scenery." He adds that "There is lots of opportunity to learn and ask questions, and the riding adventure includes stops for photography – so everyone has a chance to build great memories!"
So are you ready to give it a go? My family and I did and what a blast!
The trails offered a wide variety of elements, from root covered grounds to smooth rocks, hills to sharp turns – tree covered serenity to open fields. There was truly something for everyone – and we varied in ages from 6 – 63!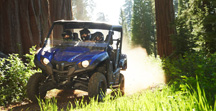 Yamaha Riding Adventures operates year-round with ATV Tours, Mini Dirt Bikes, Youth ATV Fun Rides and Viking Side-by-Side Rides available April – November which all include use of a state of the art Yamaha vehicle, riding equipment, lesson and instruction, fuel, training and guided tours, and Snowmobiling during the winter months.
Posted by Ainsley Theis
For more information and to book call 1-705-789-8008 or learn more here.
---