An Insider's Guide to Fall Colours in Muskoka
An Insider's Guide to Fall Colours in Muskoka
Spending time in Muskoka during fall is an experience that goes unmatched. Nature begins it's greatest show, as the forests surrounding pristine blue lakes come to life with vibrant reds, oranges and yellows. There is NEVER a grey fall day when the autumn leaves begin to change. Fall colours usually last for a month, splitting the time between September and October – with the peak being the first weekend of October.
So where is the best spot to see this 'must see show'? Well everywhere and anywhere in Muskoka…but we've listed the top 5 places so all you have to do is get up to Muskoka and take them in!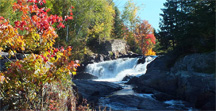 5. Oxtongue River – Ragged Falls one of the top 10 waterfalls in Ontario and a great way to take in the fall colours. Close to Deerhurst and Algonquin Park, Oxtongue offers a short trail that leads from the parking lot to a lookout of the thundering whitewater falls.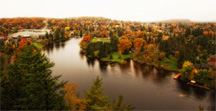 4. Located right here in Huntsville, Lion's Lookout Trail is 1.3km that follows the Muskoka River to Fairy Lake, crosses the Portage Flyer railway tracks and then heads up a steep slope which offers a view of Fairy Lake and the surrounding area. It is a view that is definitely worth the climb up!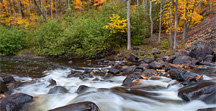 3. Arrowhead Park is located just a short drive from the resort and is a wonderful spot to explore for the day. Take in the fall forests by hiking some of their trails. Stubbs Falls trail runs about 2km and follows the Little East River to the ancient Stubbs Falls. Or if you want a shorter walk the Big Bend Lookout Trail is another great option.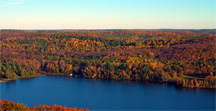 2. For panoramic views of pristine blue lakes surrounded by vibrant Muskoka forests, Dorset Fire Tower Scenic Lookout is your spot! Not far from Deerhurst, the Dorset Fire Tower gives you a spectacular view that is definitely worth the hike up. The observation deck offers a 360 degree view, 456 feet above Lake of Bays, and all you have to do is walk up a (very) tall staircase!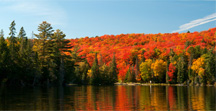 1. You could of guessed it – Algonquin Park makes our number one spot! From mid-September to mid-October the Sugar and Red Maples start changing, giving a spectacular show that is worth the trip up. There are easy ways to immerse yourself in this fall colours, whether it's simply a drive along highway 60 or a hike on one of the many trails. Hardwood Lookout which is a 0.8km loop is quick and great for all abilities. Or, if you have the time, their Lookout Trail is a 1.9km loop that offers a wonderful lookout over the forests. Any way you choose, Algonquin Park is a must!
And of course right here at Deerhurst you'll see spectacular colours surround the resort – whether you hike up to the lookout trail for a panoramic view of Peninsula Lake, take the colours in on one of our two golf courses, or simply enjoy them sipping on a warm beverage from one of our four onsite restaurants.
Posted September 8, 2015 by Ainsley Theis.
---