It's Time for Your Team to Rise & Shine in Muskoka
hen you think of Muskoka, does summer automatically come to mind? The truth is, with so much to do year-round, Muskoka truly is a four-season destination for business or pleasure. Here are the top reasons for meeting in Muskoka this Fall: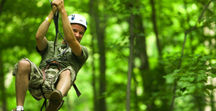 1. There's still TONS to do! From ATV off-roading and Paintball tournaments to zipping through the forests on the Treetop Trekking course, outdoor adventures at Deerhurst Resort add excitement and a competitive edge. If your group prefers less adrenalin pumping and more low-key pursuits there's horseback riding, guided hikes or the most social sport of all – golf. And what could be more rejuvenating that setting up a group program at the Spa? Sign us up!
2. Is team building on your agenda? Whatever your goal – from untangling interdepartmental communication to fostering creativity and new energy, Deerhurst's Adventures in Excellence can provide exactly what you need with over 25 activities, challenges and sessions. Choose from Personality Dimensions, Survivor, The Amazing Race to Boat Races and IPad Challenges or push boundaries on high or low ropes courses.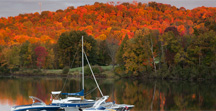 3. Host a retreat while nature's putting on its greatest show? Yes please! Your location choice of Muskoka is sure to be talked about well after the meeting wraps up, because the Fall colours here are just that spectacular. Even when the reds and oranges give way to the 'golden phase' in mid-October, their beauty is inspiring.
Of course in order to wake up your meeting, you'll need a team that's well rested and fully refreshed. Deerhurst's completely renovated rooms and suites allow your delegates to tuck in for a good night's sleep, so they're truly ready to rise and shine in Muskoka.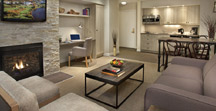 HOT TIP: Fall also brings hot dates where you can get your best deals, especially come mid-October. If your time frame is flexible, be sure to ask about low rate periods or how your group can qualify for extra perks.
Posted September 15, 2015 by Ainsley Theis. Updated Aug 2022.
---