Top 10 Reasons to Visit Muskoka in Autumn
Top 10 Reasons to Visit Muskoka in Autumn
[Originally published in 2015; some information may be outdated.]
Autumn colour buffs annually flock to Muskoka to experience a spectacular Canadian Shield landscape turned crimson and yellow. Some come to tee off on the district's championship golf courses. Others to hike or bicycle past foaming rivers and spring-fed lakes, cruise Lake of Bays on a historic steamship, or get close-up with the locally inspired artworks of the Group of Seven. Here, our top ten reasons to visit Muskoka during a season unmatched in its beauty.
Cruise Lake of Bays
A stately wooden steamship launched in 1910, the SS Bigwin offers regularly scheduled one-hour cruises of the Lake of Bays. Departure is from Dorset, a pretty town best known as the home of Robinson's General Store, voted "Canada's Best Country Store" and owned by the same family since 1921.
Jaw-dropping Views
With all of Muskoka ablaze with colour, it's tough to pick just one must-visit spot to take in the splendor of the season. But the sweeping views from the Dorset Scenic Lookout Tower (an old fire-tower 142 metres above Lake of Bays) are truly awe-inspiring. Almost as thrilling is the journey there on Hwy. 35, one of the most scenic autumn routes in Ontario.
World-class Golf
Golfers are in heaven when they tee off on a crisp autumn morning at Deerhurst Highlands, North Granite Ridge, Bigwin Island and several other top courses throughout the region. All are defined by Canadian Shield outcroppings, wetlands and fairways lined with forests teeming with wildlife.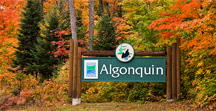 Essential Algonquin Park
Sprawling across a vast wilderness a half-hour drive from downtown Huntsville, Algonquin Provincial Park is world-famous for its beauty, especially in autumn. Check out the landscapes and other artworks displayed at the Algonquin Art Centre, as well as the Algonquin Logging Museum, which recalls the days of the last great river timber drives.
Tastes of the Season
Celebrating its 25th anniversary, the Huntsville Farmers' Market is one of Muskoka's best. Choose from fruit and harvest vegetables grown by local farmers, as well as fresh baked goods. Held Thursdays from 9 a.m. to 2 p.m. in the Canadian Tire Parking lot at 77 King William St.
Favourite Waterworks
Muskoka is renowned for the forest-edged loveliness of its more than 1,600 lakes and rivers. An essential autumn waterfront drive is along Oxtongue Rapids Road, east of Huntsville, where endless rolling rapids cascade down the Oxtongue River. Also found on the river, just off Hwy. 60 to the northeast of Huntsville near Algonquin Provincial Park, is wildly dramatic Ragged Falls. A well-groomed trail leads to an overlook above the falls.
Up Close With the Group of Seven
Art lovers won't want to miss the Group of Seven Outdoor Gallery, a celebration of Tom Thomson and the famous band of Canadian landscape painters who drew their inspiration from the northern landscape. The tour, which includes more than 90 murals located throughout northern Muskoka and Algonquin Park, begins and ends in Huntsville. A highlight of the collection is a recreation of Tom Thomson's "West Wind." During the G8 Summit held at Deerhurst Resort in 2010, Barack Obama, Stephen Harper and other world leaders contributed the mural's final brushstrokes. The "West Wind" mural is now displayed at the Canada Summit Centre in Huntsville. And found at Deerhurst Resort is a mural depicting Thomson's iconic "In The Northland." For self guided tours, and more information about the Group of Seven Outdoor Gallery, click here.
Explore Muskoka's Past
Muskoka Heritage Place is a fascinating recreation of a Muskoka pioneer community, circa 1880 to 1910. Located less than a kilometre from Huntsville's main street, the 36-hectare park is home to two museums, 18 authentic pioneer buildings, and a recreation of a First Nations' encampment. Kids will the love the open-air Portage Flyer train ride.
Zip Line Through the Forest
Imagine the thrill of soaring through the canopy of a deciduous forest in all its autumn glory. Treetop Trekking Huntsville, at Deerhurst Resort, offers 12 zip lines, as well seven aerial obstacle courses, including a giant free-fall swing named Tarzan.
A Cycle Tour for Road Warriors
Every year brings more cyclists to the roads and backcountry trails of Muskoka. One of the most picturesque trails during autumn is Huntsville Cycling Route #2, a fairly easy and mostly rural loop that begins and ends in Huntsville and swings past Port Sydney Falls and through the town of Utterson. For a guide to the best bike routes in the region, click here.
Posted September 7 by Brian Kendall.
---