The Power of Nature in Teambuilding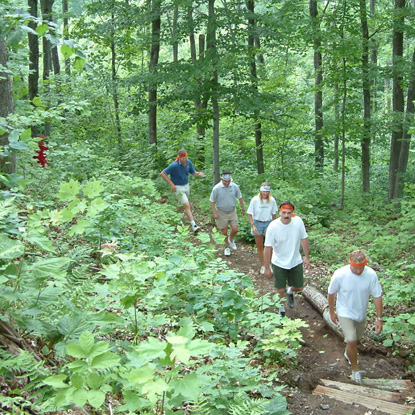 Do you know why geese fly in a 'V' formation?
Sounds simple doesn't it? Mark O'Dell, Director of Team Development for Adventures in Excellence often poses this question to his groups, and asks them to really think about it. "When you look hard at the natural world around us there are so many lessons we can take from nature's every day and apply it to our own work and team development" says Mark.
Mark O'Dell argues that "Taking teambuilding into the wilderness allows us to get back to our natural selves, where we truly feel comfortable." He says, "Embracing our natural world and letting the everyday noise be removed enables us to be in the moment, and concentrate on the here and now."
Hard to do in today's world where your phone is your right and left arm (maybe your right and left leg as well?) So it becomes even more important now to get away from the office and make real human connections – eye contact, reading body language, sensing feelings – and reacting, or not reacting to those natural human communicators. As Mark puts it, it's simply, "disconnecting to reconnect."
The Great Outdoors is the Great Equalizer
The importance of nature – disconnecting to reconnect – when it comes to teambuilding is huge. "Nature opens everyone up, puts the group on an equal playing field," "It breaks down any office hierarchy, and opens the floor to anyone and everyone." As Mark says, "It's easy to stay quiet at the back of a meeting room." "That's why getting back into nature is so important."
Recent studies have shown that the demands of urban life give our brains little time to recover and that even brief interactions with nature can help sooth our brains.
Feel Invigorated with New Experiences
It seems so obvious. Nature equals better mental health. "One of the best parts of my job is seeing the reactions of everyone who takes part in teambuilding exercises in nature – they are invigorated, re-energized and happy." Mark says (with an obvious passion for what he does.) "One of my favourite things to do when beginning to work with a group is digging into what they really need, then matching them with one of the many programs we offer." He says that a focus on creating something from nothing in nature is important to him, "Whether it's the Build a Boat challenge, or Quinzhee Hut Building, they inspire creativity." "And where better to be creative than in nature?"
Bringing teambuilding out into nature allows groups to get back to basics, fill their lungs with fresh air and feel invigorated by all that surrounds them.
So why do geese fly in a 'V' formation?
"The 'V' formation allows them to work in a team. The leader helps his team by taking on the tough workload (helping reduce the wind resistance), then when it needs a break, another member of the team steps up to take the lead, and on it goes. So there is no one goose working harder than the others, they take turns, equally sharing, and communicating when they can and when they cannot lead. And if one goose should fall out of formation for any number of reasons, two others will always follow and stay with it until the goose is ready to join the team again."
Feeling inspired? Get your team 'flying in a V formation' with Adventures in Excellence, a professional corporate team building service based out of both Deerhurst and Horseshoe Resort. Get a FREE 'Power Hour' session when you book your next meeting with our new Power Up Your Next Meeting offer – Learn More.
Posted April 2016 by Ainsley Theis.
---