Why Your Next Tournament Should Be a Shamble
Try a Shamble for Your Next Tournament
Forget the usual corporate tournaments that strike fear into the hearts of twice-a year-players. These days, golf events are about making the game enjoyable for everyone. It's all about fun and most importantly, creating connections –which is golf's biggest benefit by far.
When planning your tournament, the trick is to make the format challenging enough to provide a good experience for highly skilled golfers but enjoyable for the occasional players or even non-golfers in your field.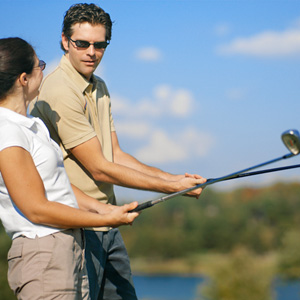 Avid golfers will prefer to play their own ball throughout the round, which is called stroke play. Beginners and occasional golfers will benefit from a team format with one combined team score such as a scramble. In a scramble, each golfer in the team hits their own ball, then the group chooses the best of those shot locations and everyone moves their ball there for the next shot. This allows play to move quickly, but good players often end up 'carrying' the rest of the group.  
But what if you made your next tournament a "shamble?"
What's a shamble you ask? Well, it's the perfect alternative for the standard scramble format because it allows everyone to play more of the golf course. And it's popularity has been growing.
In a shamble, each golfer tees off and the best shot is chosen, but from that point, each golfer plays his/her own ball until it's holed out. This format is intended to be fun and relaxing for all golfers, regardless of their ability. Each player will get the benefit of the best drive, so players typically start out with a great advantage (especially if there is a long hitter in the group).
Another way to keep it fun is by having a variety of challenges setup on the course such as "closest to the line," "longest drive" and "closest to the hole," where both good players and just plain lucky golfers have a chance to win prizes.
Need other ideas? There's a ton of fun, interactive tournaments – here's some favourites:
Longest drive while hitting a squeaky toy off the tee
Million dollar challenge
Beat the Pro
Putting contest on the practice green
Hole in one for cash, cars, boats, trips, etc.
Football or beanbag toss
Pop quiz questions on each hole (can formulate questions focused on charity or company)
Betting hole (double your $)
Poker run
Closest to the sand trap
Most putts
Most balls in the water
Best dressed/worst dressed
Remember, this is your tournament, use your imagination to make it fun and give it your own style.
Ready to start planning your next golf tournament? With two 18 hole golf courses, Deerhurst Lakeside and the course that sparked Muskoka's emergence as a must-play Canadian golf destination, Deerhurst Highlands, Deerhurst Resort is the perfect backdrop. Learn more here.
---