What Fresh Muskoka Air Can Do For Your Team
Nature inspires. It's kind of a 'science' thing. All that fresh air just makes your brain better. Hanging out in the great wide open helps restore mental energy. Boost concentration. It has even been shown to improve eyesight.
But we're not talking about just any fresh air or nature. We're talking about Muskoka's unique brand of awesome nature. Embracing the natural world is no longer a want, but a need. It's simple – nature calms the brain. Recent studies have shown that the demands of urban life give our brains little time to recover and that even brief interactions with nature can help sooth our brains. Which in turn "enables us to be in the moment, and concentrate on the here and now," says Mark O'Dell, Director of Team Development for Adventures in Excellence.
See what we're saying?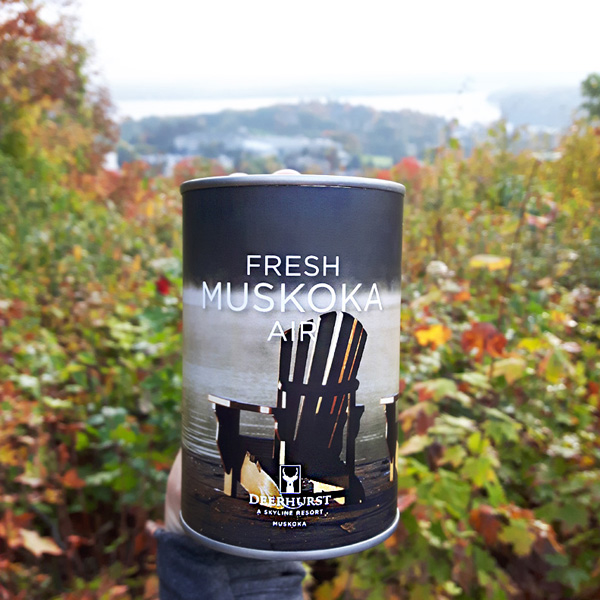 (It's so good we canned it!)
Here are a few ideas to give your next meeting a breath of fresh Muskoka air:
1. Take your team building sessions outside. Whether it's build-a-boat, Quinzhee hut building or a team hike, connecting in nature allows everyone to open up and be at ease.
2. Laugh, talk, connect. After a day of meetings, gather around a Muskoka bonfire and enjoy the fresh evening air.
3. Try new adventures. Why not experience new things as a team? Muskoka offers a wide variety of activities you won't find in the city like ATVing, Treetop Trekking, snowmobiling and so much more.
Incorporating nature into your meeting allows your group to get back to basics, fill their lungs with fresh Muskoka air and feel invigorated by all that surrounds them. Trade the noise of the city for the tranquility of the lake. It's time to rediscover nature as the forgotten ingredient in your team meeting, whatever the season.
A fresh perspective awaits your group at Deerhurst Resort in Muskoka – learn how.
Posted October 2016 by Ainsley Theis.
---