Learning a Survival Tactic – Why It's the Next Big Thing for Meetings
What's the latest and greatest thing when it comes to meetings? According to Mark O'Dell, Director of Team Development with Adventures in Excellence it's "learning a survival tactic that inspires people and makes them feel like they can do anything!"
According to Mark, one of the coolest and easiest survival tactics to learn as a group is quinzhee hut building. Wait – what?
By definition a quinzhee hut is a snow shelter made by gathering a large pile of snow then hollowing it out. Sounds simple right? And why talk about it?
"A quinzhee hut is pre igloo – it's shelter in one of its simplest forms and the definition of getting back to basics," explains Mark. One of the many winter themed team building activities offered by Adventures in Excellence, quinzhee hut building is by far one of the most intriguing to meeting organizers. "When speaking with clients and determining the best team building exercise to suit their needs, quinzhee hut building is one that stands out. Clients say 'what is that?'" he continues.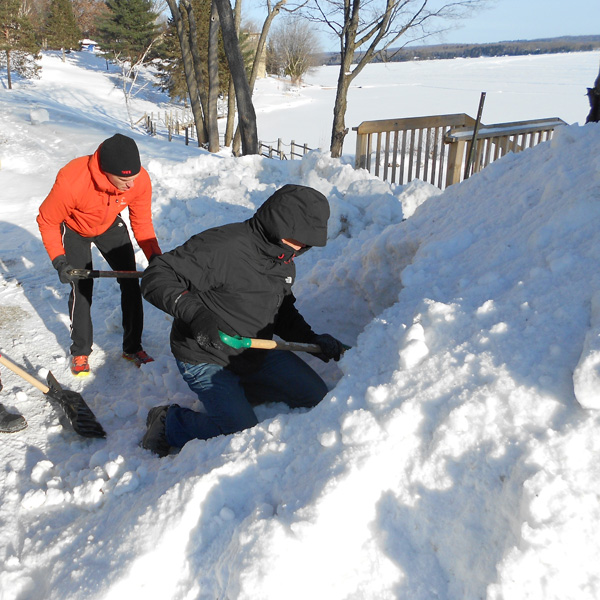 So what makes quinzhee building such a unique team building exercise?
"Often clients and groups are nervous about getting outdoors in the winter, they think they'll be cold. That's why quinzhee hut building is so great," Mark continues, "It's one activity where no one gets cold because groups get so into it that they forget about the temperature. In the end there's a great sense of accomplishment because you and your team get to learn a survival tactic," he says, before adding, "One that hopefully no one will have to use of course."
How does quinzhee hut building encourage team work?
"It takes team work to build it. Teams work together to build something from the ground up – how satisfying is that?" Mark says. "Quinzhee hut building encourages everyone to get involved…even the quiet ones.You need doers, planners and talkers when it comes to building a quinzhee hut – it's a model of how things get done efficiently."
"Quinzhee hut building is one of my favourite team building exercises because it's fun, and stresses progression not perfection," he adds. "It's an activity that can accommodate any size of group, and it uses natural elements. Whenever I've finished a quinzhee hut building session I always sit back and say 'WOW, someone built that in 2hrs…amazing,'" Mark enthuses.
He ends by saying, "It's hard work, you will work up a sweat, but it's hard work that's fun – and trust me everyone will have fun."
Along with quinzhee hut building, Adventures in Excellence also offers other fun and unique winter team building exercises such as a Survivor game which includes a lot of snow challenges. There are also traditional team activities like hockey and curling, which can be set up on a frozen lake – how cool is that?
Want to learn more? Click here to speak with Mark about what your group can do during your next meeting at Deerhurst Resort.
Submit an RFP here or connect with a group sales manager at: 1-800-461-6522 or meet@deerhurstresort.com
Posted October 2016 by Ainsley Theis.
---