Muskoka-Style Red Wine Hot Chocolate
Cozy Up with Red Wine Hot Chocolate with a Muskoka Twist
Picture yourself on a cold winter day with a cup of velvety smooth homemade hot chocolate, feeling cozy right? Now picture yourself on a cold winter day with a cup of velvety smooth homemade hot chocolate with red wine…wait what? Things just got interesting. 
"Red wine hot chocolate has become popular over the last little bit," Deerhurst Resort's Executive Chef, David Bakker says. "I mean red wine and chocolate already pair well together, so we're just adding red wine in chocolate." Chef Bakker says. 
Consider this recipe the answer to the winter blahs. Essentially it's a cup of … well pure comfort.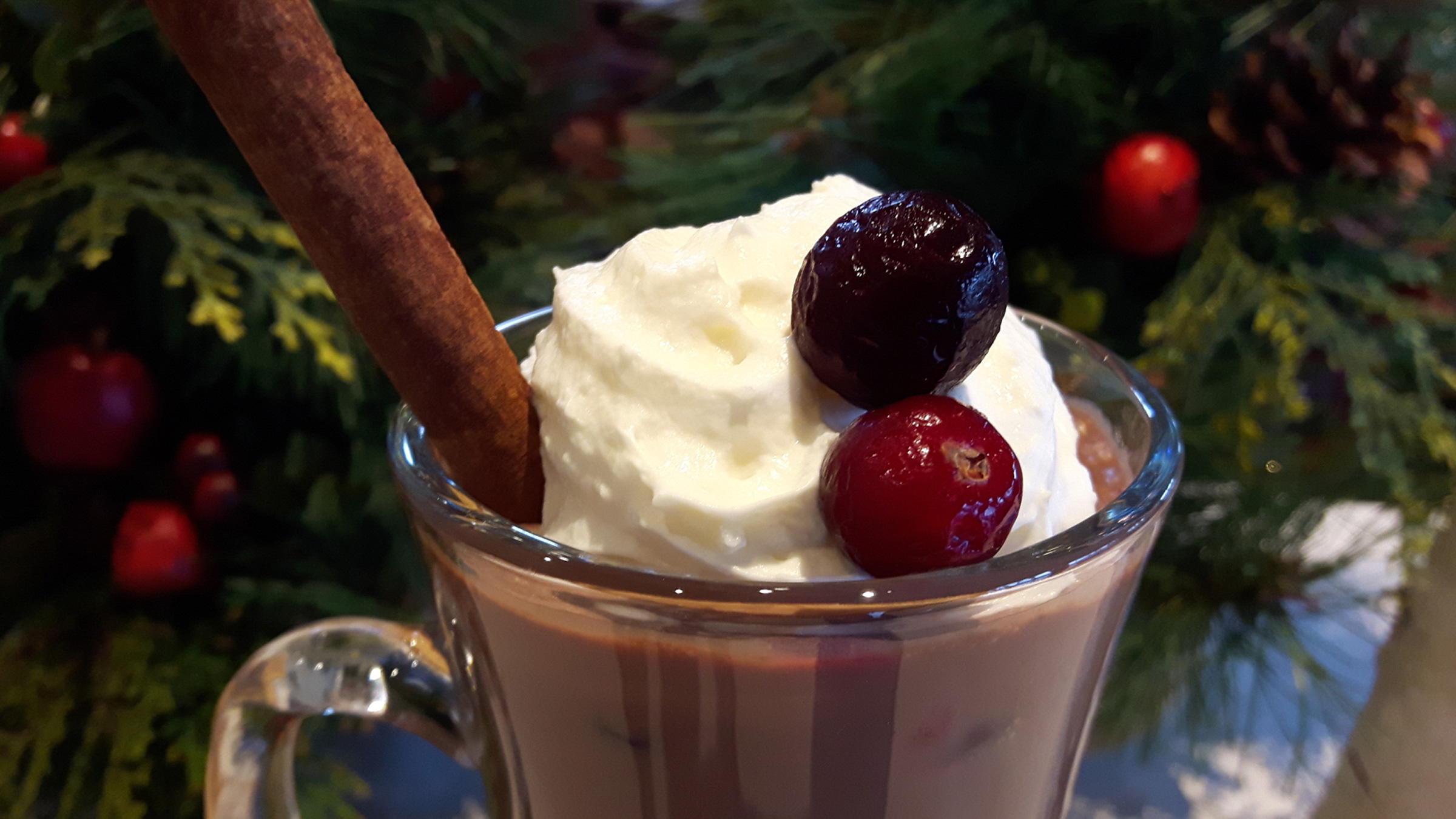 Muskoka-Style Red Wine Hot Chocolate with Bala Cranberries
What you'll need:
1/2 cup Dark Chocolate (callets or cut into chunks)
1/2 cup Milk
1/2 cup Red Wine
1 tsp Cinnamon
1/4 pc Vanilla Bean
1/8 cup of Bala Cranberries
1 pc Cinnamon Stick and Bala Cranberries for Garnish
Vanilla Whipped Cream to finish
Directions:
Heat the milk with the vanilla bean, and cinnamon until the milk just starts to ripple.
Heat up the red wine and steep the cranberries in the wine, and let sit until cooled.
Whisk the chocolate into the milk mixture and keep whisking or stirring until the chocolate has melted. Be very careful not to leave as the chocolate could burn if left.
Whisk in the red wine and cranberries.
Pour, garnish with whipped cream, cinnamon stick and cranberries, enjoy!
After a day of outdoor winter fun cozy up by the fire and enjoy Chef Bakker's Muskoka twist on the popular red wine hot chocolate.
Ready for winter fun and cozy nights? Plan your winter vacation at Deerhurst Resort in the snowy wonderland of Muskoka. From tons of outdoor activities like snowshoeing, cross-country skiing and skating (did we mention Deerhurst is just 10 minutes from Arrowhead's 1.3km ice trail?) to great dining highlighting winter fare, classic winter experiences begin here. Book the winter special and save – see all the details here.
Posted December 2016 by Ainsley Theis.
---