More to Arrowhead Park Than You Think
Arrowhead is well know for its world famous ice trail but did you know it's full of snowy adventures?
Arrowhead Provincial Park, made famous by their 1.3km ice skating trail through the forest, is a magical place during the winter. Think snow covered trees, quiet wooded trails and beautiful winter vistas overlooking the river and their own picture-perfect lake. 
Yes, the ice trail comes to mind when you hear Arrowhead Park, but there's so much more to this outdoor recreational haven that makes it a bucket list winter destination in Ontario. Just minutes from Deerhurst Resort, it offers a pristine wilderness experience with a variety of outdoor activities. You could think of it as 'Algonquin Lite,' after its world-famous neighbour east of Huntsville. 
Nordic skiing (cross-country skiing) is Arrowhead's second most popular activity. With 33 groomed ski trails for both classic and skate skiing,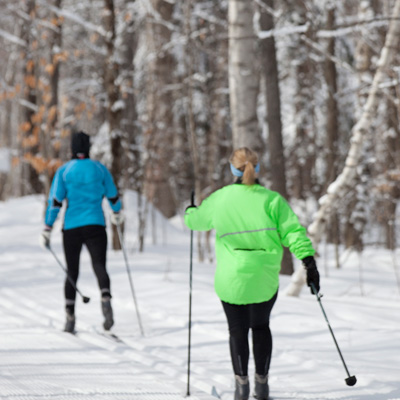 Arrowhead attracts seasoned and beginner skiers with variety of experiences.  Take an easy glide high above the river on the gentle Big East trail,  make a full circle around Arrowhead lake with lots of turns and hills, or explore different forest trails of varying difficulty and challenge. Equipment rentals are available at the park, or Deerhurst Resort guests can take the skis included in the resort fee over to the park with them.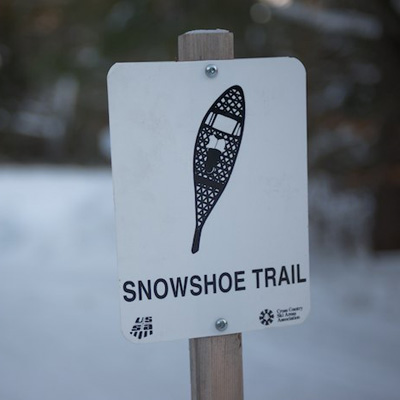 Looking to go on a snowshoeing adventure? With over 8km of marked snowshoe trails, Arrowhead is the perfect spot to immerse yourself in  winter's natural beauty on an invigorating yet no-skills-required excursion.  Strap on a pair of snowshoes (rentals are available at the park or guests at Deerhurst can take over resort snowshoes) and set out on the snowy trails that wind through forests, over bridges, beside the river and ultimately to Stubb's Falls, one of the park's most scenic spots to take a break. Snowshoeing is a great way to slow things down and take in all the scenery that surrounds you – and Arrowhead as a ton of it!
Arrowhead also has an awesome snow tubing hill, which kids (and adults) LOVE. Tubes are available at the park. 
Locals know that weekends have become super busy with long line-ups just to get into the park, especially on Saturdays, so it's best to plan your visit for midweek or even later Sunday if you can. And it's always good to know that even if the park is at capacity, there are cross-country and snowshoeing trails right at Deerhurst for guests to enjoy. 
Daily Ontario provincial park vehicle passes are $17/day and include access to everything but cross-country ski trails, for which special passes can be purchased separately. 
Make Deerhurst Resort your homebase to explore Arrowhead Park. Check-out the resort's Winter Special and book here. Oh and as a gift to you, if you book the winter special and stay between January 8 – January 31 you'll get 2 FREE lift tickets to Horseshoe Resort located just outside of Barrie to use yourself or give to friends or family to enjoy during the 2017 ski season – that's a value of $140!
Posted by Ainsley Theis.
---