How Shopify Rediscovered Winter in Muskoka
Why a Canadian Narwhal Chose Deerhurst for Its Annual Sales Kick-Off Meeting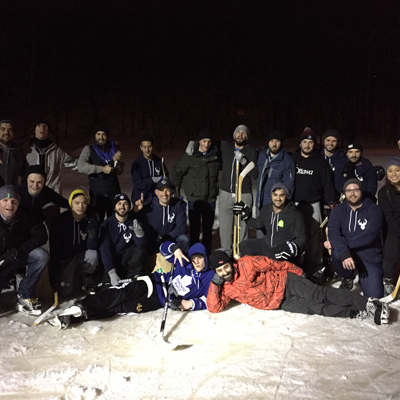 Shopify is one of the world's most successful e-commerce startups, and it's based right here in Ontario. In fact, it has been so successful that it recently became a "narwhal​,​" a name given to the handful of Canadian tech companies that ​have ​achieved​ the rare milestone of a billion dollar valuation (south of the border these companies are called "unicorns"). 
​W​hen this young and innovative company approached ​Deerhurst Resort​ to host their annual sales kick-off meeting, ​they weren't looking for a ​cookie cutter ​treatment​. ​ An unconventional company demands an unconventional approach. For us, that meant incorporating Muskoka's nature into the solution.​​
But don't take our word for it. Recently we chatted with Shopify's Plus Learning & Training Enabler, Emily Beatty about why Deerhurst was chosen​, and her company's experience at ​the ​​resort.
So why Muskoka?
Our sales associates come from all around the world – United States, Canada, Australia – so when choosing a destination for our annual sales kick-off we wanted a destination where everyone could gather, have fun and socialize.
We decided to stay within Ontario, as most of our offices are based here, including our head office in Ottawa. We wanted to embrace winter and thought that Muskoka would be a great backdrop for our vision. 
During our site visit at Deerhurst we felt the resort was quintessentially Muskoka and captured the lodge feel we wanted. It was this moment that we knew it would fit our vision. 
What were some other factors that made you decide on Deerhurst?
We are a relatively large group and wanted to be sure there were lots of activities and dining options to suit the varying styles and tastes within our company, which Deerhurst offered. During our site visit we were able to tour the variety of accommodations and loved the shared space within some of the units that could serve as a gathering spot to just hang out. There were lots of options where everyone could spread out, relax and find their own space, which was important and something we work to incorporate in our workplace.
As for activities, there was so much choice that when our group had free time, everyone could enjoy something that was of interest to them. 
What was the best part about your winter meeting?
The food – and the outdoor activities of course! But the food was highly rated from the team. No matter what kind of dining option our group was after, there was something to settle their craving. Whether it was just grabbing a beer or sitting down for a nice dinner, everything was easily accessible on site.
From a planning perspective, Deerhurst was so accommodating. Their meeting planner was able to find a way to all our ideas possible. When we were on site, their entire staff jumped in to help build the experience – from last minute requests to custom designed menus.
It was great to spend our free time outdoors. and had a variety of activities offered to our group. Some of the favourites were the moonlight snowshoe and ice hockey.
One of our sales associates came all the way from Australia and he loved the retreat. This was his first Canadian winter experience and his team pitched in and bought him his first winter jacket which definitely came in handy!
Will you be back?
Definitely! We want to try a summer meeting in the future and keep the winter tradition going.
Hearing this kind of feedback from clients is what every planner aims for. Muskoka's natural backdrop provides the wow factor, but it's the shared experiences people have that make the most memorable impressions. It's like the advice that couples hear: doing new and different things together brings you closer together. So why wouldn't that apply to work relationships as well?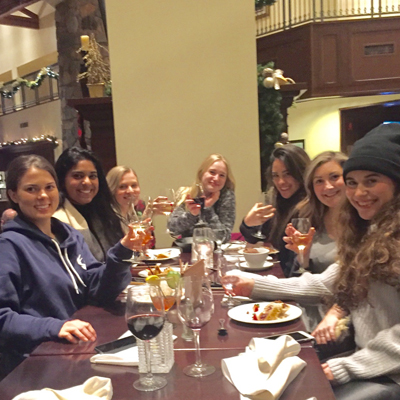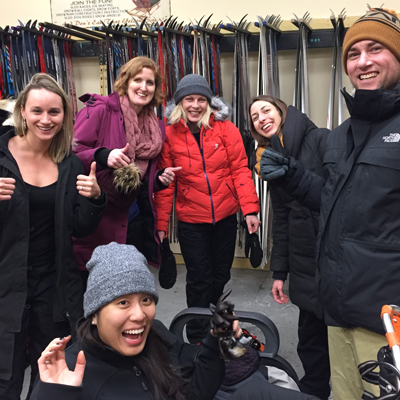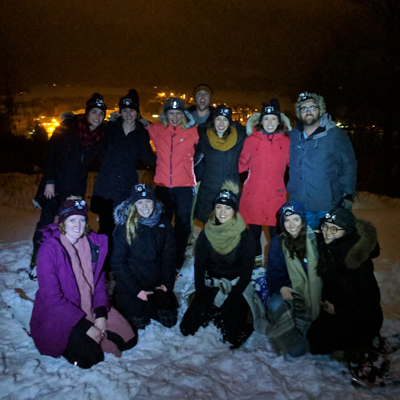 To find out more about how our Muskoka can make a lasting impact on your group, email us or call 1-800-461-6522. 
Thank you to Emily and the entire Shopify team for speaking with us about their experience here at Deerhurst for this article. 
Posted February 2017 by Ainsley Theis.
---