A Winter Wedding in Muskoka Worth Swooning Over
Winter weddings are becoming popular – and after seeing Tessa and Brendan's winter wedding in Muskoka we can see why! There's just something so romantic about the snow covered trees and the calm feeling that winter brings. 
So snuggle up and enjoy a little glimpse into Tessa and Brendan's cozy day filled with family, friends and a touch of the outdoors, as they reminisce about their big day…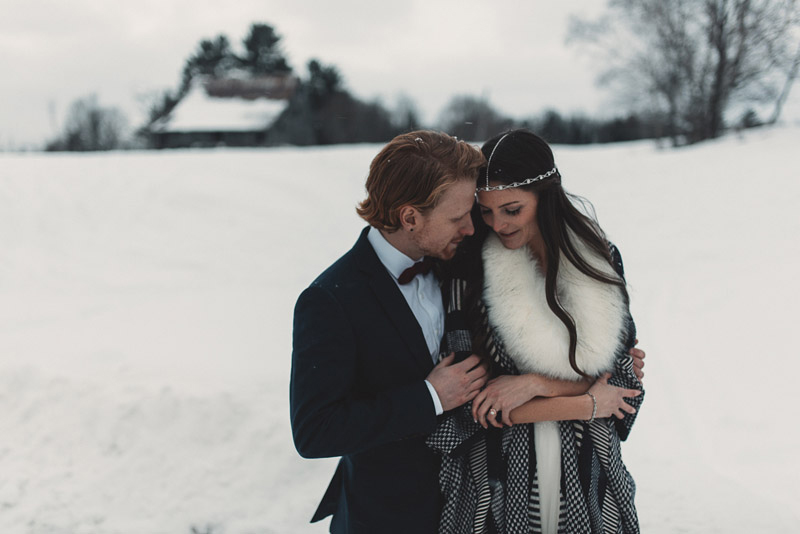 What made you decide on a winter wedding?
Brendan and I got engaged back in October and we didn't want to wait to get married, so when looking ahead we decided that February was our month and choose a weekend that worked both for us and our families.  I had always pictured an outdoor wedding, so when we decided to get married in the middle of winter it was important for me to incorporate the outdoors, and bring as much of it inside as we could.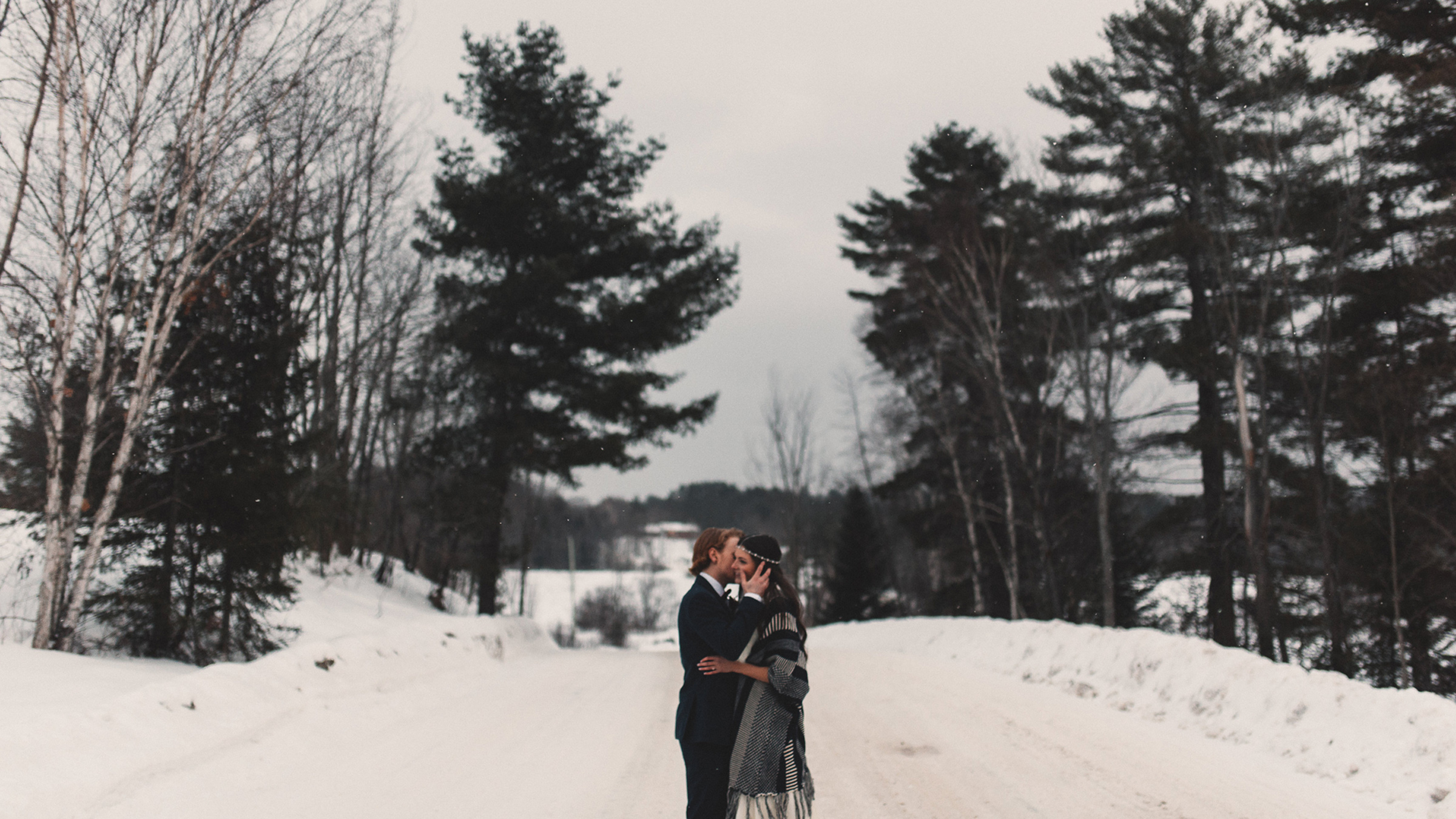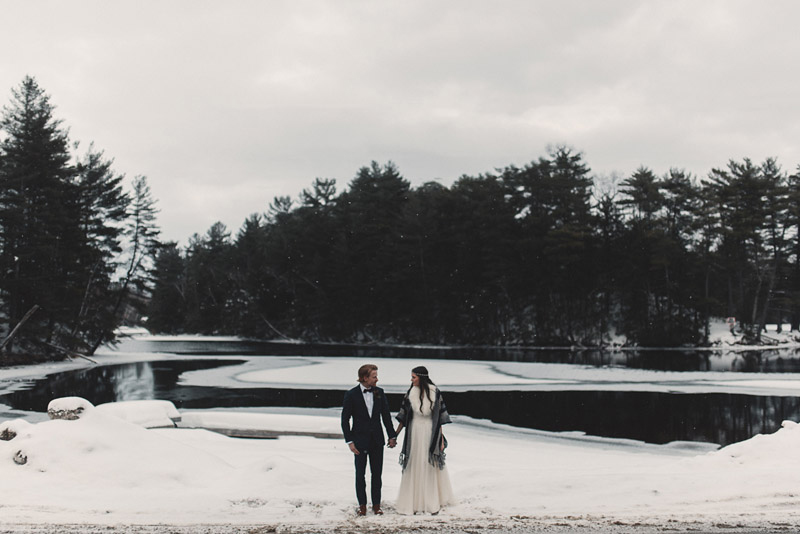 Why Muskoka – and what made you choose Deerhurst?
Both Brendan and I were born in Huntsville, and live here now, so we knew that we both wanted to get married at home.  When we started to put together our guest list we realized how big it was…so we needed a venue that could hold a large wedding. I knew Deerhurst well, and knew it had a good reputation for weddings and so during our visit we found Legacy Hall which offered a blank space, then I saw Rotunda and was sold. Having a ballroom wedding was never in our plan, and Legacy Hall offered this great industrial look that we could play with.
Because some of our guests were coming from out of town, we really wanted to give them a comfortable fun weekend, which Deerhurst was able to offer. Most of our guests arrived Friday and stayed until Sunday, which meant they were relaxed and able to just have fun with us.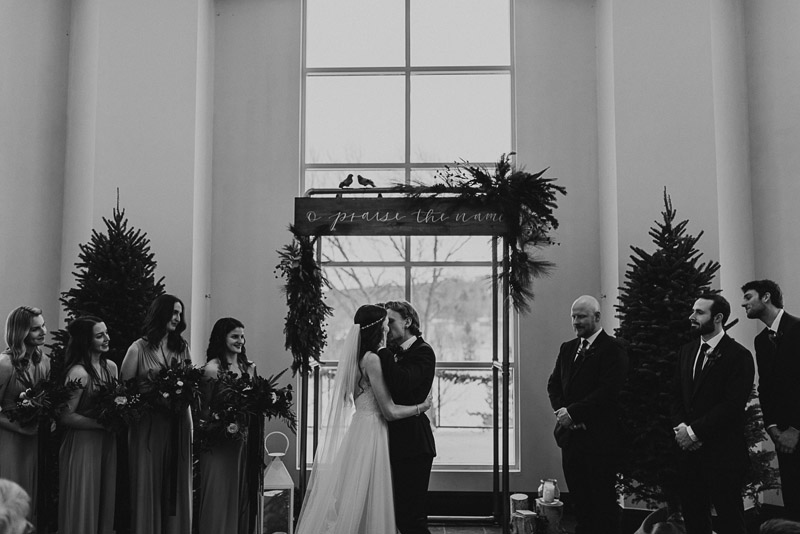 What did you consider when planning your wedding?
We really wanted to create a cozy feeling for our wedding, and bring the outdoors in. So when planning we looked for a space that we could make our own. We brought in trees, lighting and created an indoor 'campfire' where our guests could gather. 
When it came to the dinner, a community feeling is what we wanted so we opted for a family style meal, where everyone could talk, share and connect. The team at Deerhurst also helped us create a special vegetarian menu, as that was also important to us. We felt like we were truly able design our own day – we weren't committed to a specific package, the team gave us options.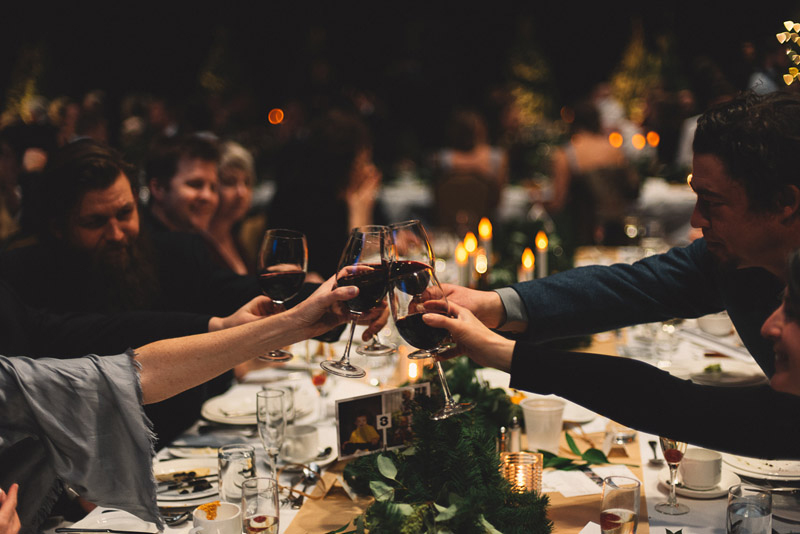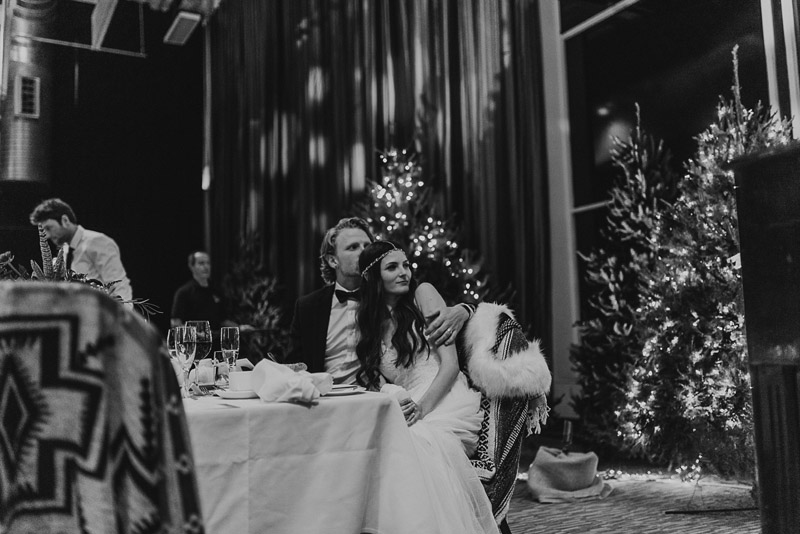 Was it everything you ever dreamed of?
Yes! The whole day came together and it was amazing to see our vision come to life. Everything was ready for us when we arrived at Deerhurst and the team was always willing to help. Rory (Rory Golden, Director of Food & Beverage) went above and beyond in helping us create our menu – even the Chef (Executive Chef David Bakker) sat down with us and gave us great ideas and helped us sort through all of the dietary restrictions (there were a lot!). It was truly an amazing day.
How did Brendan propose?
We had just bought our first house and on the day we got the keys we walked in the door and he had this whole set-up – candles, flowers…and then he asked me to marry him, and of course I said YES!
——————————————————————-
Congratulations Tessa and Brendan – thank you for sharing your truly amazing day with us! 
Wondering who took all of the incredible photos? Kymberlie Dozois was their amazing photographer who captured all of these stunning moments.
Ready to plan your winter wedding? Our dedicated wedding specialists can help bring your vision to life. Learn more here or call us 1-800-461-6522.
Posted March 2017 by Ainsley Theis.
---