Harvesting and Cooking Fiddleheads with CTV Barrie
CTV Barrie Forages for Fiddleheads with Executive Chef David Bakker
It's fiddlehead season in Muskoka and CTV Barrie joined Deerhurst Resort's Executive Chef David Bakker to learn how to harvest and cook these little vegetables.
Celebrate the return of spring with an oh-so-delicious getaway to Muskoka. Book the Taste of Spring package and enjoy a 3-course dining experience accented by a fresh-picked harvest of springtime flavours like fiddleheads, wild leeks and asparagus. It's the perfect accompaniment to strolling by the lake, hitting the golf course or hiking nature trails as the world turns green again. Learn more.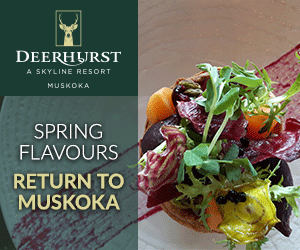 Posted May 2017 by Ainsley Theis.
---