Five Insiders Share Their Favourite Spots in Muskoka
Insider Tips for the Best Places to Explore in Muskoka
When you think of Muskoka what comes to mind? Sitting on the dock, enjoying the lake and tuning into 'Muskoka time.' Sounds wonderful right? But there is truly so much more to see and do beyond the dock or resort beach – whether it's exploring great Canadian wilderness trails, discovering secluded lakes and rivers on a canoe or heading to town for the cultural side of cottage country.  
But where do you even begin?
Local adventurers are sharing their favourite little hidden gems around Huntsville. These are the places that they visit when they're looking to get outside and embrace everything that is Muskoka. 
Isolated and Scenic Paddle Route
Nate Smith, Algonquin Outfitters, Store Manager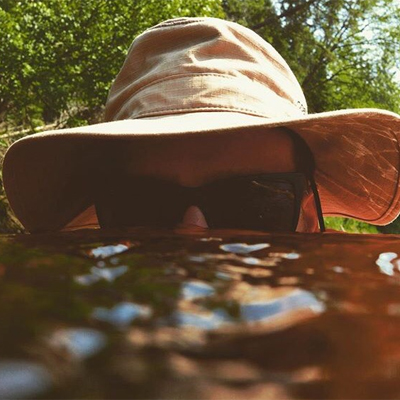 Nate Smith is the ultimate Muskoka adventurer, staying true to his Instagram claim of being local and amphibious. As the store manager of Algonquin Outfitters in Huntsville, Nate spends his days immersed in everything outdoors, both for work and for play. "Getting outdoors is a must for me," Nate says. So where is his favourite spot in the area? "Paddling the Big East River, by far," he says. For him the Big East River is a great place to explore if you're only looking to go for the day as it's easy to access and not super challenging, plus the scenery is stunning. As he explains, "It's isolated and scenic, but not a huge journey to get there." 
The spot:
Best experience for families: Arrowhead to Hutcheson Beach.
Start at the bridge at the entrance of Arrowhead Provincial Park, just a short distance from Hwy. 11 on Arrowhead Park Rd. Paddle down the river until you reach Lake Vernon where you'll swing a left towards Hutcheson Beach. There's little boat traffic and the river is quiet so it's a nice easy experience. Note: You'll need a second car for pick-up. This is about a half day experience. 
Best experience for more experienced paddlers: Williamsport Rd to Arrowhead Bridge.
Start from the bridge at the river on Williamsport Rd in Huntsville,  off of Muskoka Rd 3. After paddling a few gentle rapids and lots of twisty winding curves in the river you'll arrive at the bridge just before Arrowhead. This is the most scenic part of the river with huge sand cliffs and pristine white sand banks that are interspersed throughout crown land, park property and private land. Note: You'll need a second car for pick-up. This is about a half-day experience.
Algonquin Outfitters offers canoe rentals in their downtown Huntsville location and has staff who will help you get set for your day of exploring. They also offer organized day trips and more information can be found on their website.
Follow Nate on Instagram for more great photos. 
Hit the Beach
Gerry Lantaigne, Art Director – The Group of Seven Outdoor Gallery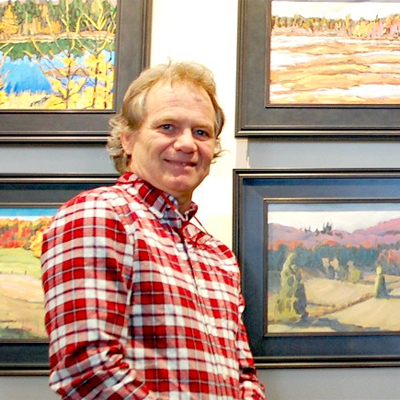 As Art Director of the Group of Seven Outdoor Gallery, Gerry Lantaigne is a huge advocate of incorporating the arts into your Muskoka experience. "Any visitor to the Muskoka area should definitely explore the outdoor art gallery," he says.  Featuring over 90 incredible mural replicas showcasing the works of the famous Canadian Group of Seven painters, the outdoor gallery allows visitors to step into the art world in a fun way. 
But, Gerry isn't only about art.  "My wife and I have a favourite thing to do, and that is what we call beach hopping," Gerry says. "Basically we pick an area and look up the public beach or access point to the lake and head out there for the day." Bringing along his paints, they set-up for a couple of hours and just enjoy experiencing a new spot. "There are so many lakes in the area, and almost all of them have public access spots," he says. The best part? "Each spot is so different…the landscape, the water, the feel," He explains. 
The spot:
Hutcheson Beach in Huntsville.  Just south on Hwy. 11 exit Muskoka Rd 2 (Ravenscliffe Rd). The best beach according to Gerry, and great for little ones too!
There are many public beaches and access points in the area whether you're looking to just relax on the beach or head out on the lake for a paddle. A good reference can be found here. 
A Private Oasis (Not Far from the Crowds)
Robin Tapley, Senior Naturalist and Wildlife Photographer at the Algonquin Wildlife Research Station in Algonquin Park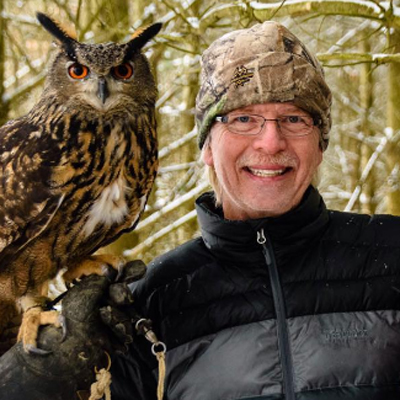 Who better to give some tips on exploring Muskoka than senior naturalist, Robin Tapley. Driven by a curiosity and a passion for adventure, Robin spends his days connecting to the natural world, whether through research or wildlife photography. Sharing a few of his favourite spots to capture the beauty of Muskoka, Robin says, "These locations combine a little adventure with some navigation skills but the reward can be pretty awesome." 
The spots:
Ragged Falls is a unique spot to explore and the view of the falls is amazing. Robin says, "If you take the trail passed the falls and along the river you'll  be rewarded with a peaceful and basically crowd free spot to enjoy the serenity of the river." He continues, "The trail is unmarked but if you can find it you can complete a circular loop which takes you back to Hwy. 60 – but if you make an error you might be in for a little longer of a hike than planned."
Marsh's Falls via canoe leaving from the beach in Dwight is a must. Paddle up the Oxtongue River to the base of Marsh's Falls (round trip is about 8 km). You'll have to cross some open water, but once on the river you'll enjoy a scenic paddle in a wilderness setting. Tip: It's best early morning and late afternoon where boat traffic is minimal and you'll have a better chance of spotting wildlife. Canoe rentals available from Algonquin Outfitters in Huntsville.  
His last spot? Algonquin Park of course. A fun canoe outing is along Costello Creek. Canoe rentals are available from the Algonquin Outfitters' Opeongo Store. Early mornings or late afternoons are best, again these are your best times to spot wildlife. The Algonquin Visitors Centre is on route and makes for a great stop along the way.
Follow Robin on Instagram for more great photos. 
Robin will also be running onsite programs at Deerhurst Resort for guests on the summer package. Guests can join him on guided nature hike through the Sanctuary Trail and an 'Owl Prowl' in the evenings every Monday during July and August.
More to it Than Just the Ice Trail
Jana Neps, Optician, Muskoka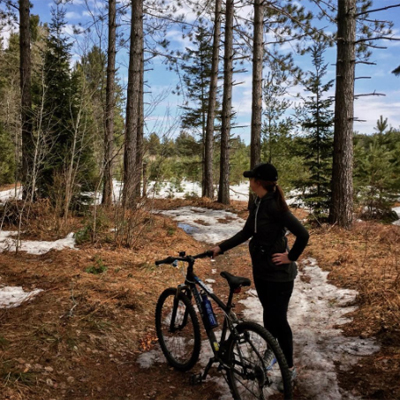 Jana Neps is a local Muskoka resident who's passion in life is exploring the place she gets to call home. "There's honestly no better place I can imagine living. Muskoka is an explorers dream and my nature-loving heart has been rooted here since day one," Jana says. She continues, "Being surrounded by the most raw and beautiful landscapes, and experiencing nature and wildlife up-close is something I still grow to appreciate more and more each day living here." Her favourite spot to explore? Arrowhead Provincial Park. "I'd describe the park as a mini wilderness paradise located just minutes from town," She says.
The spot:
Arrowhead is located in Huntsville, just north of Hwy. 60 exit 226. Although known for its famous ice trail, Arrowhead offers many great trails and unique spots. "I specifically enjoy the Arrowhead Lake biking trail which loops the very picturesque Arrowhead Lake," Jana says. You can either hike or bike the 4.5 km trail. Tip: Jana says, "You can branch off the trail to follow the sometimes visible moose tracks leading back to the beaver pond in hopes of viewing the beavers, the occasional moose and other wildlife." Note there is a $17 day-use pass required and bike rentals are available at the park during summer months. Learn more.
Follow Jana on Instagram to see more of her adventures.
A Hidden Spot Just Outside of Huntsville
Dan Loeb, Recreation Manager, Deerhurst Resort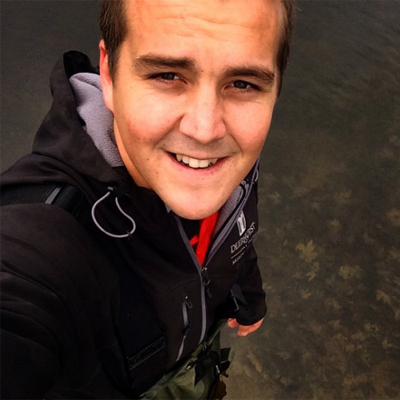 There's a reason why Dan is the recreation manager at Deerhurst Resort, and his love for the outdoors may have something to do with that. On his off time you can find him exploring Muskoka whether in Algonquin Park or his most favourite spot, the Limberlost Forest and Wildlife Reserve (which he was hesitant to share because it's just that great). "As a child I stayed at the Limberlost Lodge with my family for three summers and have fond memories of canoeing and swimming in Solitaire Lake," he says.  "I like to go back now and reminisce and explore the trails. One of my favourite is the 7 km hike around the lake that my soon-to-be wife and our dog often do – it's perfect because it's just long enough to wear us all out but so beautiful that you sometimes don't want it to end – it's my favourite."
The spot:
Located just off of Hwy. 60 towards Algonquin Park on Limberlost Rd. Limberlost Forest and Wildlife Reserve is a publicly accessible private year-round wilderness haven with twenty private lakes and more than 10,000 unspoiled acres of mixed forest. With more than 70 km of hiking and biking trails in the summer and skiing and snowshoeing trails in the winter that are made available to the public at no charge, it's no wonder this is a must-do in Muskoka.  Don't be surprised to spot life size sculptures of horses and other animals just passed the first parking area.
And these are just a few of the cool spots to explore in Muskoka!
Ready to plan your next adventure? Deerhurst Resort is really in the centre of it all. With easy access to all the unique and cool spots to explore in Muskoka, planning your next adventure is simple – just 10 minutes from Arrowhead, 30 minutes from Algonquin and 20 minutes from the Limberlost Forest. And where better to stretch and and relax after a day on the trails or in the canoe? Book your next stay and experience the local side of Muskoka. Learn more and book here.
Posted May 2017 by Ainsley Theis.
---