Owl Prowl Summer Program at Deerhurst
In Search of Owls with Naturalist, Robin Tapley.
Forget heading to the campfire to end off another glorious day in Muskoka, instead lace up and head out on a 'prowl' in search of everyone's favourite night creatures.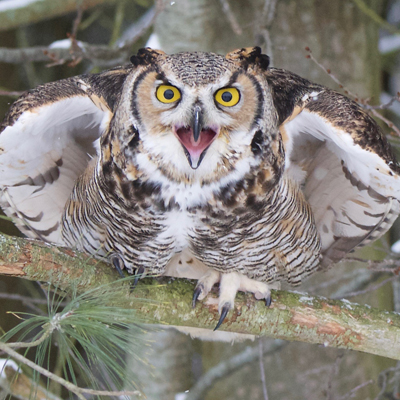 Robin Tapley is the onsite naturalist and wildlife photographer at the Algonquin Wildlife Research Station located in Algonquin Park – and long-time wilderness adventurer. His two big passions are of course nature, and educating those who are eager to learn and witness the natural world. Running a variety of programs, one of the most unique (and with the most WOW factor) is his nighttime Owl Prowl. 
Robin asks, "What is it about the night and its creatures that makes us want to go inside and turn on the lights? Who and what's out there? And why aren't we?" He continues, "Nighttime offers the perfect backdrop to witness owls as they are nocturnal animals often hunting in the night."
Robin Tapley hosts a weekly Owl Prowl on Monday evenings throughout July and August at Deerhurst Resort. The Owl Prowl is an exploration into the sights and sounds, truths and fictions of crepuscular and nocturnal creatures that prowl under the stars. Participants can explore the secret and mysterious world of owls, bats, wolves and cool creepy crawling things that wait for the veil of darkness to conceal the nocturnal behaviors.
So What Can You Expect?
After a brief discussion participants will be outfitted with head lamps and make their way out the bus that will transport to the trail head where the adventure into the inky darkness of the night will begin. Along the trail Robin will make various attempts to call for specific nocturnal species including barred owls, coyotes and wolves while also searching for those creepy crawlies on the forest floor – oh and we're sure Robin will share bonus bits of knowledge and travel stories gained on his previous expeditions to Mount Everest, interior of Algonquin Park and beyond … you may even learn a few tidbits on everything from black bears to forest survival skills.
What Types of Owls Will You See?
"Barred Owls – but you are more likely to hear them then see them in the dark," says Robin.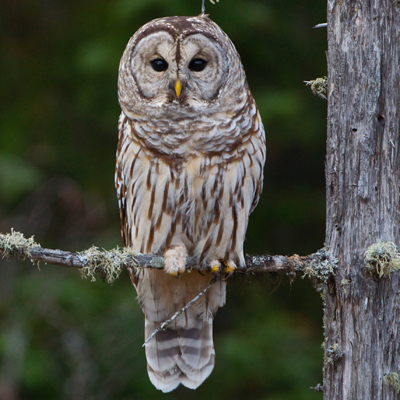 The Barred Owl is a medium-sized owl with a very distinctive call! But there is a chance that you could see two other resident owls, the Saw Whet Owl and the Great Horned Owl.
The Owl Prowl program is limited to resort guests only. It takes place Mondays @ 8:30pm and guests are asked to pre-register at the Activity Desk. Robin Tapley also runs a guided hike Monday mornings at 9am where guests will learn everything there is to know about local habitat in the area. Both of these programs are included in Deerhurst's 'This IS Summer' Offer which includes tons of complimentary programming including; kids fishing on the dock, live music, early morning guided paddles, cooking demos, Zoo To You programs, family games and more. Learn more here. See full activity guide here.
Want to learn more about Robin Tapley? Click here.
Posted July 2017 by Ainsley Theis.
---