Holiday Eggnog Syrup – It's Seriously a Thing
Holiday Eggnog Syrup – Muskoka Style!
Your New Holiday Breakfast Staple
The holiday season is here which means it's eggnog time. While eggnog is already a great holiday staple, Deerhurst Resort's Executive Chef David Bakker is making it ever better by sharing his recipe for a holiday eggnog syrup.  Combining eggnog, maple syrup and a little Grand Marnier, this syrup is the perfect accompaniment to your holiday brunch menu. Use this syrup on your favourite homemade pancakes or waffles, or try Deerhurst's Crunchy Eggnog French Toast…it will definitely be a fan favourite.
Seriously, where has this been our whole lives?!
The Easiest Holiday Eggnog Syrup Recipe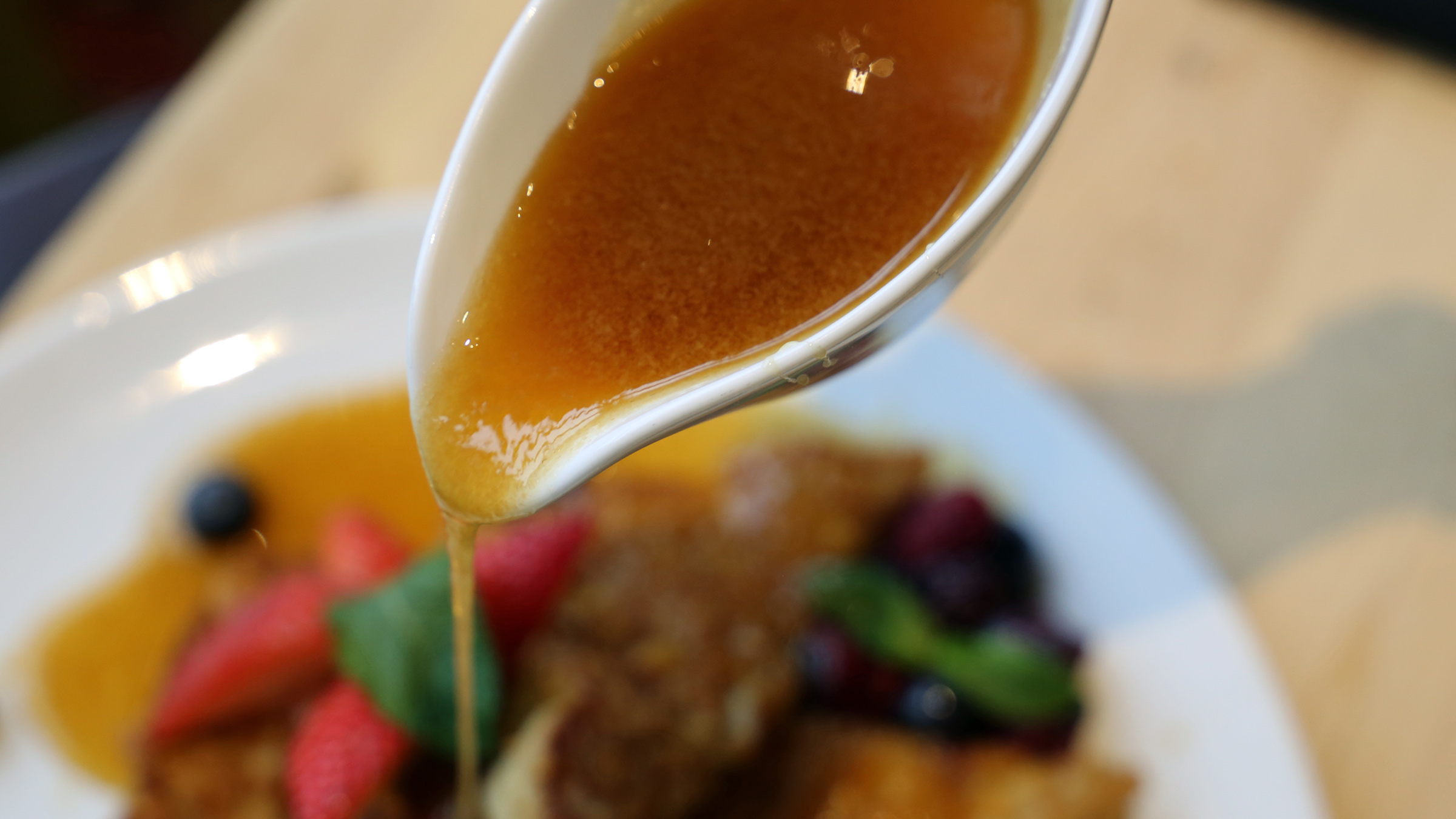 What You Need:
1 cup eggnog
1 cup Deerhurst maple syrup (you can use any brand of maple syrup. Our advice? Just make sure it's real maple syrup!)
½ pc vanilla bean (split in half and beans scraped into syrup)
2 tbsps Grand Marnier
1 cinnamon stick
Method:
Put all ingredients into a sauce pot and reduce over medium heat until reduced by half or thick enough to coat the back of a spoon.
Enjoy this holiday eggnog syrup on all your favourites – and make sure to try Deerhurst's Crunchy Eggnog French Toast!
---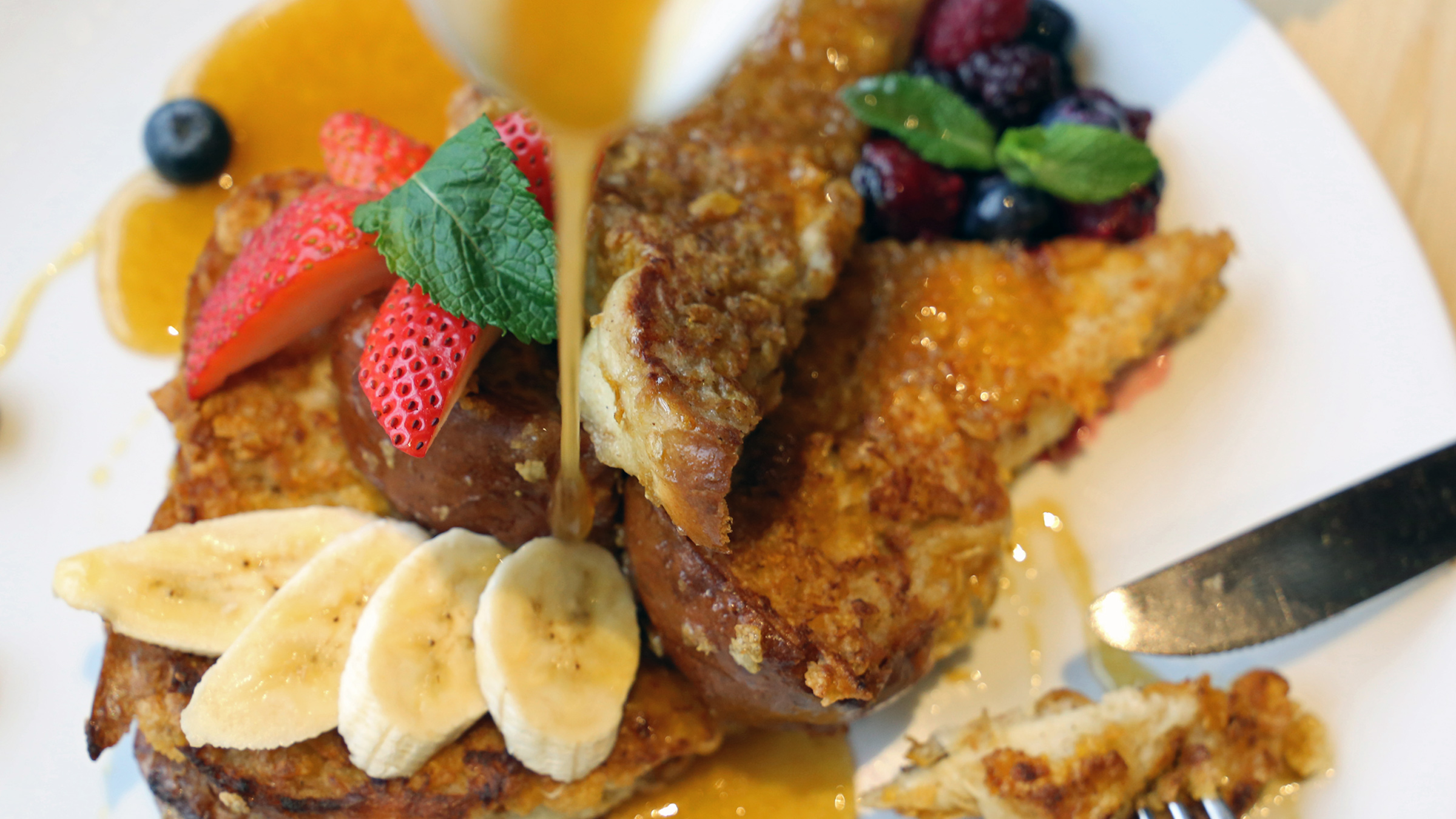 Crunchy Eggnog French Toast with Holiday Eggnog Syrup
What You Need:
8 pc thick cut egg bread
2 whole eggs
1 cup eggnog
1/8 cup Grand Marnier
1/8 cup spiced rum
1 tsp ground cinnamon
2 cups corn flakes crushed by hand
4 tbsp butter
1 cup mixed fresh berries, and sliced bananas
Method:
Whisk together the eggs, eggnog, Grand Marnier, rum, and cinnamon until homogeneously mixed
In a shallow container dip the bread in the mixture and let it soak into the bread
Immediately press the bread into the corn flakes so that they stick to the bread
Let the butter melt on a griddle or non stick pan at medium heat, and place the crusted French toast making sure to get a good amount of butter under so that the cornflakes get crunchy.
Once golden brown flip and cook until golden brown on the other side.
Remove from the heat, slice in half and finish with fresh fruit and a healthy drizzle of the eggnog syrup.
If you like, you can also serve with cranberry compote.
ENJOY! 
Looking for the ultimate holiday getaway? There's no place like Deerhurst Resort for your family's holiday break! With tons of activities for the whole family including our giant indoor playzone, outdoor adventures, kids programming and Splash'N Boots, you're guaranteed fun regardless of the weather. Start planning your BEST. HOLIDAY. BREAK. EVER. Learn more here.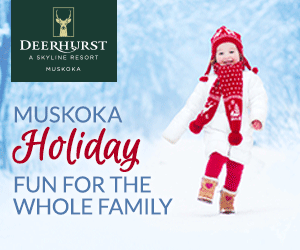 Posted November 2017 by Ainsley Theis.
---