Krista & Dan: A Lakeside Ceremony
Krista & Dan's Lakeside Ceremony in Muskoka
Fall Colours and Blue Lakes
Fall weddings are becoming more and more popular, and it's no wonder why. The fall colours in Muskoka are breathtaking and add in the crisp blue colour of the lakes and you've got a perfect backdrop for a wedding. 
For Krista and Dan, having their wedding in the fall in Muskoka was important to them. Not only because of the beauty that the season brings, but for the modest temperatures and quietness that can be found after a busy summer season.
Krista and Dan gave us a little glimpse into their day filled with family, friends and all things cottage-country. Enjoy!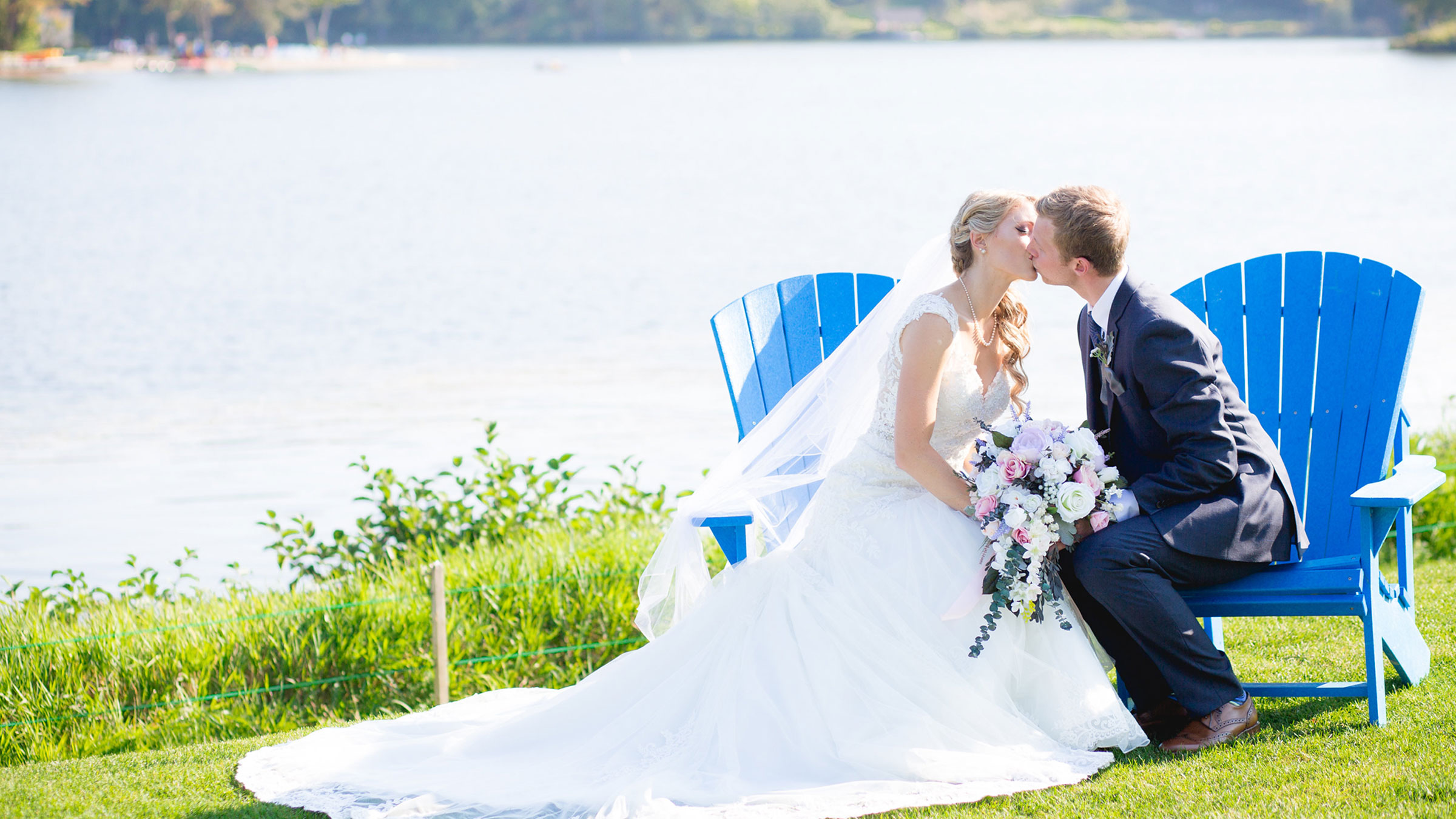 What made you decide on a fall wedding?
Autumn is our favourite season, and we love the fall colours, the colours are so beautiful in Muskoka. When we planned our wedding, we knew that a fall wedding would mean cooler temperatures, and would make it more comfortable for our guests, but I think the weekend we got married was the hottest weekend yet…which was ok because the breeze of the lake helped cool things down! 
Dan and I also met in September, so we thought it would be fun to honour that moment by getting married in September.
Why Muskoka – and what made you choose Deerhurst?
My family has owned a cottage in Muskoka for 30 years and it has always been a childhood dream of mine to get married in Muskoka. When I brought Dan to my family's cottage he also fell in love with it and so Muskoka was an easy choice for us.
My first thought was to get married at our cottage, but after some discussion we realized the space just wouldn't work. Deerhurst is just 5 minutes from my family's cottage and we pass the resort on the way to our cottage, so it was an obvious choice. Not only that, but Deerhurst is a special place for Dan and I.
The day we got engaged, we went to Deerhurst for dinner with my parents to celebrate. Also Dan competed in the Ironman, which was held at Deerhurst, a few years ago, and I was able to go and cheer him on, and again celebrate his finish at Deerhurst. So the resort has been with us for little moments throughout our relationship, so getting married there seemed fitting.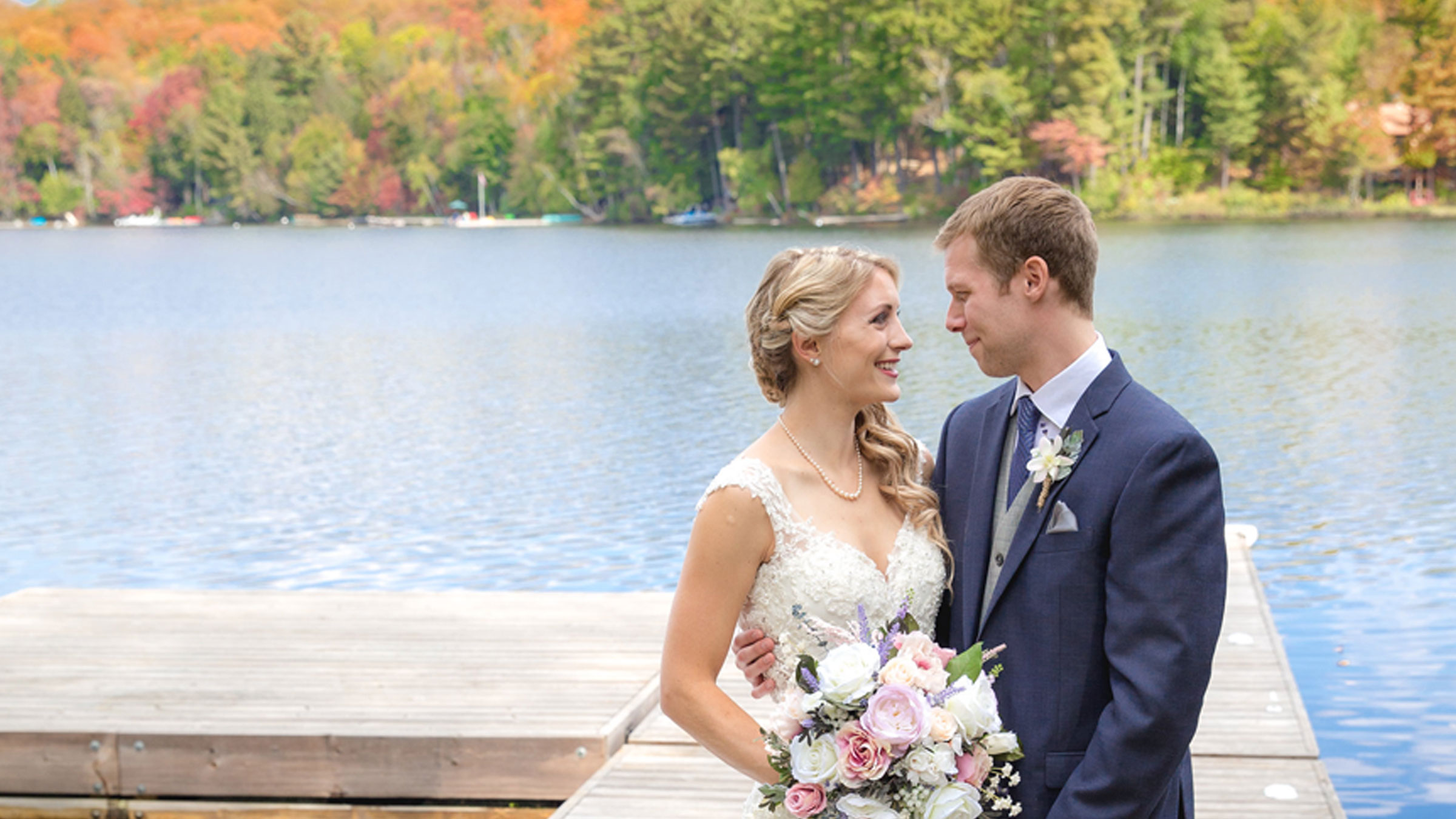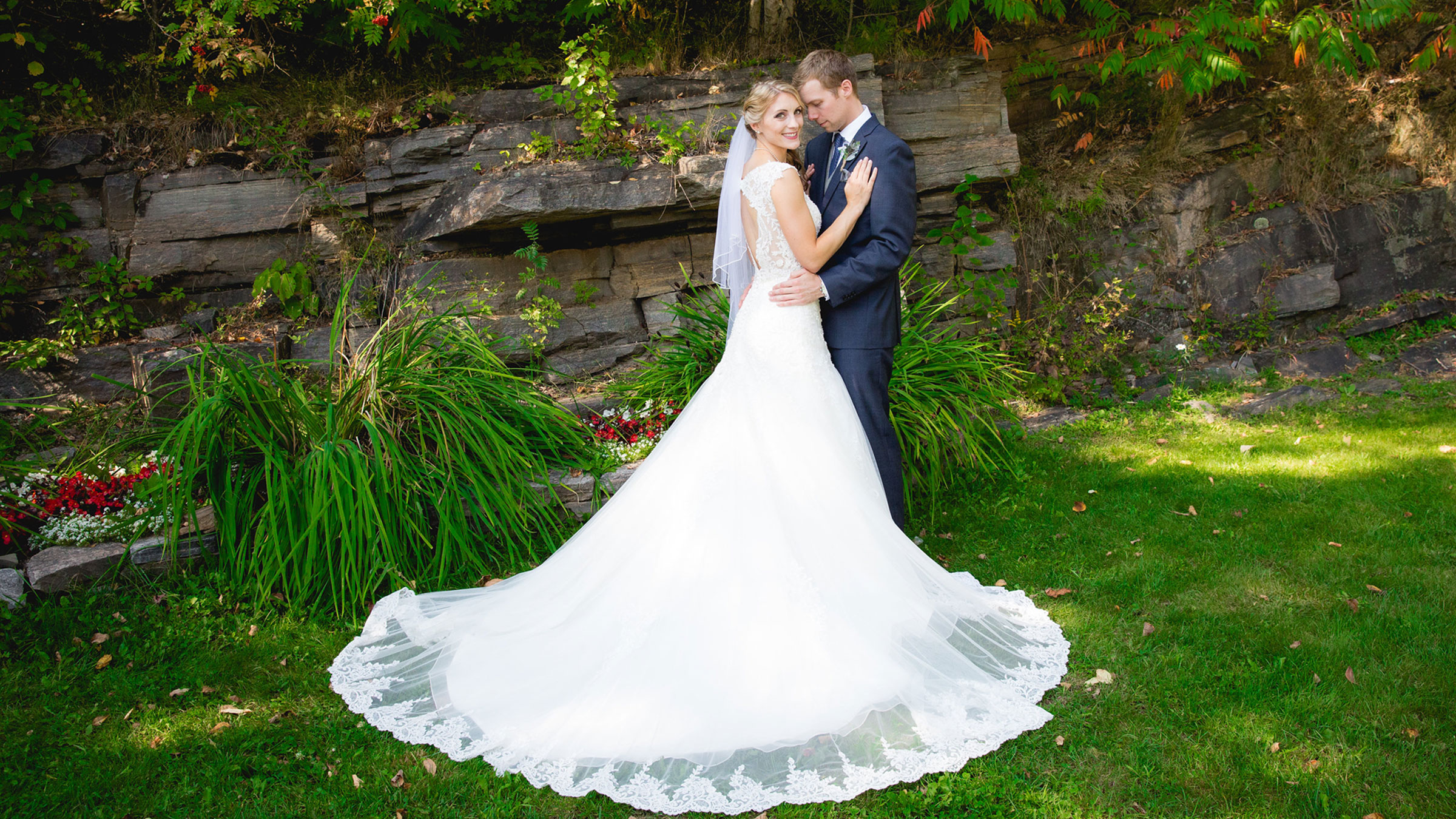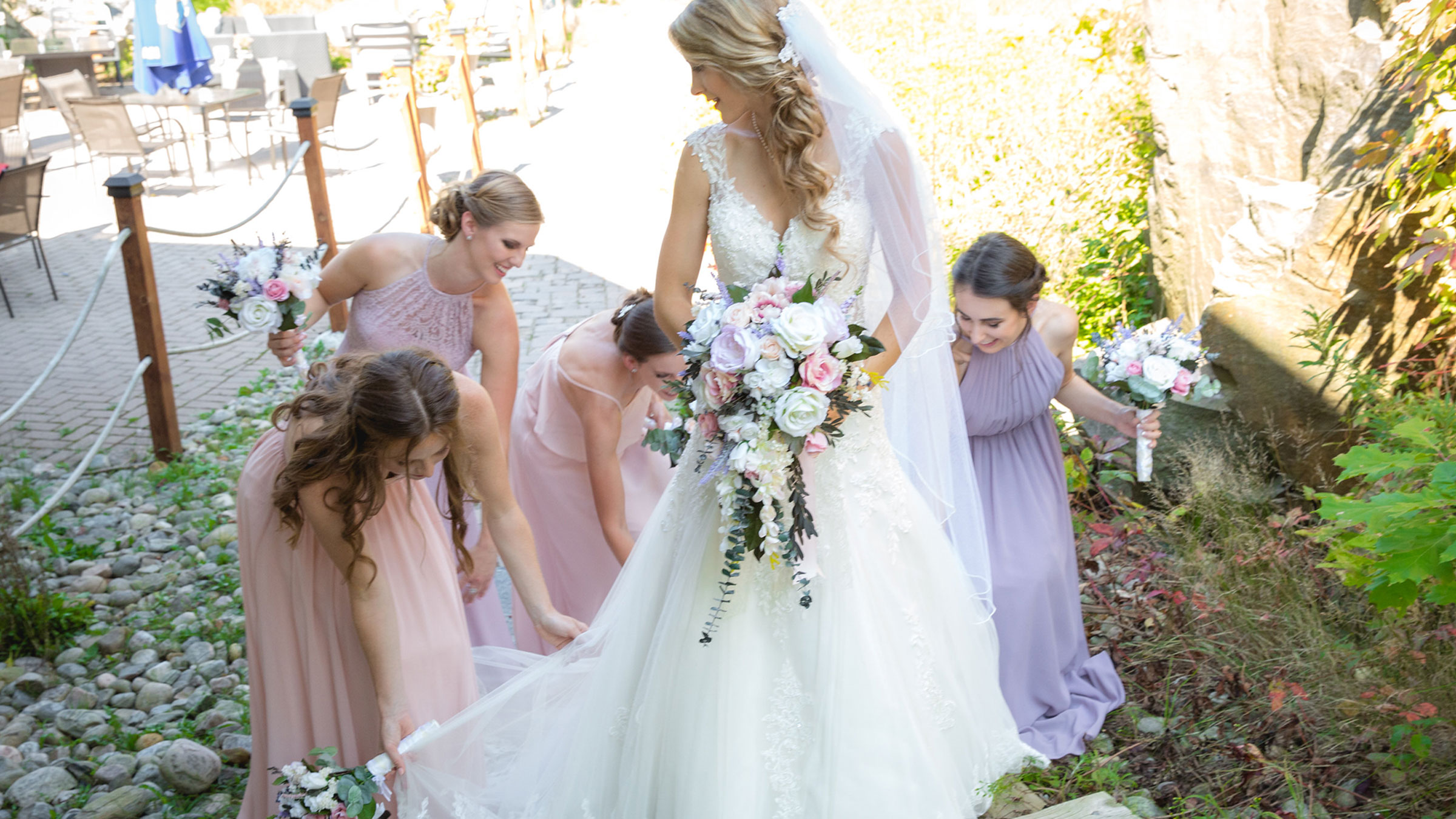 What did you consider when planning your wedding?
We really wanted the weekend to feel like a getaway for our guests because most of them were traveling a couple of hours to celebrate with us. On the Friday evening we hosted a campfire and it gave us time to welcome everyone, catch-up and just have fun – it really felt like we were all just hanging out at the cottage.
For the actual wedding day, it was important to hold both the ceremony and reception in close proximity, to make things easy and simple for everyone. And holding the ceremony next to the lake had always been my vision, and we were the first couple to get married at Deerhurst's new lakeside venue – and it was incredible. I think my favourite memory is walking down the aisle, but the aisle at this location was a long pathway that winded its way down a hill and so as my Dad and I were walking down I got an overview of the entire ceremony and it's just something I'll always remember.
Food was another important thing for us, but because we had dined at Deerhurst many times before we knew the food on our wedding day would be awesome.
For décor we kept it Muskoka by incorporating small details into the room. Dan made a beautiful paddle for our guests to sign, which hangs in our home today.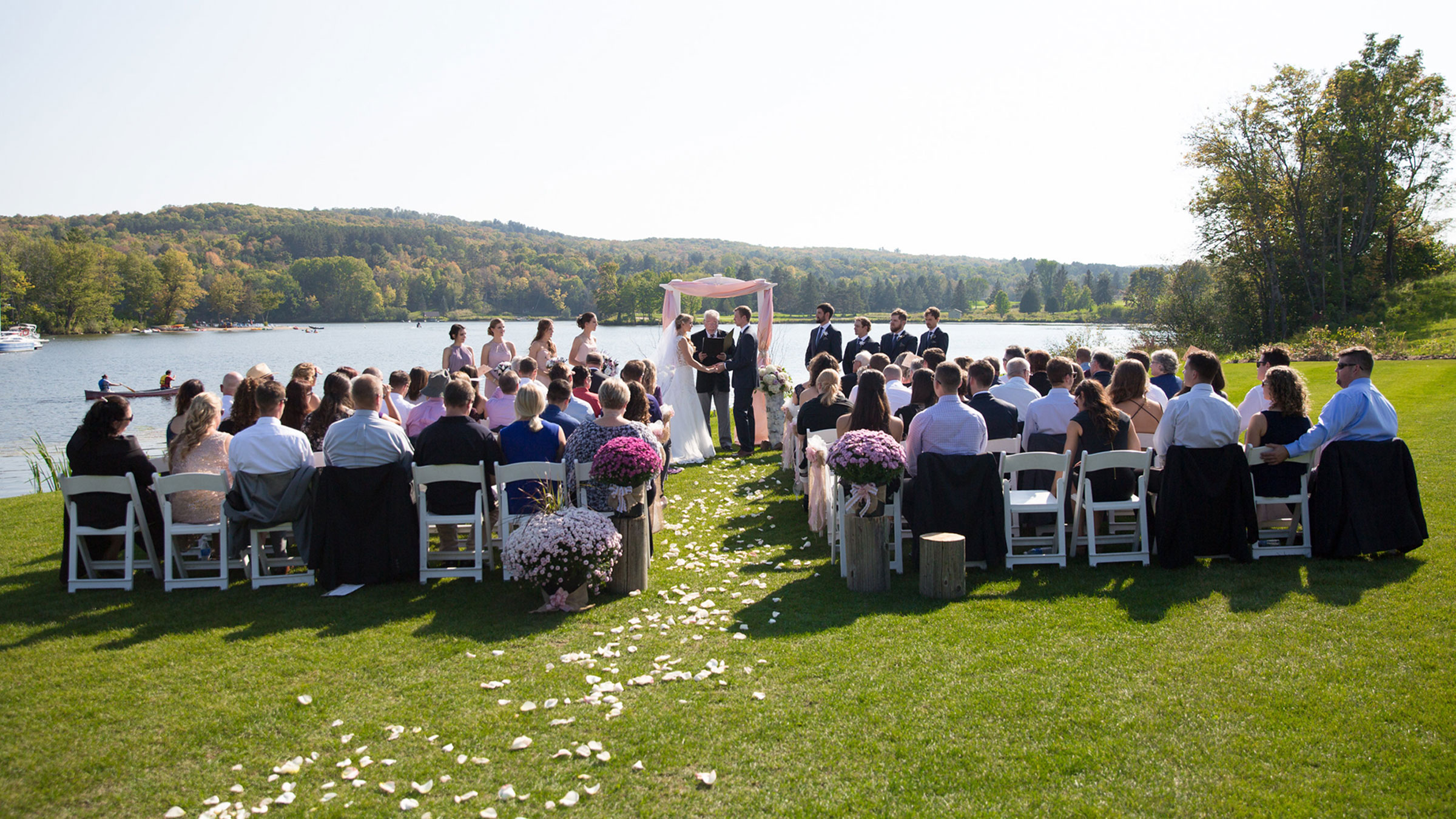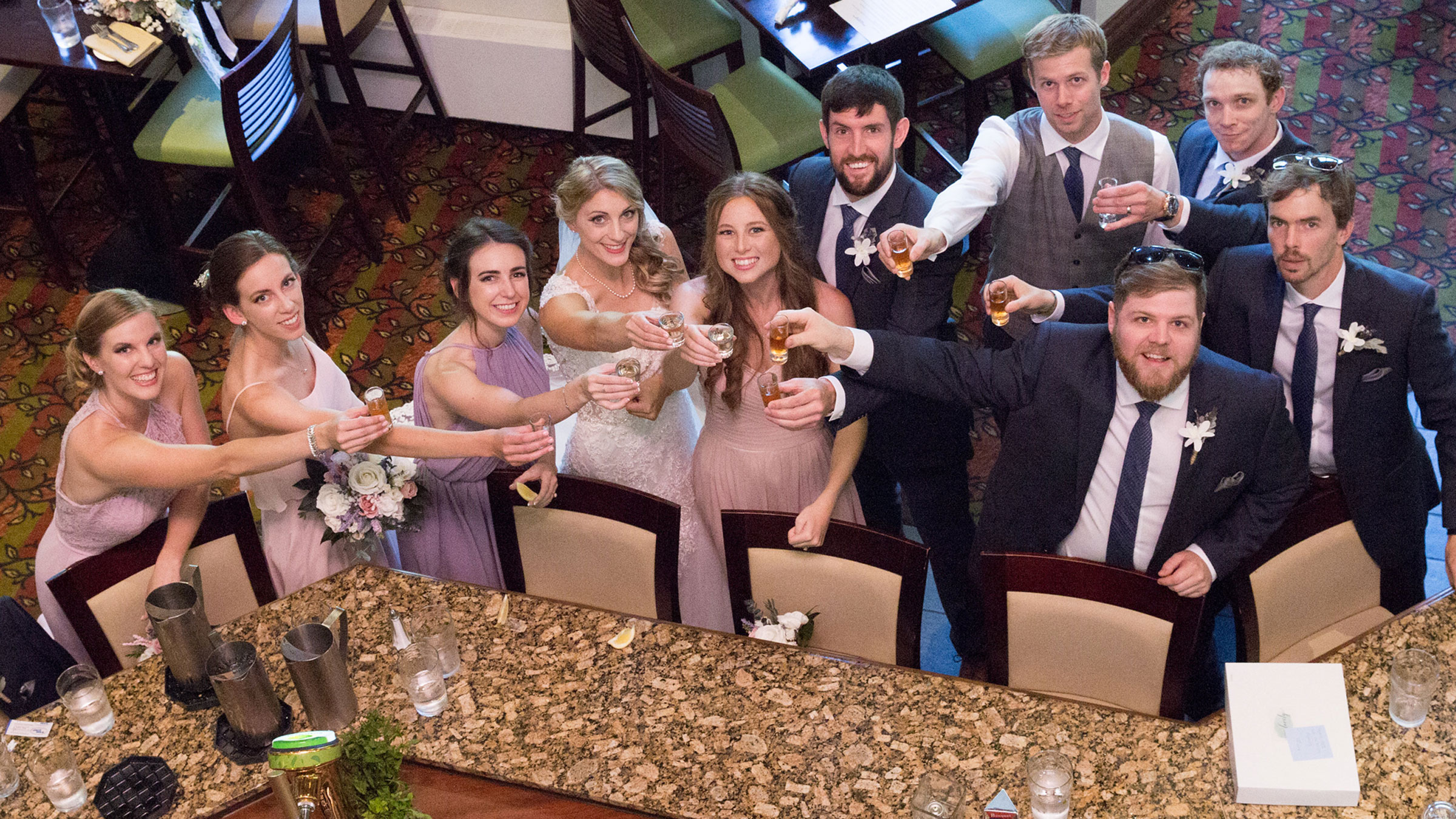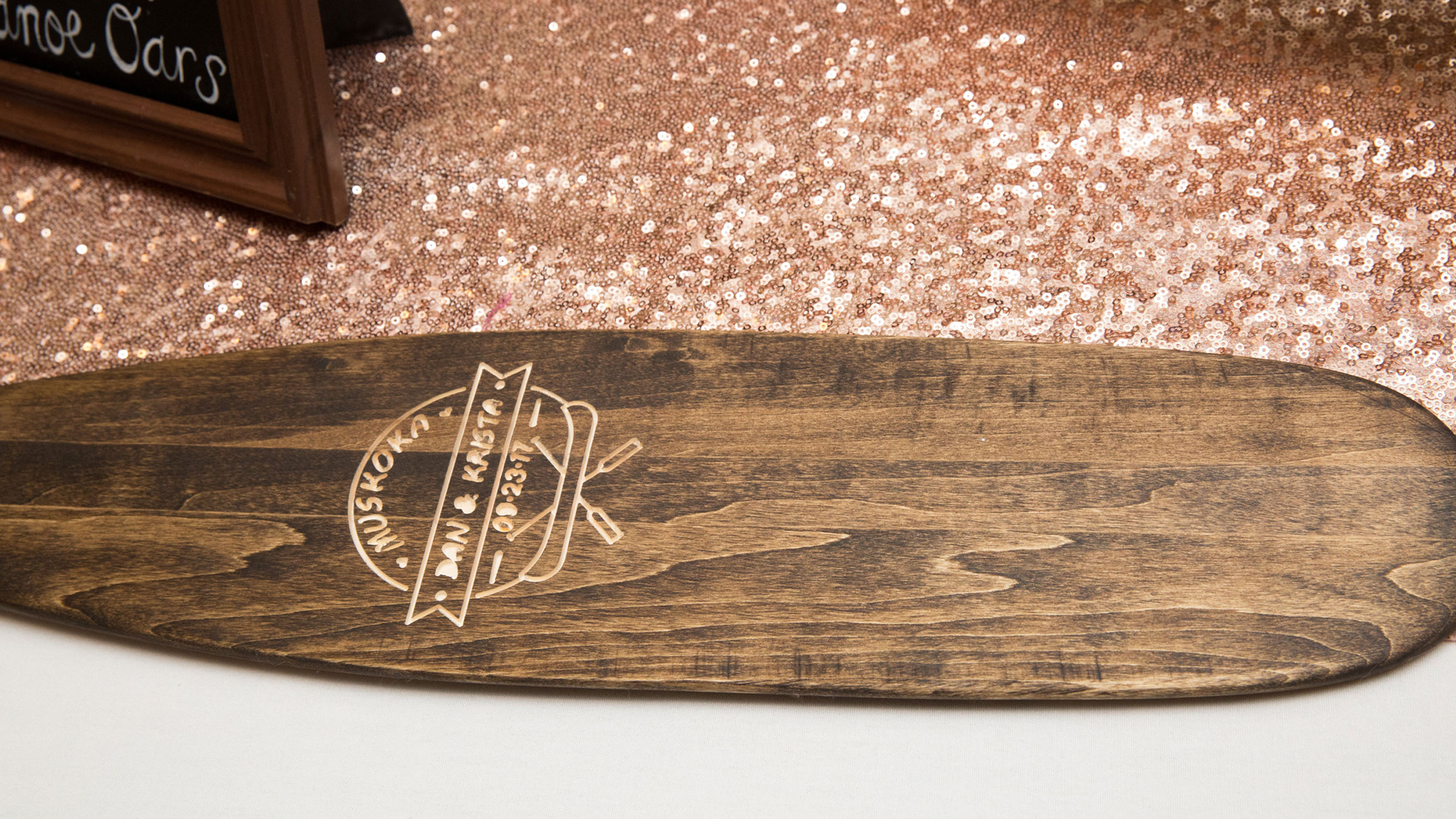 Was it everything you dreamed of?
Everything was perfect! Honestly, we were so sad when it was all done because it was such an incredible day. I had forgotten my garter at the cottage the morning of the wedding…I think I was just too excited to see Dan! I was pretty disappointed, but Haley (Deerhurst's Wedding & Special Events Manager) made me one last minute, which was amazing and I'm so thankful for her stepping in like that! Both Dan and I were so happy with the entire day and are so grateful to everyone who helped plan and execute the day.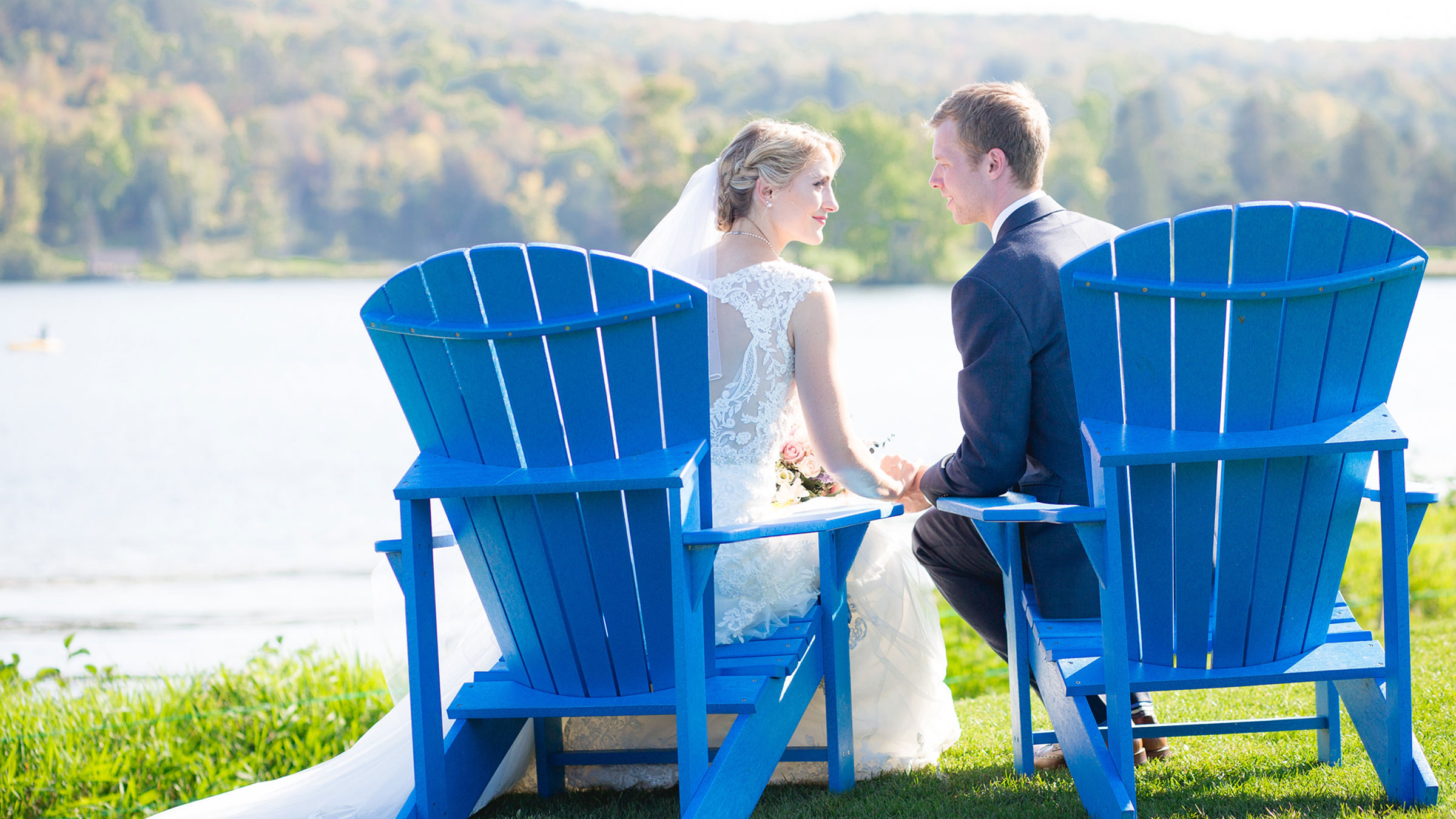 How did you and Dan meet?
We met at a campfire on the beach in Kincardine, where Dan is from. I went to Kincardine with a friend and Dan just happened to be friends with her brother. Anyways, we hit it off and ended up talking most the night.
Our first date was a few weeks after that, and we both love the outdoors, so went for a long hike. Our first date happen to be also his birthday, which he forgot to mention…so I took him out for some ice cream after our hike to celebrate!
How did Dan propose?
Dan and I went up to the cottage for New Year's Eve and headed to Arrowhead for the day to go cross-country skiing. While we were out skiing, Dan diverted my attention and went ahead of me, when I turned around to meet him he was down on one ski and asked me to marry him. Of course I said 'YES!' That night we headed out to Deerhurst with my parents to celebrate.
Deerhurst is always going to be a part of our love story. We've already been back since we got married, and will continue to visit – it helps that our cottage is just down the road!
---
Congratulations Krista and Dan – we love being a part of your love story. Thank you for sharing your story with us!
Wondering who took all of these amazing photos? Willow Lane Photography was their photographer who captured all of these incredible moments.
Planning your Muskoka wedding? Let us help! Learn more here or call us 1-800-461-6522.
Posted January 2018 by Ainsley Theis.
---