5 Ways Your Family Can Get More Vitamin N This March Break
Get More Vitamin N This March Break!
It's pretty difficult these days to pull away from the screens and devices and dedicate time to each other and shared experiences. It's no wonder why the simple idea of fresh air, shared activities and nature are becoming more and more important to talk about, because let's face it, most of us don't get enough Vitamin N in our daily lives. 
For many of us, getting Vitamin N (a/k/a Vitamin Nature) is not that simple. We work long hours, commute, get home just to go to bed and do it all over again.  A past study has shown that the demands of urban life give our brains little time to recover and that even brief interactions with nature can help sooth our brains. Meaning spending time outside helps the brain calm down – and doesn't every parent want that for themselves and their kids?
With busy lives, busy schedules and just busy all around, it's important to take advantage of any downtime we do have – evenings, weekends, holidays and school breaks – to spend it together and expose not only ourselves but our kids to the great outdoors.  Think of it as disconnecting to reconnect. And isn't it true, that after a day spent outdoors with the family you feel connected, refreshed and happy?
We may be a little biased, but Muskoka, with its vast forests, lakes and endless amount of fresh air, is the best place to get outside. With March Break just around the corner we're sharing 5 ways that your family can get more Vitamin N together, right here.
Visit One of Ontario's Provincial Parks
Muskoka is home to both Arrowhead Provincial Park and Algonquin Provincial Park, which are both incredibly amazing and worth a visit any season, but the winter holds special surprises. Arrowhead is known for Ontario's most famous ice skating trail that winds its way through the snow covered forest, and is definitely a must-visit. Offering a 1.3 km skating trail, tubing hill, snowshoe trails and over 30 km of cross-county skiing trails, families have ample of space to get outside and stock up on some Vitamin N. 
Algonquin Park is much different in the winter and offers visitors the chance to experience wildlife, breathtaking views and tons of trails that can be used for snowshoeing, cross-country skiing, fat biking or simply a day hike. Check out their winter guide for information before you head out.
Fat Biking
Biking in the winter might be one of the coolest things that has emerged in the last couple of years. Yes, it might be a little challenging, but it is so much fun! You literally go biking on the snowy trails. Fat bikes come in a variety of sizes so the whole family can take part in this activity. Muskoka is home to tons of groomed trails, making biking on the snow much easier. Fat biking, like biking, is a great way to get exercise and enjoy some fresh air, plus it's something kids will love to try out. 
Snowshoeing
Snowshoeing is a great activity that the whole family can participate in. It's easy to pick-up,  since this is a sport with no experience required. It really is just walking on snow! Snowshoeing gives you the opportunity to explore the snowy forests in Muskoka and get 'lost' in this winter wonderland of ours. Plus, Muskoka's got tons of trails to check-out like Arrowhead's Stubb's Falls, Lion's Lookout, Sanctuary Trail and more.  And did we mention it's great exercise?  Something like 1000 calories per hour…
Skating
You can't pass up this classic Canadian activity with your family! Skating might just be the most Canadian way to soak up that good old Vitamin N. Muskoka has so many options when it comes to skating, so planning when and where to hit the ice is easy.
Arrowhead Provincial Park is home to Ontario's most famous ice skating trail and is a must-do, especially when they host Fire & Ice nights where the entire trail is lit-up. The park is open daily, and of course the trail is based on weather conditions. They have a Fire & Ice night scheduled for March 17. 
Skate the lake! Muskoka is known for its lakes and it doesn't get more Canadian than hitting the frozen water for a leisurely skate.
So whatever kind of skating experience you are after, Muskoka's got it.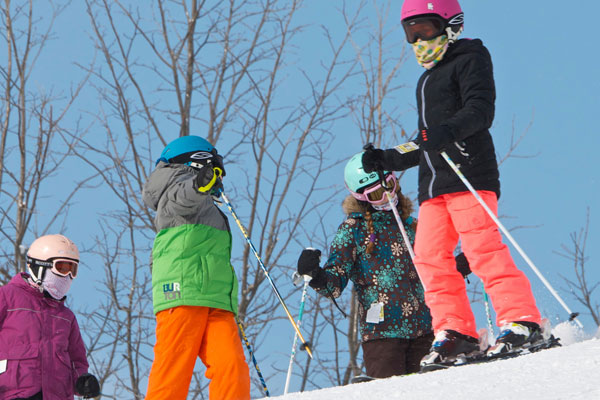 Skiing/Snowboarding
Hit the slopes with the family right here in Muskoka. Hidden Valley Highlands Ski Area is a great spot the whole family can enjoy. With 12 slopes, a terrain park, three quad chair lifts and a handle bar tow, this ski hill is the ideal location for families and those who are learning or want to learn. They're open daily throughout March Break, so this activity can fit into whatever other plans you've got for enjoying winter's fresh air.
Just like you take your daily vitamins and plan your meals to ensure you and your family are getting all the right things, it's important to plan time to get your recommended  Vitamin N intake. The best part? Getting Vitamin N is fun! All that is required is getting outside and taking part in fun outdoor activities together…ahhh fresh air!
As David Suzuki says, "Let's show our brains – and bodies – some love. Get outside!"
---
Stock-up your family's Vitamin N at Deerhurst Resort this March Break. With tons to do for the entire family there will never be a dull moment. Kids will have a blast with so much to do outdoors like trail rides on horseback, mini-snowmobile tours with Yamaha, snowshoeing, cross-country skiing and downhill skiing and snowboarding at Hidden Valley Highlands Ski Area right next door. Parents will love the ease of keeping the kids busy – all in one easy to get to location! Check-out the activity guide and book now!
Posted February 7, 2018 by Ainsley Theis.
---