Planning A Romantic Weekend – What She (or He!) Really Wants To Do.
Whether you're a couple that's been together for a while or your status just changed to "in a relationship," every couple needs a little escape to reconnect and just have fun. You know, get away from the everyday, the routine and the one … two … ok, multiple to-do lists. A romantic weekend away with your significant other may be just what you both need, or what your partner needs (and secretly really wants you to plan.)
You can make the weekend one to remember by focusing on your partner and planning activities that the both of you will enjoy – and you don't have to wait until warmer weather arrives, because winter might just be one of the most romantic seasons for an escape. Think snowy adventures by day and cozy by night – it really is the perfect combination. But where should you go? Are you both adventure seekers, or more of the sit-back-and-just-enjoy type? Whatever couple you may be, Muskoka is the best spot to embrace both.
Here are a few ideas to make the most of a romantic weekend away in Muskoka (promise – you can take all the credit for planning)!
Skate Date
We're all for lacing up and hitting the ice with your significant other! Holding hands, goofing around…skating brings out the silly side and is a great way to just let go and have some fun. Muskoka has so many options when it comes to skating, so it's easy to work this activity into whatever other romantic plans you may have.
Arrowhead Provincial Park is home to Ontario's most famous ice skating trail and is a must-do, especially when they host Fire & Ice nights where the entire trail is lit-up which is oh so romantic! The park is open daily, and of course the trail is based on weather conditions. Fire & Ice nights are scheduled for February 10, 22, March 3 & 17. 
Skate the lake! Muskoka is known for its lakes and it doesn't get more Canadian than hitting the frozen water for a leisurely skate with your 'bae'. Bonus points if you plan an evening skate under the stars!
Then there is the Johnston's Cranberry March ice trail and a few others! So whatever kind of skating experience you are after, Muskoka's got it.
Snowshoe Through Snowy Forests
If you're not an avid winter sports enthusiast, snowshoeing may be just the thing for you and your significant other! In fact, this sport is a no experience required. It's is easy to pick-up and depending on the trail you choose, isn't too strenuous. Snowshoeing gives you the opportunity to explore the snowy forests in Muskoka and get 'lost' in this winter wonderland of ours. You and your significant other can hold hands, steal a few kisses under snow-draped branches and take in the views…swoon!
Horse-Drawn Sleigh Ride
I don't think we need to explain why this is a must-do for your romantic weekend away … but here we go! You and your partner can snuggle up while enjoying a scenic sleigh ride through the snowy terrain. It's a great way to snuggle up together while enjoying the outdoors and experiencing something new.
Cuddle Around the Campfire
After a day of outdoor activities there is nothing better than getting cozy beside a classic Muskoka campfire. Imagine warming up après snow (think glass of wine or a hot chocolate with Baileys) and reminiscing about all your adventures that day or, are you more of an after-dinner campfire couple? Did someone say s'mores for dessert? Whenever you decide to enjoy the glow of the campfire, it will definitely give you and your significant other time to connect and slow down. Grab a cozy blanket to share … it will make it that much more romantic!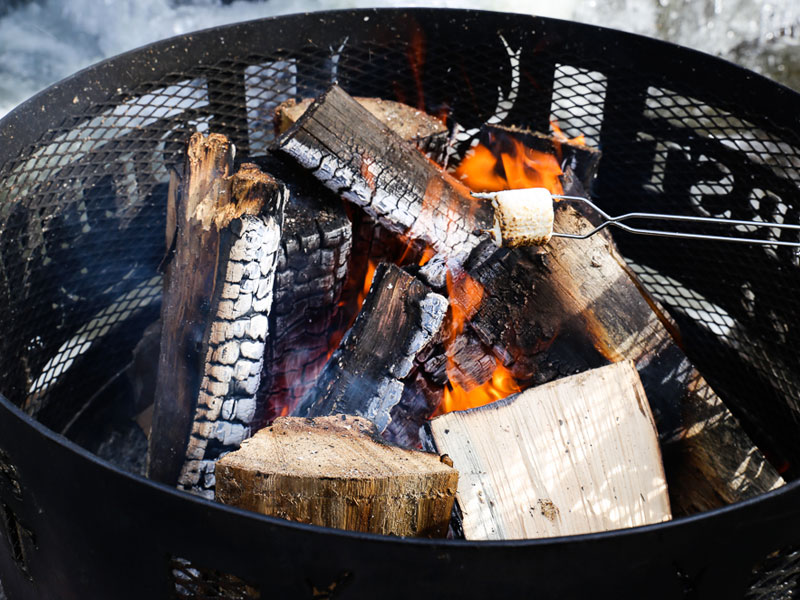 Tapas & Live Music
Long, slow candlelit dinners are definitely the way to go when planning your romantic weekend. Tapas are a great choice because this type of dinner allows you to share and experience food together, and often tapas slows down your pace of eating to make way for better conversation. You might also want to check out the live music scene, Muskoka is home to so many great local artists and catching live performers is a great way to extend the evening.
Winter can be tough; often we feel restless and long for a change. A romantic weekend away will allow you both to just slow down, reconnect and experience something new together, but most importantly it will help you both shake the winter blahs!
---
Main image credit: WMac Photography
So ready to surprise your significant other? Deerhurst Resort offers the perfect setting for a romantic winter weekend away in Muskoka. From ice skating, snowshoeing, cross-country skiing to campfires, live music and hearty winter menus, you won't have to worry about all the planning and you and your significant other can just enjoy being together and experiencing the truly beautiful winter wonderland that is Muskoka! Deerhurst's Romance Package offers the perfect way to escape. 
Posted February 2018 by Ainsley Theis.
---