Maple French Toast Breakfast Poutine
The Best Thing to Happen to Breakfast Since…Well Ever!
You read that right – there's a new take on poutine. How Canadian is that?
Don't worry instead of classic French fries, we've taken deep-fried French toast sticks soaked them in a maple cream sauce topped with fresh berries and maple whipped cream.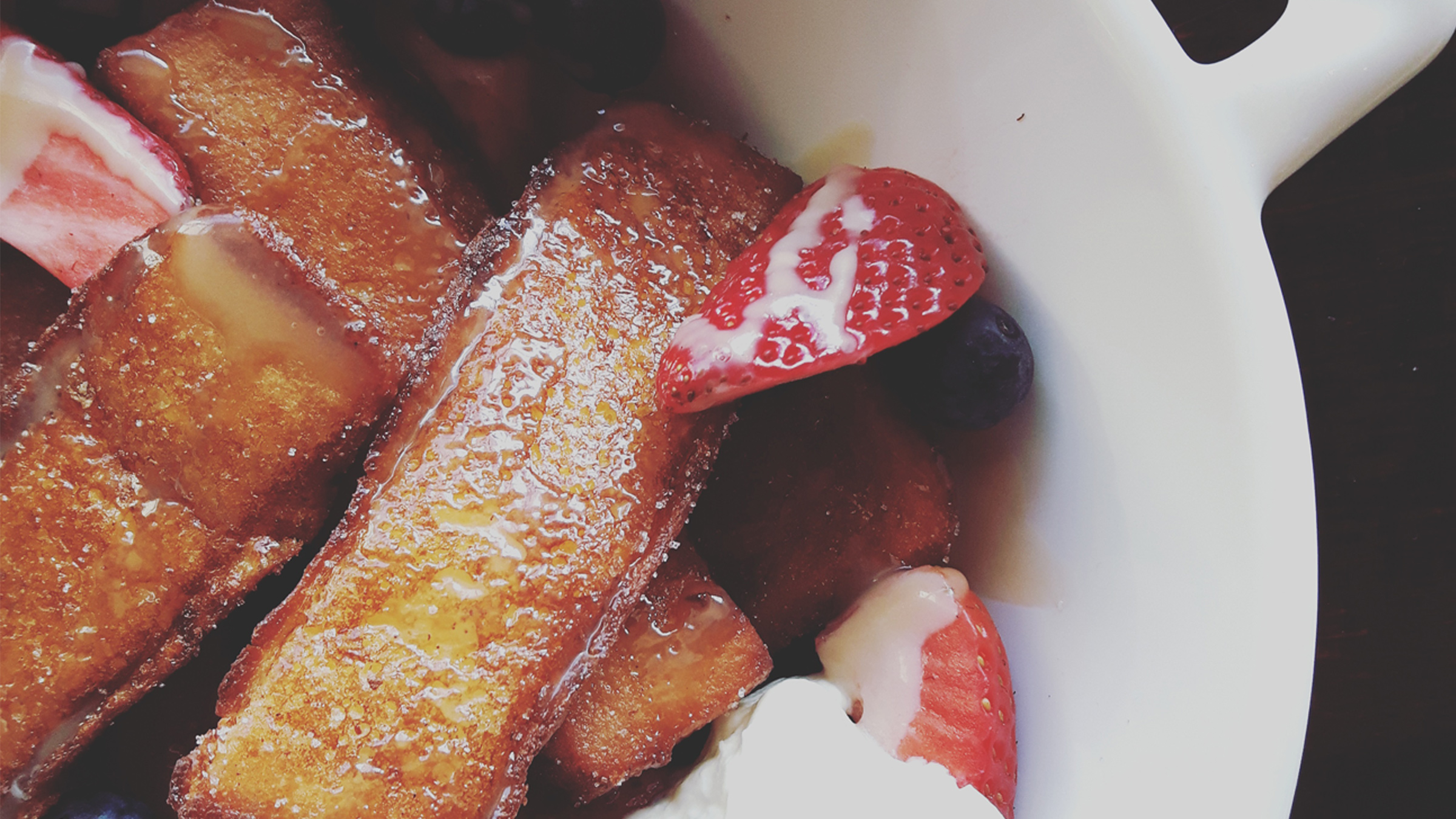 Check-out the recipe for Maple French Toast Breakfast Poutine below – you can thank us later.
Deep-Fried French Toast – What you need:
2 pc whole eggs
¼ tsp ground cinnamon
 1 Tbsp vanilla extract
1 tsp lemon extract
 ½ cup 2% milk
 6 pc white thick cut bread
Oil for frying
Method:
1. Mix the eggs, vanilla, lemon, and milk together with a whisk until they are homogeneously mixed.
2. Cut the Bread into two finger wide pieces to mimic the fries for the poutine.
3. Dip the bread into the batter and turn over multiple times until they have absorbed the batter.
4. Shallow fry the French toast in oil that has been heated to 375 F stove top, make sure each side of the strips are golden brown before removing.
5. When they are done, toss in a bowl with cinnamon sugar to coat and place in your bowl for your poutine.
Cinnamon Sugar – What you need:
½ cup white sugar
2 tsp kosher salt
1 Tbsp ground cinnamon
Method:
1. Mix all ingredients together in a bowl and reserve
Maple Cream – What you need:
2 cup 35% cream
1 cup maple syrup
Method:
1. Place all ingredients in a pot and reduce slowly by half or until the back of a spoon is coated. There are two ways to check, either draw a line on the back of a spoon with your finger and see of the line fills in, if it does not then it is ready, OR coat a spoon with the cream and blow gently on the back of the spoon, if the shape of a rose forms and holds it is ready.
2. Remove the cream from the stove and cool
3. Reserve for assembly.
Whipped Cream – What you need:
2 cups 35% cream
2 Tbsp powdered sugar
 1 tsp vanilla extract
Method:
1. Mix all ingredients together and swirl until the sugar has dissolved.
2. Begin whipping and slowly increase mixer speed to medium.
3. Keep in fridge until you are ready to assemble.
Assembly – What you need:
Any fresh berries and fruit that you desire such as strawberries, blackberries, raspberries, and bananas
Maple syrup
French toast sticks
Maple cream
Whipped cream
Method:
1. Place the French toast sticks in a bowl like you would French fries for a poutine.
2. Top with berries, maple syrup, maple cream, fruit, and whipped cream.
3. Enjoy
Forget the pancakes! Enjoy Deerhurst's new signature item with deep-fried French toast sticks, fresh berries and maple cream – made from sap produced right here from our very own trees.  Available at Eclipse. Plus discover the joys of maple syrup during Muskoka's sugaring season. Make sure to check-out the Muskoka Maple Trail and the Muskoka Maple Festival all happening in April. Make Deerhurst Resort your home-base to explore – learn more.
Posted March 2017 by Ainsley Theis.
---