Three Unexpected Ways to Use Maple Syrup
Maple Syrup Recipes: The Greatest Hits
It's that time of the year again when Muskoka's forests are filled with all that liquid gold and maple syrup producers are busy collecting, boiling and bottling up what has become a Canadian household staple. Although maple syrup is loved by most poured over a stack of fresh pancakes (yum!), there are so many other ways to enjoy it….like say in a breakfast poutine?
We've pulled together some of our most popular dishes featuring the oh-so delicious national treasure…maple!
1. Maple French Toast Breakfast Poutine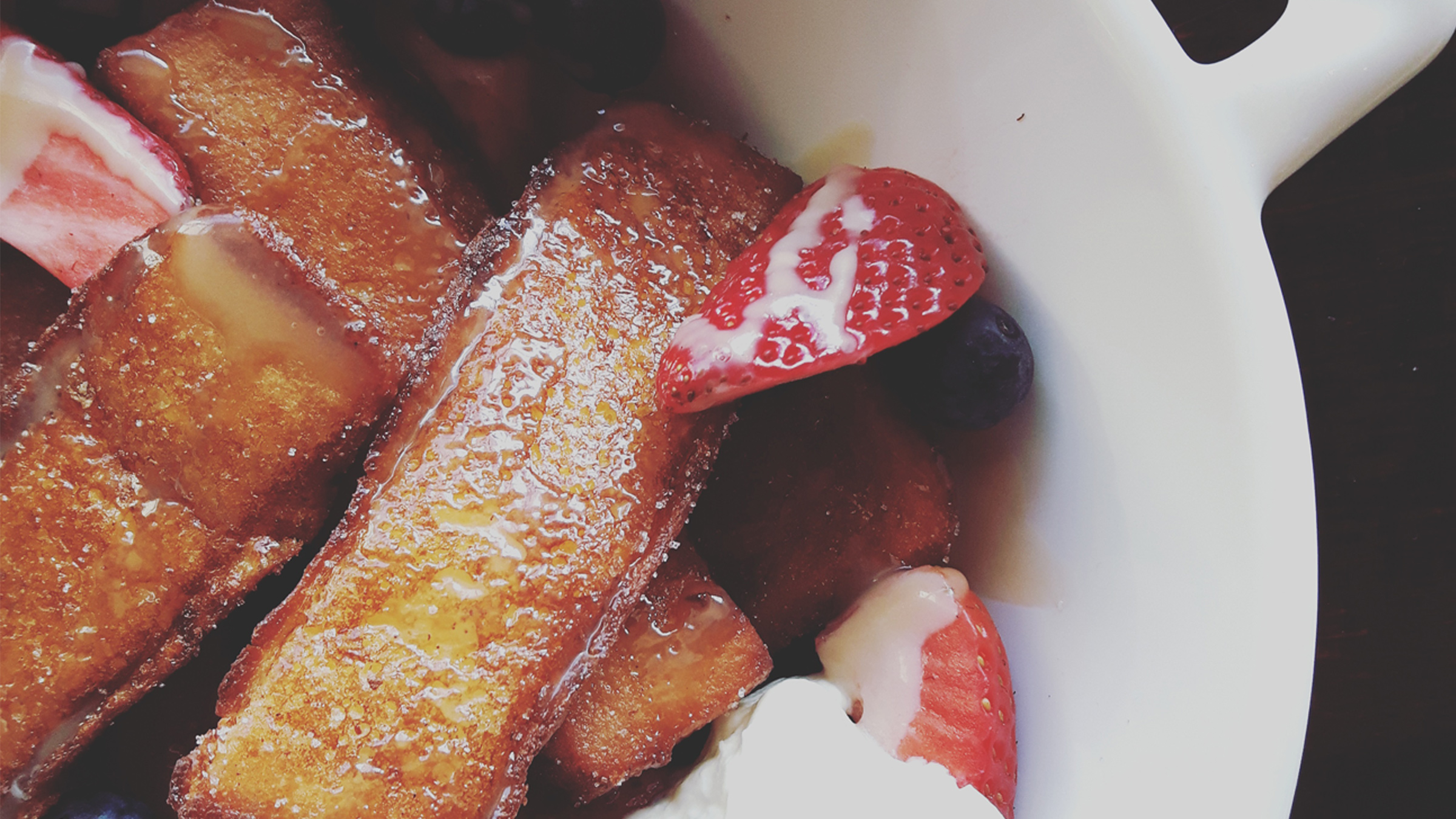 Yes, it exists and is quite possibly the best thing we've ever tasted.
Here's what you need:
2 pc whole eggs
¼ tsp ground cinnamon
 1 Tbsp vanilla extract
1 tsp lemon extract
 ½ cup 2% milk
 6 pc white thick cut bread
Oil for frying
Method:
1. Mix the eggs, vanilla, lemon, and milk together with a whisk until they are homogeneously mixed.
2. Cut the bread into two finger wide pieces to mimic the fries for the poutine.
3. Dip the bread into the batter and turn over multiple times until they have absorbed the batter.
4. Shallow fry the French toast in oil that has been heated to 375 F stove top, make sure each side of the strips are golden brown before removing.
5. When they are done, toss in a bowl with cinnamon sugar to coat and place in your bowl for your poutine.
Cinnamon Sugar – What you need:
½ cup white sugar
2 tsp kosher salt
1 Tbsp ground cinnamon
Method:
1. Mix all ingredients together in a bowl and reserve
Maple Cream – What you need:
2 cup 35% cream
1 cup maple syrup
Method:
1. Place all ingredients in a pot and reduce slowly by half or until the back of a spoon is coated. There are two ways to check, either draw a line on the back of a spoon with your finger and see of the line fills in, if it does not then it is ready, OR coat a spoon with the cream and blow gently on the back of the spoon, if the shape of a rose forms and holds it is ready.
2. Remove the cream from the stove and cool
3. Reserve for assembly.
Whipped Cream – What you need:
2 cups 35% cream
2 Tbsp powdered sugar
 1 tsp vanilla extract
Method:
1. Mix all ingredients together and swirl until the sugar has dissolved.
2. Begin whipping and slowly increase mixer speed to medium.
3. Keep in fridge until you are ready to assemble.
Assembly – What you need:
Any fresh berries and fruit that you desire such as strawberries, blackberries, raspberries, and bananas
Maple syrup
French toast sticks
Maple cream
Whipped cream
Method:
1. Place the French toast sticks in a bowl like you would French fries for a poutine.
2. Top with berries, maple syrup, maple cream, fruit, and whipped cream.
2. Smokey Maple Bacon Old Fashioned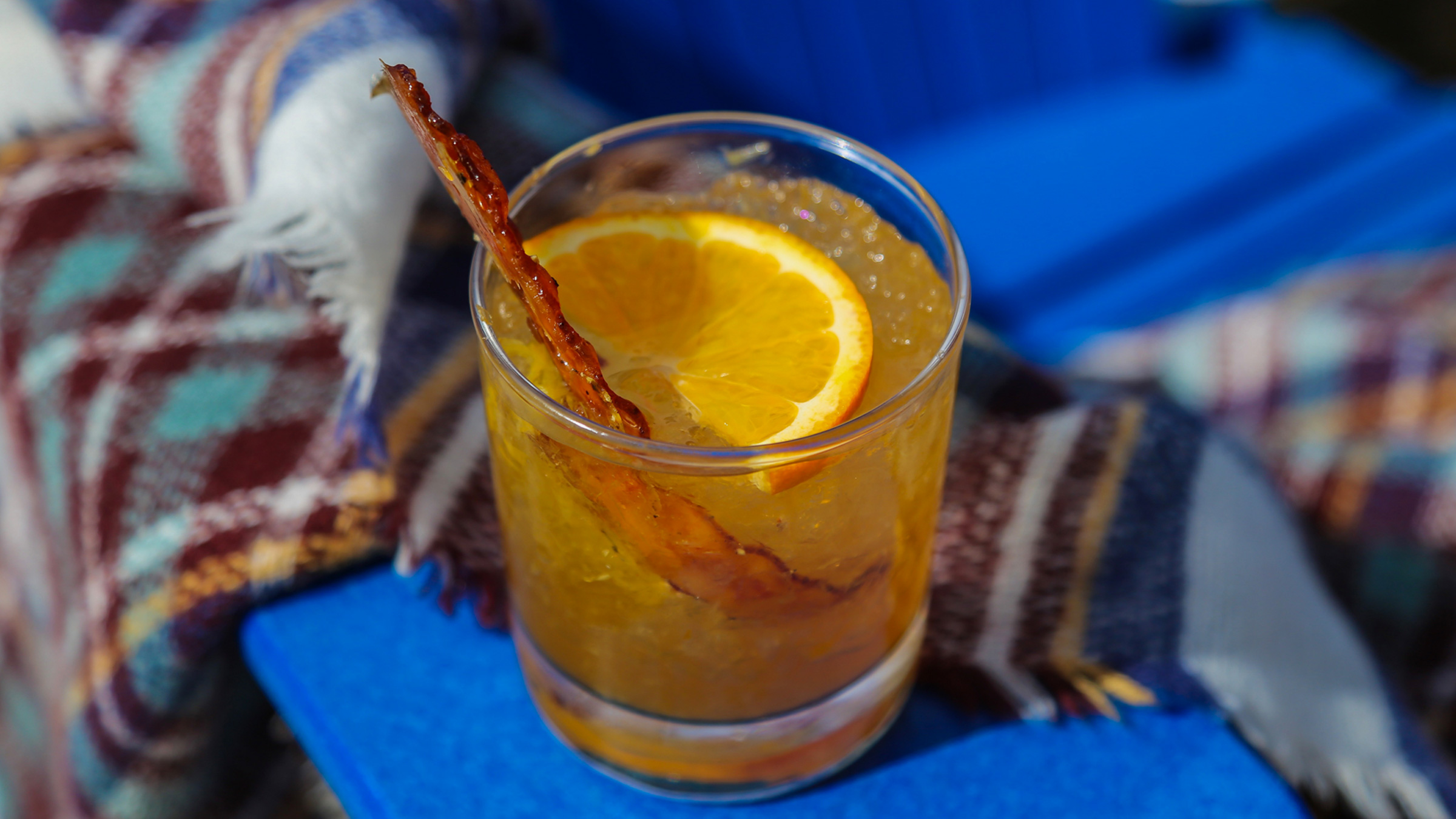 A twist on the Old Fashioned that you should definitely try.
What you need:
1/4 oz maple syrup 
1/4 oz smoked maple syrup (we smoke ours for 45 minutes with maplewood smoke)
1/2 pc orange wheel
1 1/2 oz Canadian whisky 
Dash of bitters
Cracked black pepper
Dark brown sugar
Method
In a rocks glass add the maple syrup and orange wheel, then gently muddle. Add a generous portion of ice (crushed ice works best), then the whisky and dash of bitters. Stir. 
Garnish
Take one whole piece of maple smoked bacon, brush with maple syrup and dust with dark brown sugar and cracked black pepper. Slowly bake in the oven until crisp. Let cool and use to garnish the drink.
3. Smoked Bacon Lollipops – with Maple!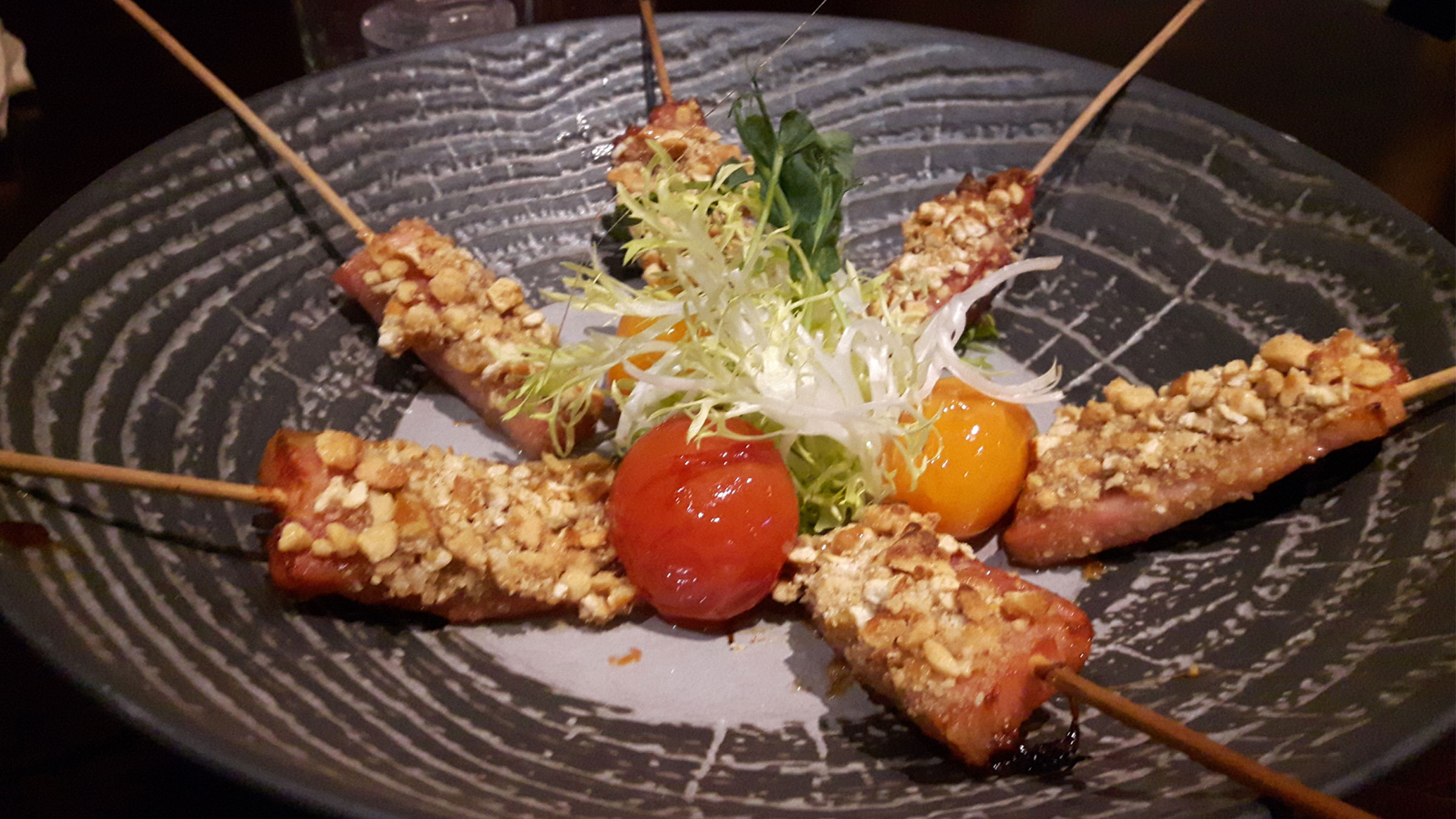 Bacon + maple syrup…need we say more? Try this delicious appetizer at your next get-together…you may just be everyone's favourite guest!
What you need:
4 pc double smoked bacon, rind removed, trimmed to 1 inch thickness and 4 inch length
2 Tblsp maple syrup
2 Tblsp chopped peanuts
2 Tbslp crushed pretzels
To taste sriracha hot sauce
Frisée, seedlings, roasted cherry tomatoes for garnish
Directions:
Skewer each piece of bacon with a bamboo skewer that has been soaked in water for 20 minutes.
Generously drench each skewered piece of bacon with maple syrup, and roast in the oven at 350 F until the bacon is cooked, and the maple syrup is tacky and beginning to caramelize. NOTE: If it looks dry, apply more maple syrup.
While still hot press the bacon on both sides into the pretzels and peanuts, it will stick to the "lollipops"
Garnish with frisée lettuce, seedlings, roasted cherry tomatoes, and serve Sriracha hot sauce on the side.
Looking for more maple recipes? Check out these recipes for Blueberry Maple Cocktail, Maple BBQ Sauce, Maple Glazed Scallops and Maple Glazed Salmon here.
Discover the joys of maple syrup during Muskoka's sugaring season. Make sure to check-out the Muskoka Maple Trail and the Muskoka Maple Festival all happening in April. Make Deerhurst Resort your home-base to explore with our Spring Getaway Special with rates starting from just $110*/night – learn more and book here.
Posted March 2018
---