Roasted Tomato Soup with Maple Syrup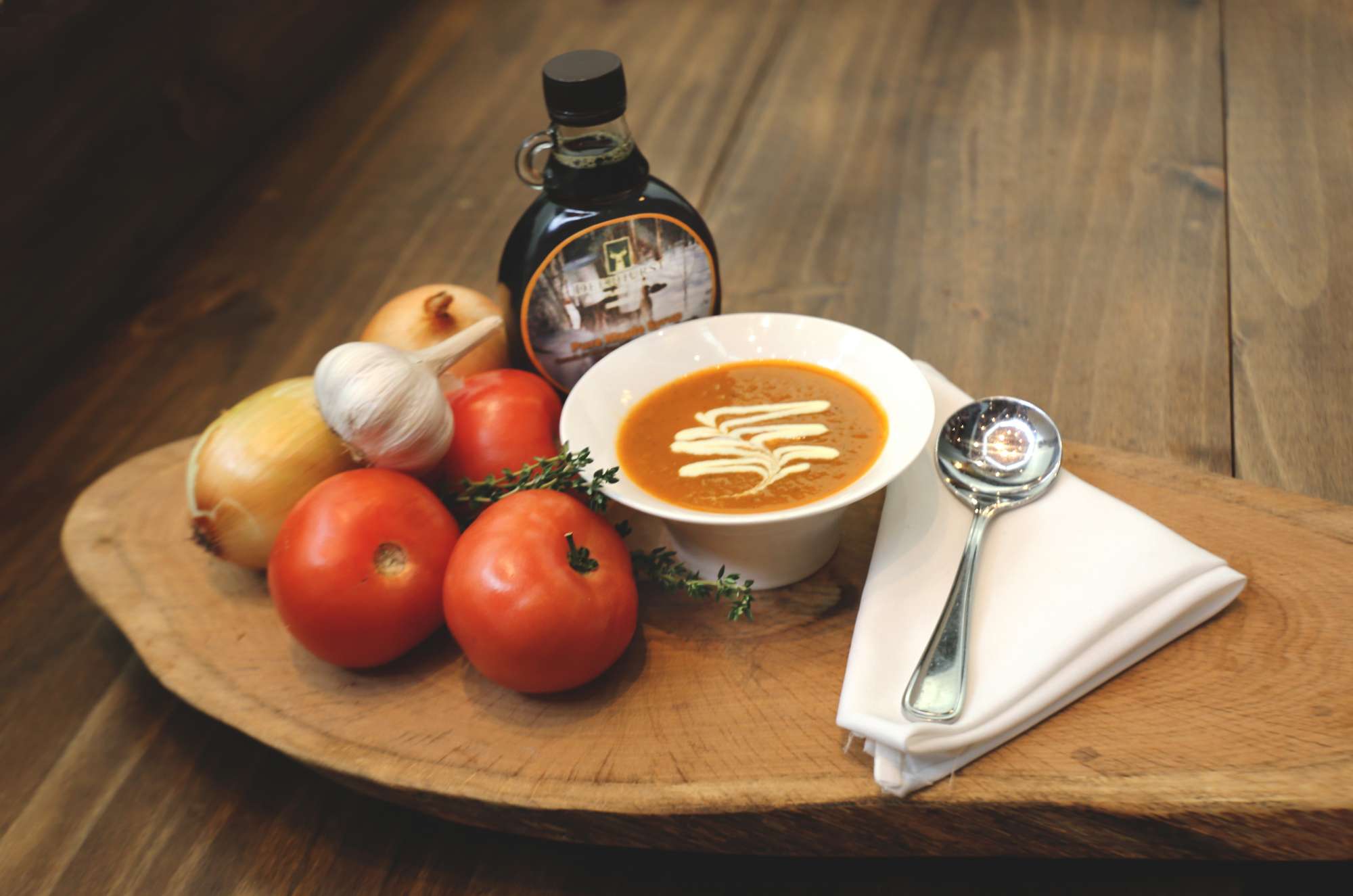 With nearly 2,000 taps funneling sap through the maple forests in the highlands above the resort, Deerhurst has become known for its maple syrup. While Deerhurst's sugar shack has been operating every Spring since 1993, these same maple woods have been used for syrup production since the Emerson Farnsworth family settled here in the late 1870's!  
To celebrate that sweet tradition, every spring Executive Chef, Rory Golden and his culinary team come up with new and delicious ways to use this 'liquid gold' in a special Maple Syrup Table d'Hote dinner menu, which is enjoyed at Deerhurst from March Break through the end of April.  Here's an easy, fuss-free recipe for one of this year's maple menu dishes, which combines the unlikely flavours of tomatoes and maple syrup in a surprisingly, smooth and hearty soup. So if you're someone who loves a hint of sweetness on their taste buds, or you're simply feeling adventurous, this recipe is for you. 
Watch our Step-by-Step Video:
Roasted Tomato Soup with Maple Syrup
topped with Maple Crème Fraiche
Deerhurst Resort Executive Chef, Rory Golden  C.C.C.
Ingredients
14                                 Tomatoes (cut in half, stems removed)
3                                    Cooking onions (cut into 1" pieces)
8                                    Cloves of garlic (crushed)
1 Tbsp                        Thyme (dried)
1 Tbsp                        Oregano (dried)
1 Tbsp                        Basil (dried)
1 Tbsp                        Smoked paprika
½ Cup                         Maple syrup (can add a touch more, to taste)
4 Tbsp                        Olive oil
6 Cups                        Vegetable stock
3 Tbsp                        Salt & pepper
                                        Maple Crème Fraiche for topping (see separate recipe)
Method
Pre-heat oven to 375 degrees.  Place tomatoes and onions in a large mixing bowl, coat with oil, salt and pepper. Spread on baking sheet lined with parchment paper and roast for 15 minutes. Add garlic and all dry spices, mix together on baking sheet and roast for another 15 minutes. Pour maple syrup over mixture and mix together.  Roast for 10 more minutes. Transfer roasted tomato mixture to a large pot and add vegetable stock.  Bring to a boil on high then turn to medium and  simmer for 30 minutes. Puree with handheld mixer in the pot. Taste and add extra spices to your liking. Serve with Maple Crème Fraiche on top.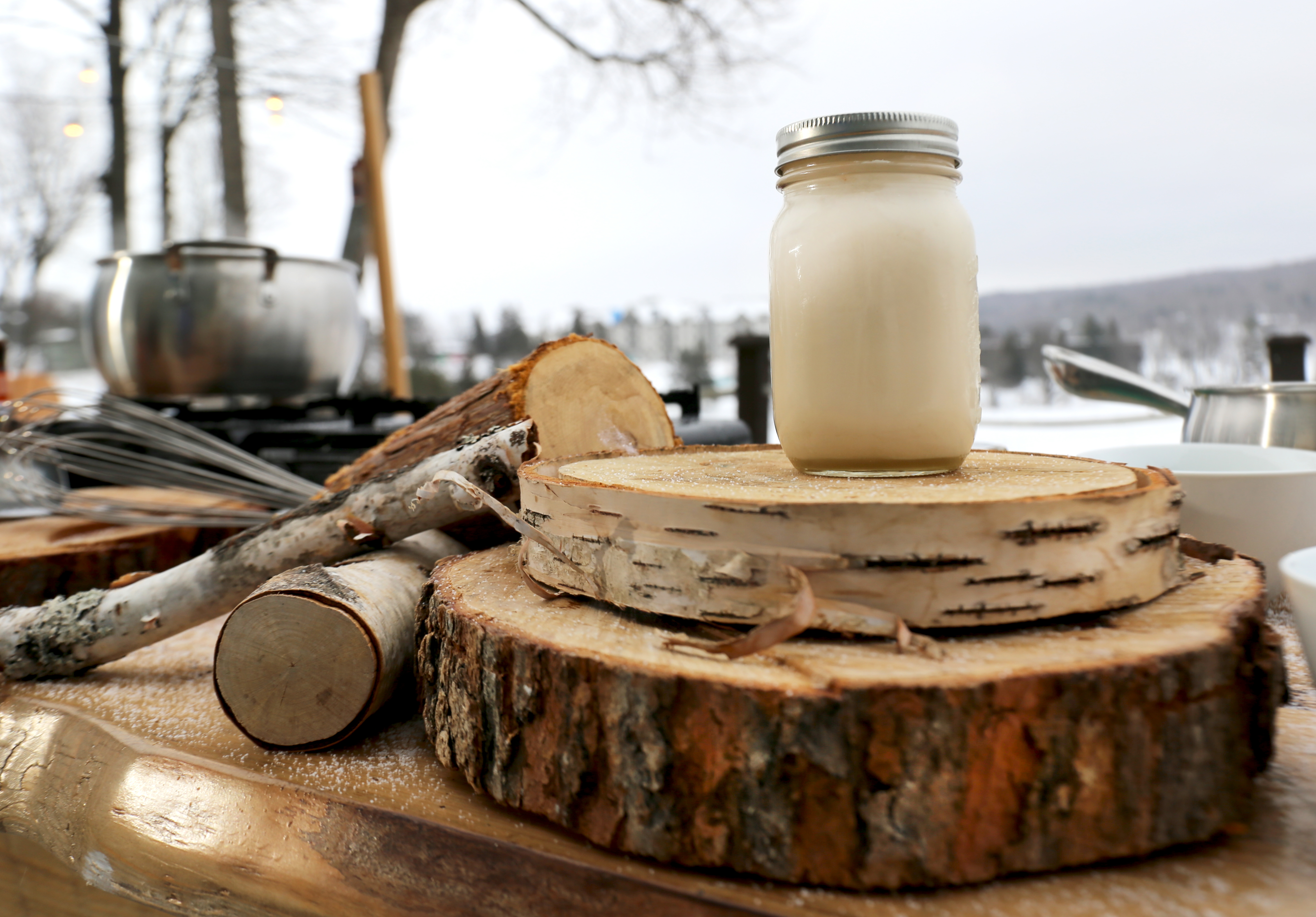 Maple Crème Fraiche
Ingredients
1 Cup                           35% cream
1 Cup                           Sour cream
¼ Cup                          Maple syrup

Method
Add all ingredients to a 1 litre mason jar, seal lid and shake until mixed. Let stand at room temperature for 8 hours.
Enjoy!
---
Make sure to check-out the Muskoka Maple Trail and the Muskoka Maple Festival all happening in April. Make Deerhurst Resort your home-base to explore Muskoka.  Learn more.
Posted February 2019 by Jasmine Chenier
---