No Experience Required: Visiting Algonquin Park 101
No Experience Required: Visiting Algonquin Park 101
Think you have to be a wilderness expert to get out and explore one of Canada's most iconic parks? Yah not so much. With the Fall season almost here, Algonquin Park offers some of the most remarkable Fall colour experiences in the country, and just because you haven't planned some crazy portaging, backwoods adventure doesn't mean you can't see them!
We've mapped out a few of the must stop places in Algonquin that are right off Hwy 60 and easy to get to, plus a few extras along the way so that experiencing Algonquin and the fall colours is easy – no back-breaking, sore neck, pretending you're on Survivor moments here. Local Tip:  Plan a midweek visit when traffic is lighter on Hwy 60.
Check out the Fall Colours Hot Spots Map here – and get all your need-to-knows on the Fall Colours Guide here.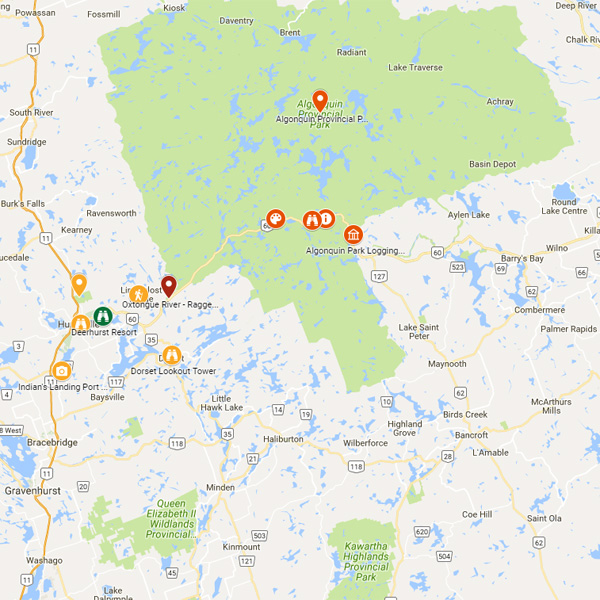 Algonquin Provincial Park
Directions: Take exit Muskoka Rd. 3 off of Hwy 11 in Huntsville and head east on Hwy 60.
Algonquin Provincial Park offers some of the most remarkable Fall colour experiences in the country, in a truly iconic Canadian wilderness setting.
Must Stops:
Algonquin Park Visitor Centre
Located at km 43 of Hwy 60 in Algonquin Park the Algonquin Visitor Centre has world class exhibits on the Park's natural and human history.
Algonquin Park Art Centre
Located at km 20 of Hwy 60 in Algonquin Park, the Algonquin Art Centre has an indoor gallery consisting of three wings and an outdoor gallery.
Algonquin Park Lookout Trail
Located at km 39.7 of Hwy 60, the Lookout Trail is a 1.9km loop trail that is fairly steep and rugged, but rewards hikers with a magnificent view of several hundred square kilometres of Algonquin. Totally worth the hike up for the view and a MUST do.
Algonquin Park Logging Museum
Located at km 54.5 of Hwy 60, the Logging Museum brings to life the story of logging in Algonquin Park.
Plus explore more great hidden gems:
Just minutes from Algonquin Park, Deerhurst Resort is the ideal place to relax after a day of exploring. Check out Deerhurst Resort's Algonquin Colours Package, which include snacks to-go and FREE park access. Learn more and book here.
Test time to visit is midweek to avoid the weekend crowds! Check out our fall midweek special for more information and savings.
---