Your Guide to the Ultimate Late Fall Getaway
Got A Case of the Novembers? We've Got the Cure
Gone are the days of steaming hot summer where a breeze or a patch of shade was all we wanted, and here are the days where we run to catch the last ray of sunshine at 4:45pm and a cool breeze feels like a personal attack, yep we're talking about November.  So, now what? Lucky for you we have 760 acres of fresh air fun waiting for you, for your late fall getaway.  
Day One: Make It a Road Trip, and Support Local Along the Way
Just 2.5 hours north of most spots in the GTA, your drive to Deerhurst is long enough to turn into a road trip but short enough to stay in that fun time sweet spot.  Grab your best friend, your partner or your sibling, pick a playlist and hit the road.  As you head north you'll be on a journey through time of fall colours, with vibrant oranges and reds likely just fading out through the GTA and turning into a sea of golden yellow as you head north.  We're not going to lie, the trees up here are looking pretty bare but you know what really upgrades a late fall view? The sparkle of morning frost and fog on the lake as the sun rises, so pack your woolies! 
Plan your pit stops to #supportlocal along the way and scope out a local cheese shop, craft brewery, or bakery on your route and you've just upgraded yourself to check in level gold – now you have a snack and drink ready to enjoy for when you arrive! 
Check In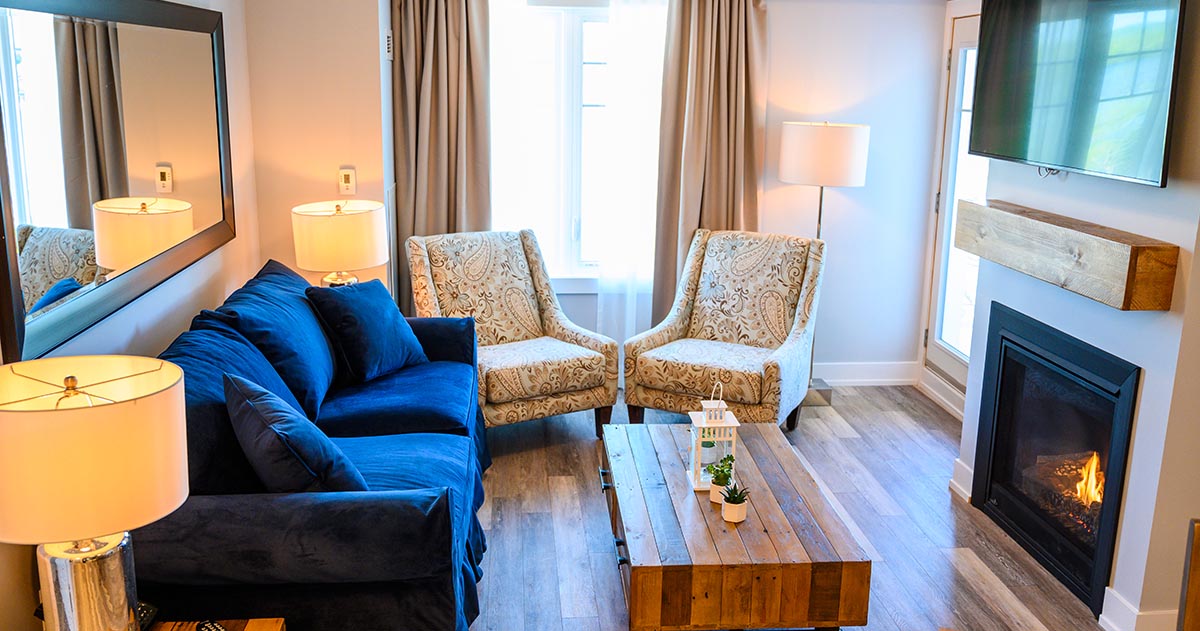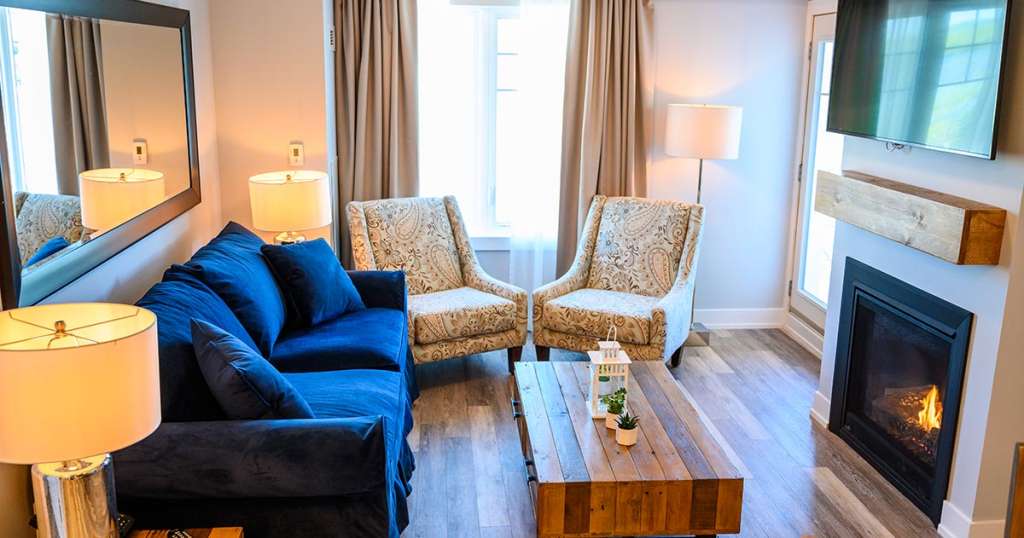 Have you spotted at least one deer, fox, or person wearing plaid by now? Well, you've made it! So take in the fresh air and open landscape and take a deep breath – your escape begins now. Head to the front desk to get checked in before you settle into one of Deerhurst's cozy hotel rooms or condos.  Hint: Book a condo with a fireplace for the perfect upgrade for a late fall getaway.  Remember those snacks and drinks you bought on your way? Time to set them out, and cheers to your weekend. We suggest a dinner reservation at our Eclipse Restaurant and a cozy evening in for your first night, we have a lot to do tomorrow!
Day Two: Explore, Eat & Repeat 
Pick up a hiking map and explore, you're on 760 acres of pure Muskoka countryside.  For the best view, head to the Lookout Trail just opposite the entrance, and reward the uphill trek with magical views of the resort and Peninsula Lake stretching off into the distance. A short drive across to the other side of the canal brings you to the Sanctuary Trail, a 5 km resort-owned trail hidden within the Woodland Heights neighbourhood. This relatively easy loop meanders through dense woods, skirting wetlands with a rushing creek poking through here and there.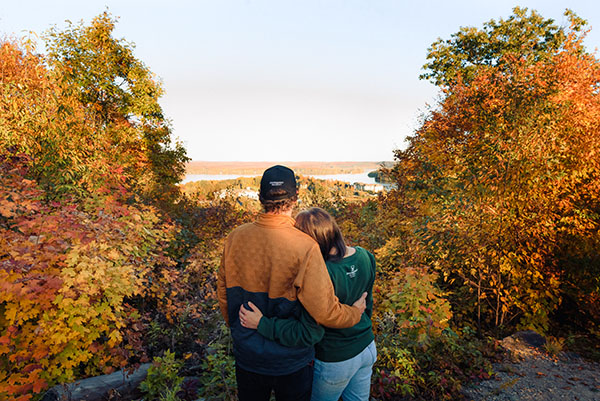 By the time you're done you'll have worked up an appetite, head to Maple Pub for a casual and cozy dining experience either fireside, or if its a nice sunny day you can cross your fingers and pull on your toque for a November patio lunch.  Enjoy our Feast ON certified meals and local craft beer from Muskoka Brewery.  We even have our own Deerhurst exclusive brew on tap, Deertail Ale which is a visitor favourite. 
One of the best things about a late fall getaway? The slow pace.  This is a quiet time of year to get away and that means you're not rushing around trying to fit everything in, you can relax and vacation on your own pace.  Need an afternoon nap? We don't judge.  You can also head to the pool and hot tub for some fun and relaxation or go full vacay-mode and head to Amba Spa. If you still have some energy left and want to explore a little more, hop on an e-bike rental from Demon E-Bikes and ride around for a view from the road.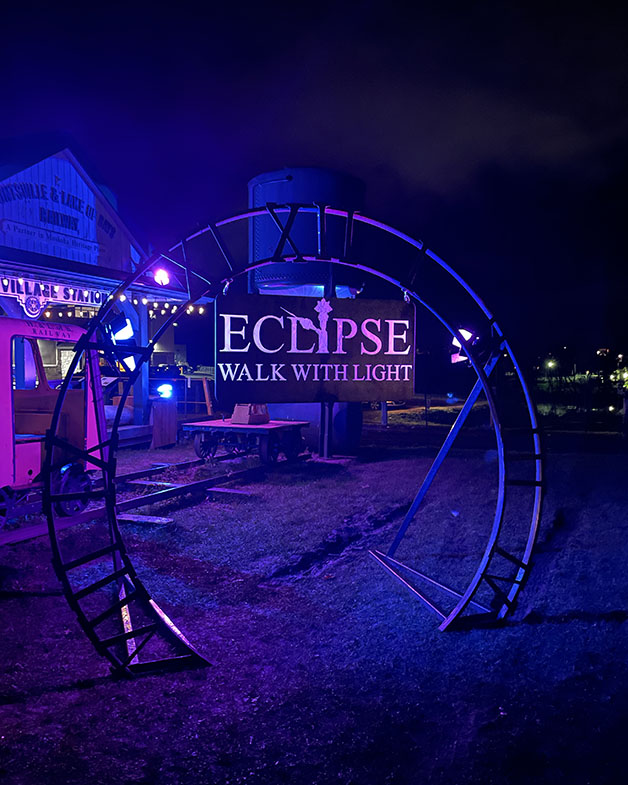 After a rewarding afternoon get ready for a night to remember.  After another awesome dinner at Eclipse Restaurant, you can head to Eclipse Walk with Light in Huntsville, to immerse yourselves in a light to sound forest walk filled with thousands of lights.  Huntsville's newest attraction is free for guests of Deerhurst to attend so make sure you grab your voucher from checking in, and pre-register online.  Bundle up and prepare to stare in wonderment at this beautiful attraction.
Day Three: See You Soon!
Did someone say sleep in? With our 11am checkout you don't need to worry about the alarm, make a coffee in your room and enjoy in bed or watch the sunrise on your balcony and appreciate daylight savings, just a little. If you haven't yet checked out the pool or hot tub go for a morning dip and float on to reflect on your weekend. Feeling relaxed and refreshed you can check out at 11am and say see you soon to Deerhurst, because we know you'll be back! 
Of course a trip to Muskoka wouldn't be complete with a few more local stops along the way so make your way into the town of Huntsville to stop for lunch and check out some local shops before you head on your way.  Feeling like you need to soak in a few hundred more giant trees and beautiful views before heading back to the 'burbs? Algonquin Park is just 15 minutes away and has it all.
Who knew there was so much to soak in, in this in between of not-fall-not-yet-winter time. In Muskoka it doesn't matter what season you're in, theres Muskoka Magic to be had any day.  Take advantage of our Late Fall Special for 20% savings on weekday stays and 10% on weekends until December 16th. 
---