Chef Vikram Vij Will Heat Up Winter in Muskoka with the Richness of Indian Cuisine at Deerhurst Resort
Deerhurst Resort Thrilled to Host One of Canada's Most Celebrated Chefs, January 27 – 29, 2023
It's taken almost three years to come about but celebrity chef and former Dragon, Vikram Vij will finally bring his culinary journey all the way from the West coast to Deerhurst Resort in Muskoka this winter. During the weekend of January 27 – 29, 2023, guests at this landmark lakeside resort will have the opportunity to meet and mingle with Chef Vikram, as well as savour delicious Indian flavours from menus custom designed specifically for this weekend event.
"We've waited a long time to welcome Chef Vikram due to several pandemic postponements," explains Rory Golden, Deerhurst's Director of Food & Beverage. "We're thrilled that at last our guests can be treated to this exceptionally flavourful dining experience along with the warmth of Chef Vikram's storytelling and culinary insights.
Born in India, Chef Vikram made Canada his home over 20 years ago and remains a tireless advocate of Indian cuisine in Canada, and of buying and eating locally produced and sustainable ingredients. His Vancouver-based restaurants have been lauded as among the finest Indian dining experiences in the world.
For his special visit to Deerhurst, Chef Vikram will oversee the preparation for all dishes working with Deerhurst's Executive Chef, Gus Gulmar and the resort's talented culinary team which boasts several international chefs. During Saturday night's dinner, Chef Vikram will also share the inspiration and stories behind each dish throughout a curated five-course dinner featuring his famous Lamb Popsicles. Guests are encouraged to dress to impress with the vibrant colours of India to add to the rich cultural ambience of the evening. After dinner, Chef Vikram will be delighted to sign guests' copies of his cookbooks.
The weekend package includes two nights' shared accommodation, a Friday night welcome reception featuring a selection of roaming appetizers and an elegant five-course Saturday night dinner, with both evenings hosted by Chef Vikram. A selection of Niagara wines and specialty drinks including classic Indian Mango Lassi and gin and tonic (made with gin from India – of course!) will be available for purchase. Pricing for the two-night package starts at $351 per person, based on double occupancy. Taxes and a nightly resort fee, which includes access to a variety of winter recreational activities and resort benefits, are additional.
A limited number of reservations for the Chef Vikram Vij dinner on Saturday, January 28th will be available for local culinary fans in the Muskoka area. See the menu for An Evening with Chef Vikram Vij here.
Weekend package and dinner reservations for Deerhurst Resort's Chef Vikram Vij Weekend can be made online at deerhurstresort.com/vikram-vij.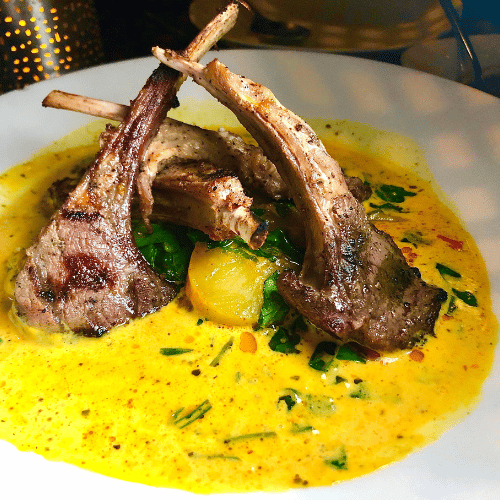 ---