Maple Roasted Heirloom Carrot Soup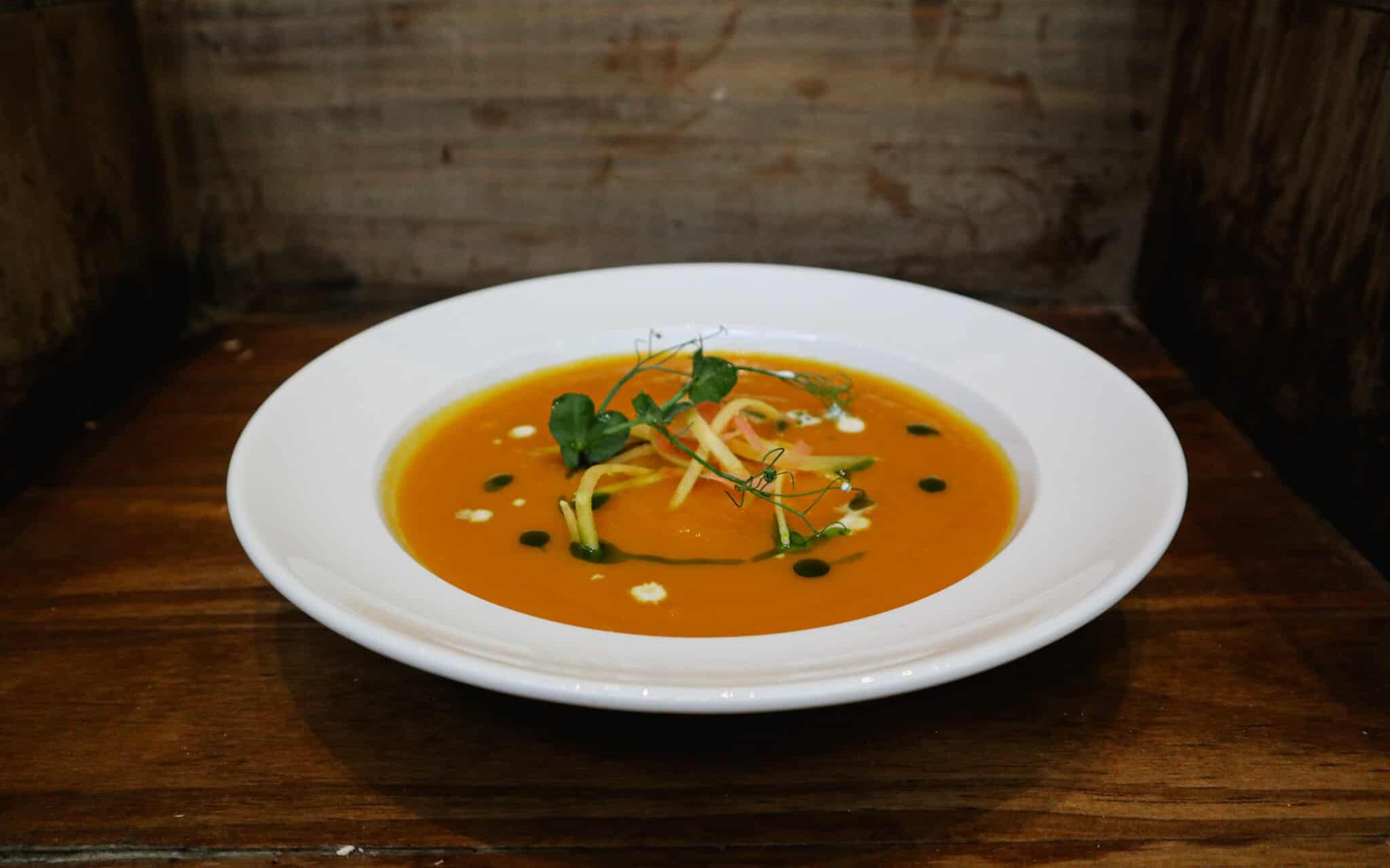 There's nothing like the sweet taste of maple syrup. If you know, you know; if you don't know, you NEED to know!
Deerhurst's Maple Sugar Shack has been operating every Spring since 1993, however, these same maple woods have been used for syrup production since the Emerson Farnsworth family settled here in the late 1870's! Deerhurst's interactive Maple Discovery Trail leads up to the sugar shack and is the perfect place to see how maple syrup is made both the modern way with an evaporateur and the old-fashioned way with buckets hanging on spiles tapped into trees.
Muskoka Maple Festival Specials | Throughout the month of April 2023 you can savour the sweetness of the sugaring season in Muskoka with maple syrup specials on Deerhurst's Compass Grill dinner menu and Maple Pub menu.
Maple Roasted Heirloom Carrot Soup is one of the popular dishes featured on the menu at the resort's restaurant, Compass Grill & Lounge. This delicious soup combines 'liquid gold' sweetness and earthy sweet heirloom carrots and can easily be made at home. So if you love a hint of maple syrup on the taste buds, or you're simply feeling creative, this recipe is for you!
Maple Roasted Heirloom Carrots Soup Serves 4
1 Kg heirloom carrots, roughly chopped
1 large onion roughly chopped
2 cloves of garlic
1.5 liter vegetable stock (more for thinner consistency)
1 tbsp extra virgin olive oil
1 tsp ground turmeric
2 oz maple syrup ( a/k/a liquid gold)
Sea salt and ground pepper to taste.
Method
Preheat the oven to 180 degrees Celsius, line a baking tray with paper and set aside.
Add all the chopped veggies, spices, oil and maple syrup into the baking tray and bake for about 40 to 50 mins until the carrots are cooked. Set aside to cool down before adding into the blender.
Add the roasted veggies and stock and blend it until smooth.
Transfer to a large pot and simmer for a couple of minutes just so the flavors combine together. Season to taste.
Serve it in your favorite soup bowl drizzle with saffron creme fraiche and top it with pickled ginger and leek slaw.
Pickled Ginger and Leek slaw
1 cup julienned leek
1/2 cup julienned pickled ginger
1 teaspoon minced garlic
1/4 cup rice wine vinegar
1 tablespoon finely chopped fresh cilantro
Saffron Crème Fraiche
¼ cup creme fraiche
1 pinch of Spanish Saffron
Add saffron to 1 oz of hot water, let it sit for 5 minutes or until it cooled off.
Strain it , whisk saffron water to crème fraiche . Season it with salt and white ground pepper.
Enjoy!
---