Summer Water Sports (SWS) at Deerhurst
June Availability: June 10 & 11 , June 15-17, June 23-25
Open Full Time June 28th – Early September
---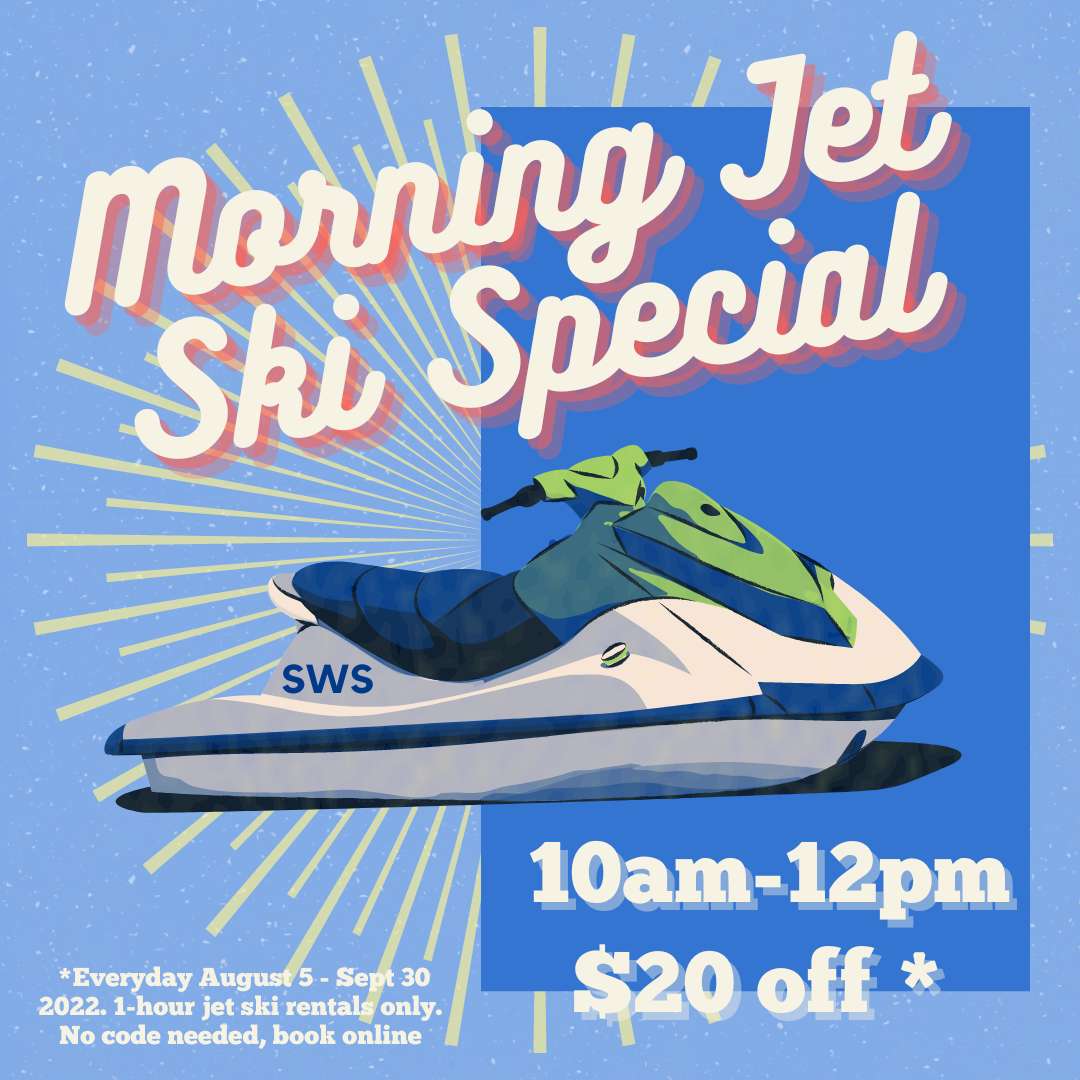 Muskoka's favourite ski show team SWS (Summer Water Sports) offers experienced waterski and wakeboard instructors who will have you up on the water and having fun, Muskoka-style!
Please note that all activities require advance reservation and a 24-hour cancellation policy applies. See details below.
---
Jet Ski Rentals
Please arrive 15 minutes before your scheduled time with your credit card for security deposit and your drivers license.
1 hour Jet Ski Rental – $185 (gas included)
3 Hour Jet Ski Rental – $350 + gas
5 hour Jet Ski Rental – $425 + gas
Seats 2 people, one switch allowed per hour, driver must be 18 years old and have a Pleasure Craft Card (boater's License) or able to take a temporary license test as well as G license and credit card for incidentals. Everyone must be comfortable swimming. Tour guide available, extra charges apply.
---
2023 SWS Watersports Clinics – Choose Your Activity!
This summer SWS is offering 30 minute, 1 hour and 3 hours sessions where you can enjoy your favourite watersport or try something new! Basic instruction included where needed. Choose from:
Waterskiing
Wakeboarding
Wakesurfing
Tube rides (3-person tube)
Pricing is per session; one switch of activity or person per 30 minute session. Up to 3 spectators may be allowed on the boat during the session.
30 minute session – $185 | Timing provides up to two runs, which are typically 15 minutes each. Split the runs between up to two people or can be just one person enjoying the runs.
1 hour sessions – $315 | Timing provides up to four runs, which are typically 15 minutes each. Split the runs between up to four people
3 hour sessions – $865 | Timing provides up to twelve runs, which are typically 15 minutes each. Split the runs between up to eight people
---
SWS Pontoon Boat Rentals
(Starting June 15th.) Captain your own cruise and explore the waterways around Deerhurst on one, two or four hour pontoon boat rentals. Must have Pleasure Craft Card. Maximum 9 guests.
1 hour session – $275 (gas included)
2 hour session – $365 + gas
4 hour session – $650 + gas
---
Instructor Only Clinic
Have your own boat? Hire one of our instructors to get you to the next level of watersports, or help drive your family while you enjoy the water with them.
---
2023 SWS Day Camp @ Deerhurst
Spend a full day in the water and under the sun at our state-of-the-art cable park. This camp is designed for anyone from beginner to expert wakeboarder and includes one-on-one lessons with our certified instructor/counsellors. Between runs, enjoy a game of volleyball, horseshoe, and other outdoor activities with the rest of the campers.
---
Cable Park Wakeboarding
(Open June 23, 24 & 25th then June 28 – Labour Day) Perfect for beginners! The cable park at Deerhurst Resort features a System 2.0 Cable which is powered by a small electric motor that pulls wakeboarders and waterskiers back and forth across Sunset Bay with a continuous ride. This system makes learning to wakeboard and waterski easy and playful. The upwards pull enables effortless starts and has proven to provide a steep learning curve for beginners. With its continuous ride and strong tension it also allows advanced riders to progress water tricks or improve their rail-riding skills rapidly. Typical bookings on the cable have participants scheduled for 10-minute rides on the cable. Although it sounds short, this is plenty of time on the water. It is enough time for someone to get the hang of riding on the system as well enough time to tire the average participant out. Lessons are booked in and completed on the dock before the scheduled time on the water.
Runs:
1 run on cable – $30
Lesson on cable – $45
Double run on cable – $55
Private hour – $150
---
Flyboard Lessons (until Labour Day Weekend only)
Ever wanted to fly like a superhero? Get your adrenaline pumping with this popular new watersport! Our world-class instructors will have you in the air in no time!
30 minute lesson – $155 (for one guest)
1 hour lesson – $285 (max 3 guests)
Must be 12 years old and must be comfortable swimming.
24 Hour Cancellation Policy for All Activities
There is no charge to cancel your reservation up to 24 hours prior to your booking. After 24 hours we are able to refund 50% of your reservation total. To cancel your reservation please email deerhurst@swsmuskoka.com or speak with our team at Heritage Cottage and the Activity Desk.
*All activities are dependent on weather and water temperature safety. Pricing is subject to change.