Eight Things Every Kid Must Do Before Winter's Over
Ready for the Best Winter Yet?
Remember when you were a kid and how much you loved winters? Playing in the snow, building snowman, tobogganing (when it was legal…), skating…There was endless fun waiting when all that fluffy white stuff fell. We've put together the ultimate winter checklist – 8 Things Every Kid Must Do Before Winter's Over –  that is packed with cool to-dos that every kid will love (and remind adults how much fun winter really is). Check-out the list below.
 Drive a Mini-Snowmobile!
Every adult knows how fun and exhilarating snowmobiling is, and now kids can join in on the fun. Yamaha Riding Adventures offers mini-sled rides for kids ages 6-10 years. Providing the latest Yamaha gear and snowmobiles fit for kids, they'll get a quick lesson on safety then get to enjoy a loop around the track. A must-do for any adventure seeking kid – hey they may even want to go a few times!
Go Tubing…In the Winter!
It's not fair that tobogganing got such a bad rap, because it's actually so much fun! Arrowhead Provincial Park in Huntsville knows how to bring on the fun. They have a tubing hill that is tons of fun for kids (and for those adults who never lost their playful side!). They even provide the tubes. There is a daily vehicle permit fee of $17/day, but gives you access to the tubing hill, 1.3km ice skating trail and snowshoe trails. Local tip: The park can get quite busy on the weekends, so consider a Sunday or midweek visit to avoid line-ups. 
Skate Through a Forest
Outdoor ice skating is the best, and it's on every kids list of things to do this winter. Muskoka has TONS of outdoor skating options. Muskoka resorts offer outdoor rinks and often provide use of skates and hockey equipment, plus there is the famous 1.3km ice skating trail at Arrowhead Provincial Park (Tip: Weekends can be busy so plan a midweek or Sunday visit).
Learn to Ski
Looking to get your kids out on the ski hill but dreading the crazy line-ups at the lifts? Hidden Valley Highlands Ski Area located in Huntsville prides themselves on short line-ups, which means more fun on the hill (and less complaining). With twelve runs, a terrain park, three quad chair lifts and a handle bar tow this ski hill is perfect for kids of all ages. And these are the hills that Olympic slope style gold medallist Dara Howell learned to ski on!
Ride a Horse
This winter let you kids try something different! Get out on the trails on horseback. Hidden Meadow Farms in Huntsville offers winter trail rides for ages 10+ that take you on a scenic trail through the Muskoka forest up to a lookout point. Have younger children? They also offer a Kids'n Ponies program for ages 5-10 . Kids love this interactive and fun adventure with ponies, where they will learn horsemanship through riding and non riding games.
Snowshoe Through the Woods
Snowshoeing has become one of the hottest winter activities, and that's because it's so fun and easy – anyone can do it! Kids will love walking on snow, and will enjoy adventuring through the snowy Muskoka forests. 
Build a Snow Sculpture
Get back to basics this winter and build something in the snow together! It's easy to brush off the simple winter activities, but in the end they can be some of the best memories!
Walk Through a Snow Maze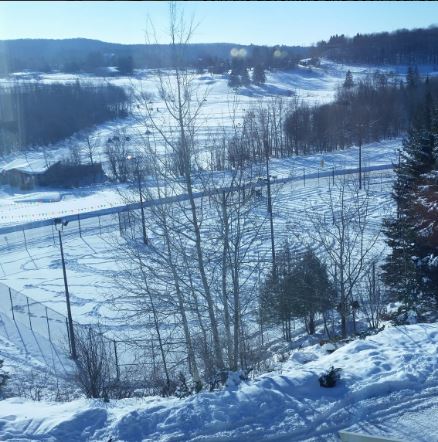 Why not get a little lost in a snow maze? Snow mazes or 'Labryinths' are popping up all over the place and that's because they are a lot of fun to do. There is a certain calming to them, and requires a little problem solving!
So, do you think you can check everything off this winter?
Ready to get outside and embrace winter? Head to Deerhurst Resort where you'll find everything to check off your kids winter must do list! Book your winter getaway and get excited because winter lives here.  Start planning and book now. Oh, and make sure to take advantage of the only long weekend this winter and check-out everything that is happening over Family Day Weekend.
Posted by Ainsley Theis.
---