How to Drive 400 Yards (OK 405 Yards)
Tips for Driving 400 Yards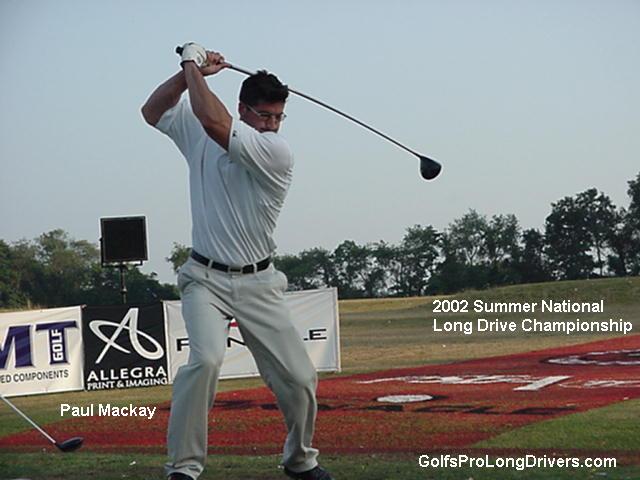 Paul Mackay knows how to drive a golf ball. Far. Very far.
In fact, the Toronto-based golfer knows how to drive one further than just about everyone. At the 2000 and 2001 Re/Max World Long Drive Championships, he placed 14th and 22nd respectively. At a competition in Pennsylvania in 2001, amongst a field of 75 of the world's top long drivers, he bested the competition by over 20 yards with a blast of 405 yards. At that same event he also posted an awe-inspiring swing speed of 157 mph and a ball speed of almost 220 mph.
Let's be honest, no one comes off the course talking about their short game. So we asked Paul for his secrets.
"When it comes to the game of golf, it's all about the drive," says Paul. "For most golfers, there's nothing more satisfying than a really long drive off the tee."
How did he learn how to drive the ball so far?
"At the Toronto Golf Show in 2000 I entered a long drive contest and finished first out of 1,500 competitors," Paul recalls. "I thought maybe I should harness this and perfect the technique."
So here are a few tips from the long drive champion himself:
1. Get a Coach 
"After I realized I could drive the ball far, I got a swing coach to help me with my drive and teach me to perfect the techniques," advises Paul. 
2. Swing as Hard as You Can
Sounds simple right? Paul says, "Yes, swing as hard as you can, but in keeping with your balance. This is where a good swing coach comes into play."
3. Equipment is Key
"Equipment has changed since I competed in long drive championships," Paul says. "Driver technology has come a long way. But before you invest in a new and expensive driver, it's important to talk to the specialists and get fitted with the one that's right for you."
4. Strength and Flexibility
Train your body. Paul says, "I worked out one body part a day multiple times a week to help keep my body in shape."
5. Practice, Practice, Practice
As Gary Player, a wise golfer once said, "The harder I practice, the luckier I get."
The steps seem easy right? "I always loved hitting a long ball, so it was easy to spend time on the driving range practicing," Paul says. He continues, "I got a coach, trained and then trained some more, hit golf balls – a ton of them – and trained every muscle to hit further and further."
Inspired to hit the course and start practicing your long drive? We are!
The golf team here at Deerhurst Resort is ready for another great season on the courses. With Deerhurst Highlands, which just ranked as the #4 course in Canada by Golf Advisor, opening May 5th and Lakeside opening April 28, golf season is upon us. Offering everything from one-on-one coaching to group programs, the Deerhurst golf team has what you need to get back out on the course and playing your best. 
Looking for Muskoka's best Stay & Play offers? Check out the spring midweek Golf on Us offer which includes a round at Deerhurst Highlands with your stay from just $84.50*/person, or the All-You-Can-Golf 3-night package with unlimited golf.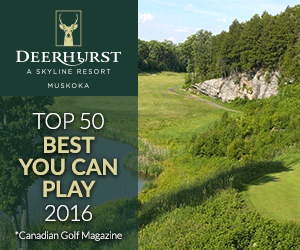 See you on the course!
Posted April 2017 by Ainsley Theis.
---