Flyboarding 101 with a World Competitor
Flyboarding Tips from SWS & Team CanFly's Geoff Hulet 
Let me guess, when you think of flyboarding your mind takes you to those TD commercials that ran a few years back, but trust us, it's not like that at all.
We sat down with Geoff Hulet who is a mega expert when it comes to flyboarding to get the down low on summer's newest and hottest sport hitting Muskoka by storm. As a member of the SWS (Summer Water Sports) team, Muskoka Flyboard and Team Can Fly, Geoff Hulet is a highly regarded pro when it comes to this sport.  Having been in the sport for almost 5 years now (he along with a few others got this sport up and running in Muskoka), Geoff competes around the world; United States, Dubai, South of France, China, you name it with the Canadian National Flyboard Team as part of the Muskoka Flyboarders, and in 2016 Geoff finished 7th in the world championships in Florida.
Before he became a pro flyboarder, Geoff Hulet competed as a barefoot skier and as a slalom skier. 
"I've been apart of the SWS team for about 12 years, and about 5 years ago in partnership with SWS a group of us created Muskoka Flyboard," Geoff says.
With their super talented team, Muskoka Flyboard competes worldwide. "There are three guys on Muskoka Flyboard and Team SWS that compete with Team Can Fly," Geoff says. He continues, "Aleks Skar won Shreveport Invitational in 2016 on the World Tour and Ashton Beukers is ranked #4 in the world."
Needless to say, there is a lot of talent when it comes to Flyboarding in Muskoka. "Flyboarding is not only our passion, it's our job," Geoff says.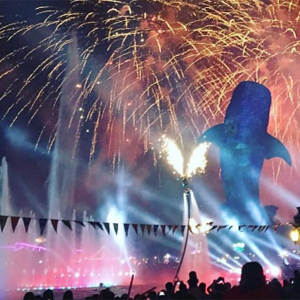 Geoff spends his summers in Muskoka and winters traveling, teaching and performing. "Last year I was part of a flyboard stunt show in China – it was pretty cool," Geoff says. He continues, "I'm proud of how far we've come and excited about where we are heading."
So what are a few tips when it comes to trying out this sport?
Listen. Geoff says, "When you are in the air, it's so important to listen to what the instructor is saying – they're the expert."
Be adventurous. "It's going to be a lot different than any other sport, but it doesn't mean it's hard, it just means it's new," Geoff says. "You can take the sport as far as you want. Meaning you can try and get height or try out some tricks like a dive or spin."
Relax. "Keep your legs straight, relax and empower your mind and body to lead you. Flyboarding is quite simple, look where you want to go, lean that way and you'll go there," he says.
Have fun. Seems obvious right? "A lot of first timers are nervous, so it's important to smile, enjoy and have fun – it's such a safe sport," Geoff says. "A lot of the time parents sign their kids up to try it out, then as they are watching their kids up in the air having a blast and learning something new they think 'hmm I want to try it' and book themselves a session."
"It's cool to see first timers because I get excited for them. I know they are going to love it," he says.
So ready to give it a go? Summer Water Sports runs right off the dock at Deerhurst Resort and offers waterskiing, wakeboarding, tubing and of course flyboarding from July through Labour Day. Book your session, meet Geoff and get ready for some serious fun. 
If you haven't made it to Muskoka yet this summer, now is the time! Deerhurst Resort offers a ton of great activities the whole family will love. From the Splash Zone to the NEW 60 ft. swim dock, boating, wakeboarding, two golf courses, Treetop Trekking, ATV tours with Yamaha, yoga, nature excursions with Robin Tapley…the list goes on and on. Learn more and book your getaway here.
Posted August 2017 by Ainsley Theis.
---