Six Ways to Make Your Wedding More Muskoka
Adding Elements of Muskoka to Your Big Day is a MUST!
These days thanks to the world of Pinterest and Instagram there are a thousand (ok million) ideas when it comes to décor and personal touches for your big day. But honestly, they can all start to look the same. But there's a magic to Muskoka that never fails to inspire. 
To give  brides a little cottage country inspiration for their big day, we're listing a few of our favourite Muskoka touches to include during your wedding celebrations – because you choose this area for a reason so why not incorporate it into your day!
Here are a few ideas to add that 'Muskoka feeling':
Candlelight campfire
How fun is this for a Fall or Winter wedding? A LED candlelight campfire is a great way to create that cozy atmosphere and incorporate a classic Muskoka pastime. Plus a 'campfire' provides a nice gathering spot for your guests to connect, relax and enjoy the conversation. Oh and Instagram will go crazy over snaps of this! All you have to do is simply gather enough glass candle holders of varying heights, purchase some battery powered white candles and arrange them in a cluster. We suggest adding a campfire ring  to make it even more rustic. 
Create a canoe bar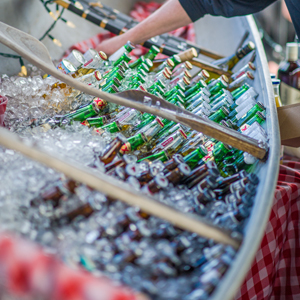 What's more Muskoka than a canoe? When planning your bar display why not incorporate a classic red canoe? Not only will your guests love it, but it's large and can hold enough cold beverages for a bigger wedding, plus looks amazing as part of the overall décor and theme. Ask your wedding planner or venue about adding this as an element to the bar, it's a simple thing to do, but goes a long way in personalizing your day. If you're wanting to make it stand out a little more, string some small white lights around it, that way when it gets later in the day, it will still stand-out and add some glow to the room.
'Signs, signs everywhere a sign'
Cottage country signs have become a big thing for weddings – not only are they functional but they are super cute. When planning out your wedding, think about the vibe you are going for. Beach weddings call for a more laid back style where an intimate winter wedding calls for more of a cozy feeling. Signs can be used for lots of things throughout the day, whether for directional purposes, menus, quotes, or fun messages to make your guests feel more relaxed. Your wedding venue should be able to refer you to a local company that creates these to make it easy for pick-up and set-up, or try and make them yourself!
Bring the Outdoors In!
So you decided to get married in the winter, and honestly who can blame you! Muskoka is a winter wonderland, making it a truly romantic, cozy setting. But it's cold…very cold, and holding your ceremony outside is just not going to happen, so instead bring the outdoors in. This couple got married back in February and so they brought in a ton of evergreen trees to really set the tone and incorporate what makes Muskoka so great – the outdoors and fresh trees.
Furry friends ARE MORE than welcome!
Incorporating your furry friend in your wedding is a must – they are family right? And as much as you love Muskoka, your furry friends will LOVE it even more! All that outdoor space, fresh air and water makes Muskoka the best place to bring them, and of course you want them there as part of the wedding! The best part? Before and after your big day, enjoying some downtime with your furry friend will be fun, whether hitting the hiking trails, or enjoying a swim in the lake (some Muskoka resorts offer a pet-friendly beach area).
Morning After Session – A Must!
So your wedding may have gone late and you may have gotten very little sleep but you can always rest later. This couple who got married Thanksgiving Weekend 2016 at Deerhurst Resort got up early the next morning to do a special morning after session with their photographer Scott Turnbull – and from the looks of this picture it was totally worth it!
Muskoka is a truly beautiful area to begin a marriage, and it's easy to incorporate a few little things to bring the beauty of the region into your day without spending hours scrolling through feeds. Your wedding planner and venue are wonderful resources to bounce ideas off of and talk about your vision because they live in the area and are in the industry so will have knowledge on how to put your ideas into action.
Engaged? Congratulations! Now start putting together your ideas for the big day. Whether you envision an intimate ceremony by the water or an elegant grand ballroom reception, Deerhurst Resort has a variety of indoor and outdoor venues that are perfect for your wedding in Muskoka. Learn more here or call us at 1-800-461-6522 to start planning your day.
Photo credits: Main image: Turnbull Photography, Story images: Kymberlie Dozois & Rowell Photography
Posted August 2017 by Ainsley Theis.
---