Food Pairing with Muskoka Brewery
Beer + Food Pairings with Muskoka Brewery
Think only cheese and wine pair well together? Think again! Deerhurst has just launched its summer menu at Maple Pub & Patio and we couldn't be more excited! All your favourite pub classics are featured throughout the menu including The Maple Burger, Fish Tacos, Pulled Smoked Chicken Mac'n Cheese and so many others! With Deerhurst's recent partnership with Muskoka Brewery, we asked them to help pair some of our favourites from the menu with some of their favourite craft beers, and let's just say, it's a match made in cottage country heaven. 
Check out a few of the items below and which Muskoka Brewery craft beer they best pair with – then try some pairings on your own or head into Maple Pub & Patio at Deerhurst to try for yourself.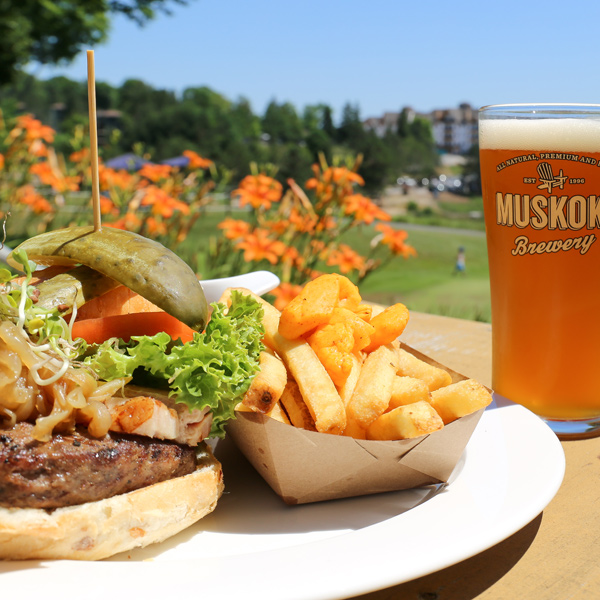 Pairing with Muskoka Brewery's Mad Tom
The Maple Burger which consists of maple smoked bacon, maple caramelized onions and Quebec brie cheese pairs well with Muskoka Brewery's Mad Tom. The sweet maple used throughout the burger contrasts with Mad Tom's bold hop flavour, toning down the bitterness while allowing it to cut through the savory caramelized onions and creamy brie cheese – the perfect palette cleanser for this rich (and delicious) burger.
The New York Steak Sandwich and Mad Tom were meant to be. The heat from the spicy chipotle that is brushed on the Naan bread contrasts with the bold citrus hops in Mad Tom while slicing through the creamy mayo. Crispy onions and tender steak leave behind a satisfying coating for Mad Tom to cut through for a clean finish.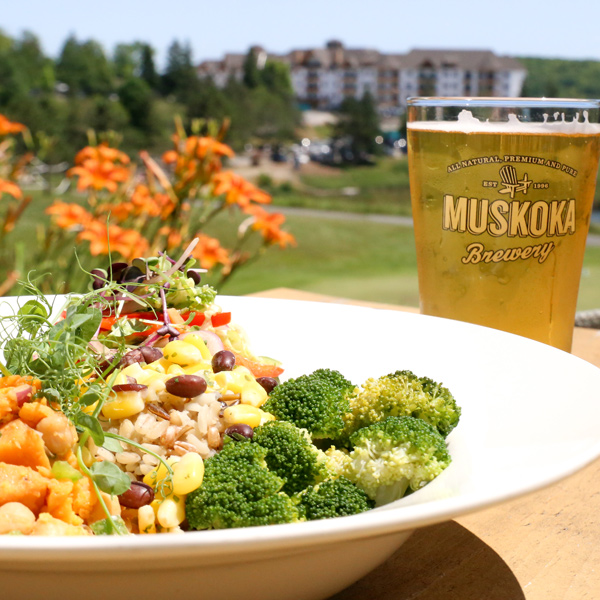 Pairing with Muskoka Brewery's Detour
Warm seven grain rice, corn and bean salsa, red and green peppers, broccoli, sweet potato, chickpeas with Asian sesame dressing make up The Maple Power Bowl which pairs well with Detour. The pineapple, mango and juicy peach flavours complement the similarly sweet, fresh ingredients in this bowl, allowing the hoppy fruit notes to enhance and brighten the peppers and salsa. Detour's crisp bitterness cuts through the sweet sesame dressing and crispy onions for a wonderfully refreshing pairing.
Detour's crisp carbonation will break through the sharp, aged cheddar and salty-sweet maple bacon while the tropical stone fruit hop flavours complement the fresh tomato, lettuce and guacamole in the Maple Chicken Sandwich for a flavourful and fresh combination.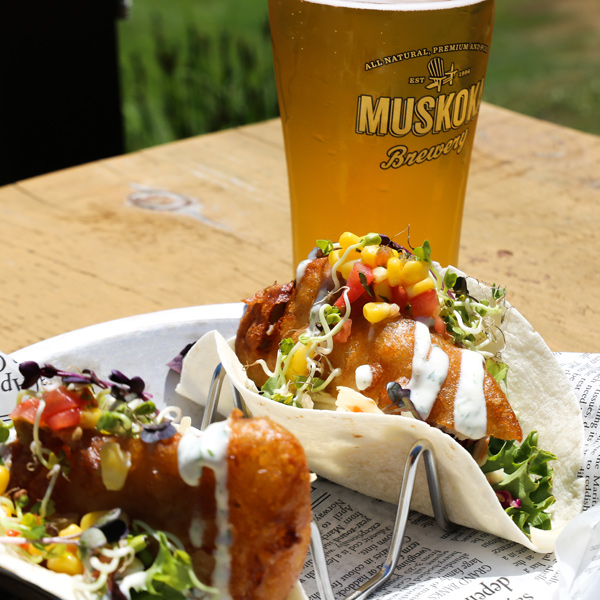 Pairing with Muskoka Brewery's Cool As Cuke
Fish tacos are hands down a summer favourite and what better partner than Cool As Cuke, launched in 2016 at Muskoka Brewery as part of their Moonlight Kettle Series. This pale ale is the perfect balance of refreshing cucumber and aromatic lemongrass. A natural pairing with the Fish Tacos, the lime crème fraîche in the dish makes an outstanding pair with the zip of the lemongrass and calming cucumber. The crisp, light hops pair well with the crispy beer batter and allow the toppings to shine through in this stellar taco and beer combo.
Cool As Cuke also pairs well with the Mediterranean Chicken in a Pita as it enhances the tzatziki and cucumber and is the perfect contrast to savory feta, olives and onions, bringing an extra fresh zip of flavour to this meal.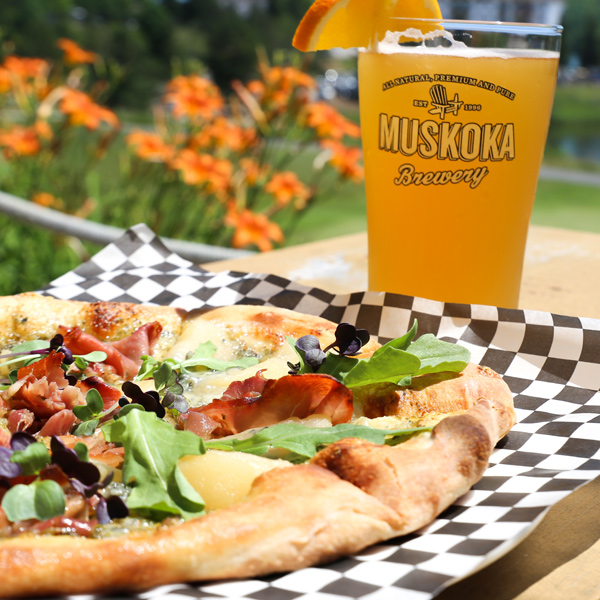 Pairing with Muskoka Brewery's Summerweiss Tropical Wheat
Did someone say pizza? These two pizzas featured on the menu both pair well with Muskoka Brewery's Summerweiss Tropical Wheat.
Tropical flavours of passion fruit and mango enhance the juicy, smoked pears that top this pizza, while expertly contrasting with the salty prosciutto for a fan favourite, sweet-and-salty combo. The Blue Cheese and Pear Pizza contrasts the bright fruit notes, making every bite the perfect contrast.
Similarly, the Mushroom and Goat Cheese Pizza pairs with the Summerweiss Tropical Wheat as well. The goat cheese and crème fraîche highlight notes of juicy mango and passion fruit as Summerweiss shines through in this pairing. A beautiful contrast to the earthy mushrooms, balsamic is the perfect counterpart to introduce a sour tang to the sweet fruit finish. 
Hungry yet? Pairing food with beer is becoming increasingly popular and with great craft beer created right here in Muskoka, it's easy to create experiences your tastebuds will love!
Summer dining at Deerhurst plus NEW summer menus. With four onsite restaurants finding all your favourites is easy! From The Antler Steakhouse where the menu highlights a variety of AAA Canadian steaks to Maple Pub & Patio where you'll find all the pub classics, filling up for a day of adventure never tasted so good! Learn more about dining at Deerhurst here.
Posted July 2018.
---