Off The Beaten Path: How to Check Out Fall Colours Like a Local
Muskoka is known for its beauty in the summer, yet elsewhere is incomparable to the marvelous fall colours that headline an autumn trip north. No beauty can match the radiant fall red, yellow and orange colours reflecting off of peaceful lakes. However, the exquisite views only last just less than a month in the trees before leaves start lining the trails to make a beautiful golden hike. What makes cottage country so appealing is that it is magnificent in all seasons of the year, although known internationally for these fall colours. It's something so stunning it should be on every Canadian's bucket list, and it is on many, which can make for a busy time up north. Here are five ways to avoid the crowds and venture off the beaten path to enjoy one of the greatest gifts of nature.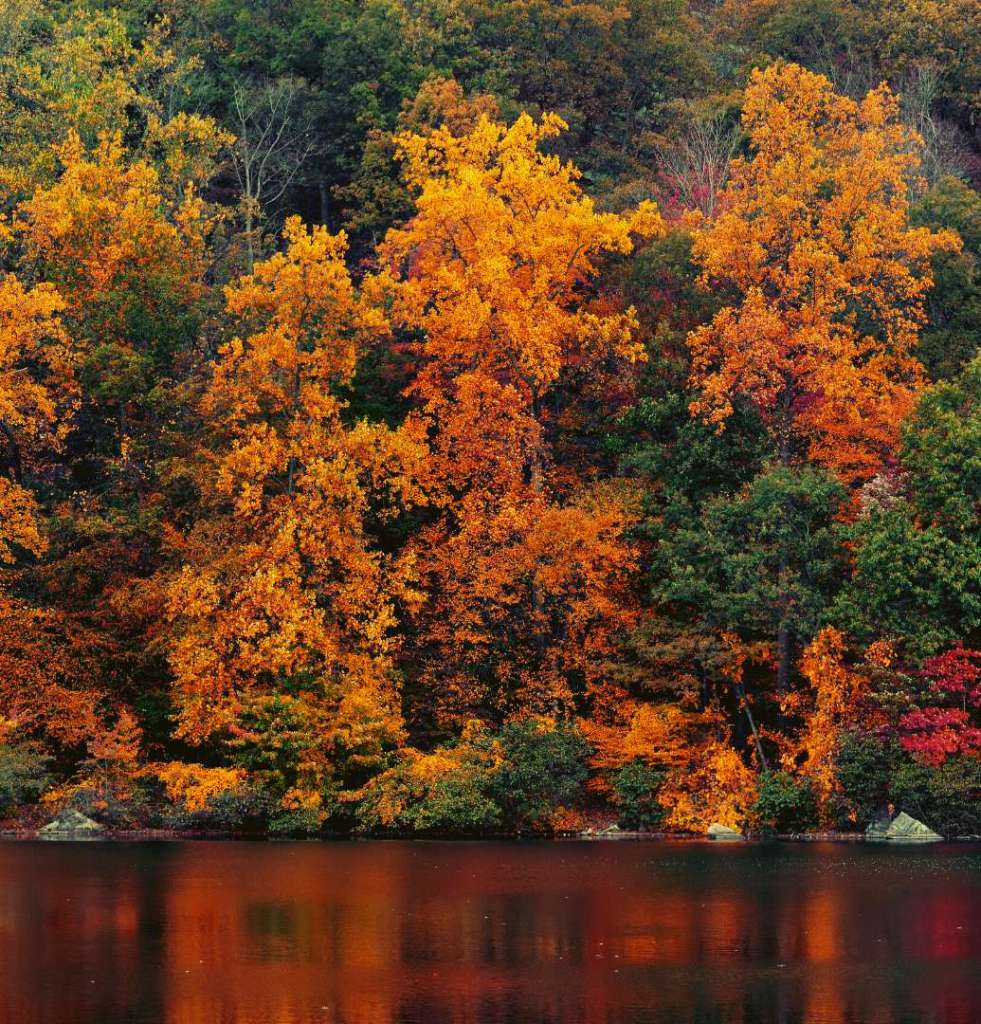 5 BEST WAYS TO EXPERIENCE THE FALL COLOURS:
HIKING
Hiking is one of the most common and traditional ways to take in nature. With that being said, it is the most popular, which is why it can get a bad rep with long lines and  big crowds. Lucky for you, these trails and trips will help you avoid all that and you'll be able to enjoy the grace and beauty of the Muskoka colours.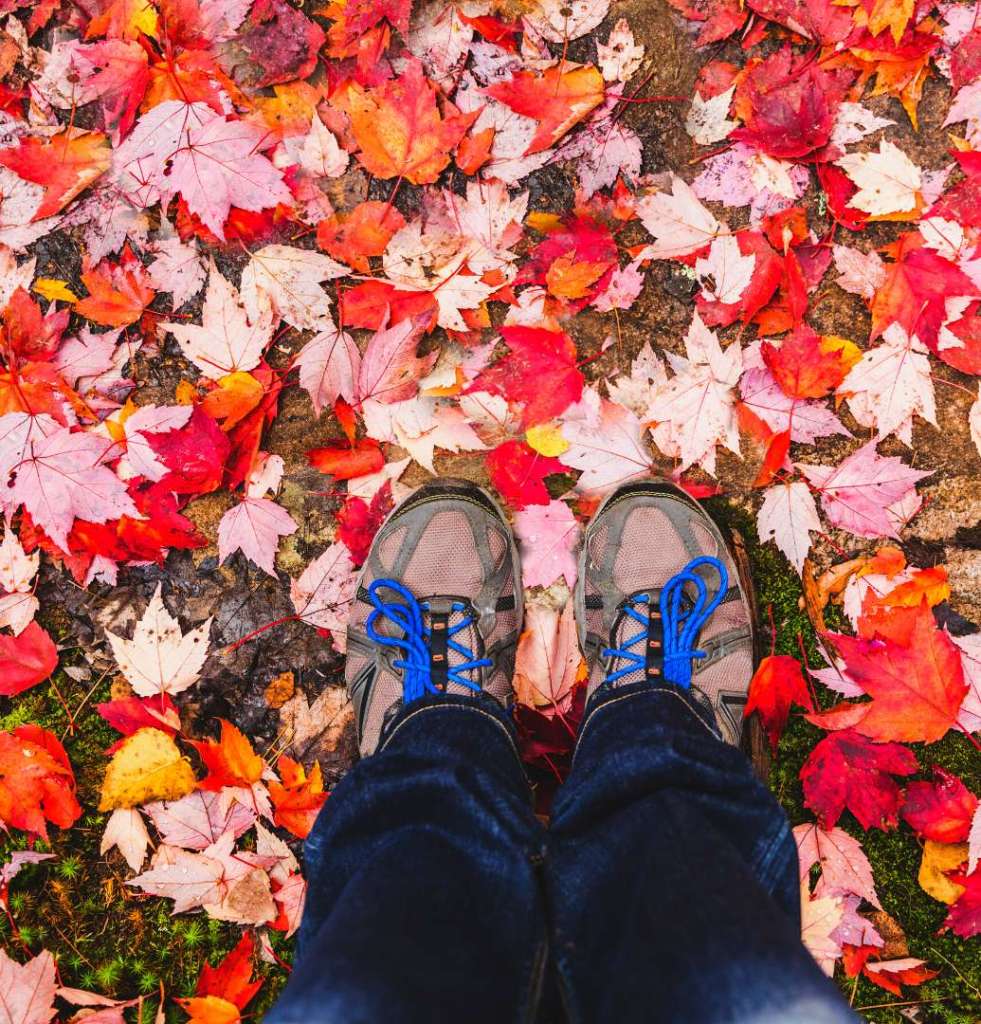 Head on over and pick up a hiking map from the activity desk and explore Deerhurst Resort's 760 acres. With two unique hiking trails, they present different scenery and views to appreciate the outdoors. The Lookout Trail starts just opposite the resort entrance and rewards the uphill trek with magical views of the resort grounds and Peninsula Lake stretching off into the distance. A short drive across to the other side of the canal brings you to the Sanctuary Trail, a 5km resort-owned trail hidden within the Woodland Heights neighbourhood. This loop has five different routes and meanders through dense woods, skirting wetlands with a rushing creek poking through here and there.
Hunter Bay Trail, a mix of natural surfaces and floating docks is less than a 15-minute drive from Deerhurst Resort. This 4.6km trail will give you all elements of nature, like leaves dancing while walking beneath the trees and a calming view of colours reflecting off Hunters Bay. This is the ideal place to walk, run, bike, and fish this autumn, all while taking in its unmatched scenery. 
Algonquin Provincial Park offers some of the most remarkable views, wildlife & colour experiences in Muskoka. In the fall it's a tourism hot spot that locals try to avoid, due to the large crowds and line-ups. No fear! We want you to enjoy all Muskoka has to offer. Here are our 3 tips to make sure you enjoy your time and beat the lines.
AVOID WEEKENDS

– Algonquin park is busy all year round, especially on weekends. If you want to see all the park has to offer without someone stepping on the back of your heels, we recommend visiting the park Monday-Thursday. Visiting during the week will allow for the wilderness to be much more quiet and peaceful.

THE EARLY BIRD GETS THE WORM

– If going to the park during the week isn't a part of your schedule, then we have a tip for you. The earlier the better. We know nobody likes to wake up early on vacation, but to avoid the mass of vehicles and people, sometimes you gotta do what you gotta do. Algonquin Parks' daily permits are from 7:00 am-10:00 pm. To ensure you have trails and water access to yourself for some time, the closer to 7:00 am the better! . 

 

BOOK AHEAD

– On the Algonquin Park website, daily permits can be booked five days in advance. This helps with knowing that a permit is secured for your trip. During the fall months, it is not uncommon for permits to sell out and for the park to close its entrance with the large number of explorers it sees.
BIKING
Exploring the colours in different ways is a great way to see things you otherwise wouldn't. Deerhurst Resort offers two different types of bike rentals. Elby e-bikes give you the freedom to explore and cruise with minimal effort while mountain bikes are suited for an exhilarating adventure on the trails.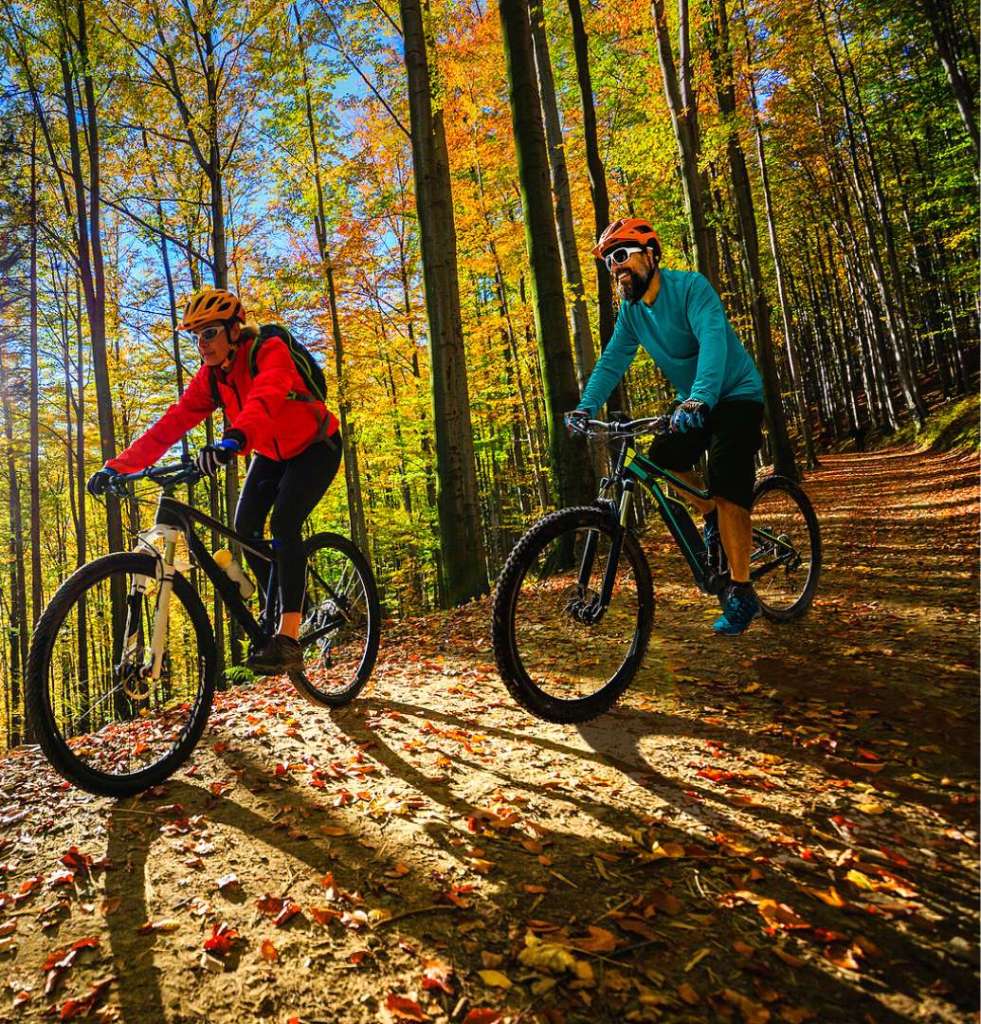 Thanks to the Huntsville Mountain Bike Association, Deerhurst Resort now has mountain bike trails right across the road. These trails are designed for bikers of all ages and experience levels and are only accessible to Deerhurst guests & HMBA members. Due to these restrictions, you can rest assured the crowds will be kept at bay and you might even luck out with a section of trail all to yourself! 
For individuals looking for a little more adrenaline pumping through their veins, we recommend the Hidden Valley Mountain bikes trails. These trails range from easy to more difficult. Biking through Hidden Valley Ski hill will allow for beautiful scenery and lush colours.
PADDLING
The lake is the place to be in Muskoka – not only in the summer but in the fall too! Canoeing and kayaking in the fall are peaceful experiences like no other. Not only does it allow you to see the vibrant colours from afar, but you can see up close how the colours twinkle in the water. Depending on the season, Deerhurst extends its waterfront hours as long as mother nature will allow, meaning most years it's extended until Thanksgiving weekend. This is a breathtaking adventure all guests should enjoy.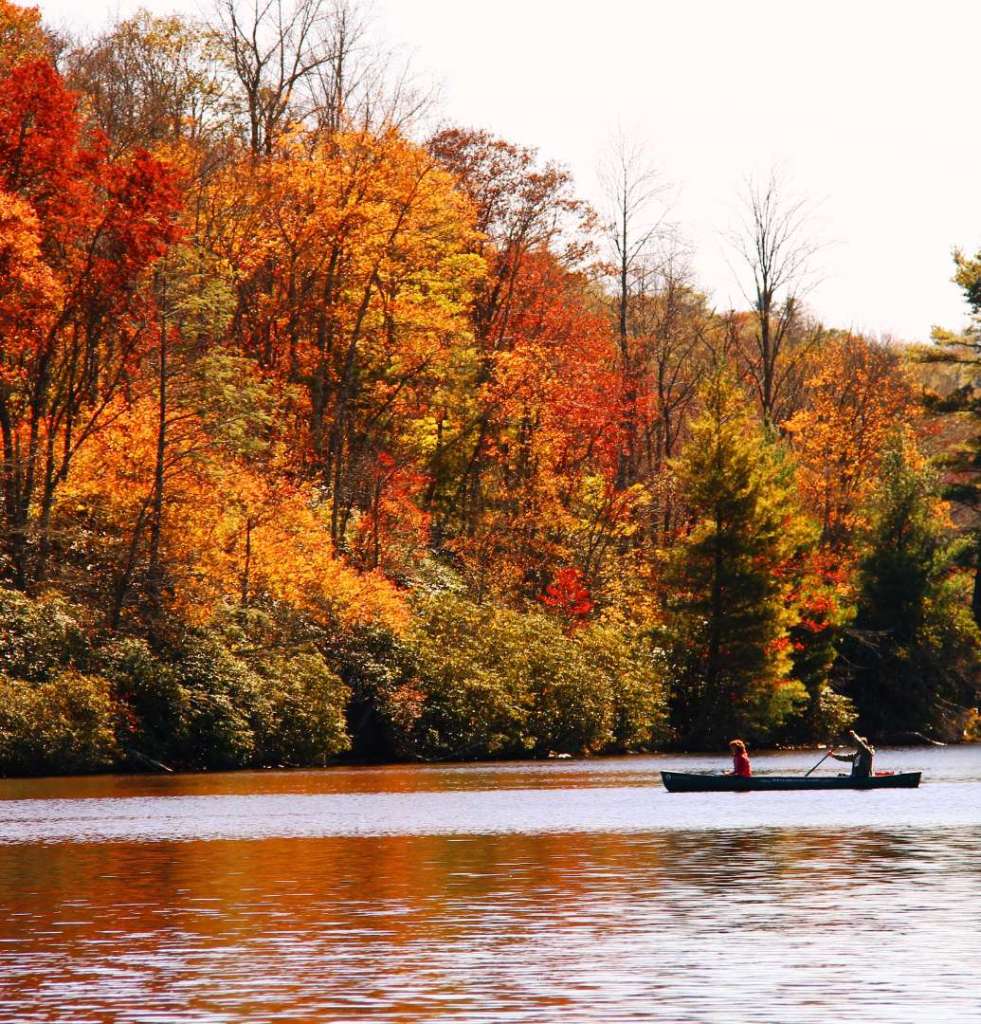 TREETOP TREKKING 
Treetop Trekking is a perfect way to combine the beauty of autumn and the thrill of adventure. This is a great way to challenge yourself and others to try something new while in cottage country without a worry of  bugs and hot temperatures. There is no better way to get closer to the fall colours, than climbing and zip lining through the trees.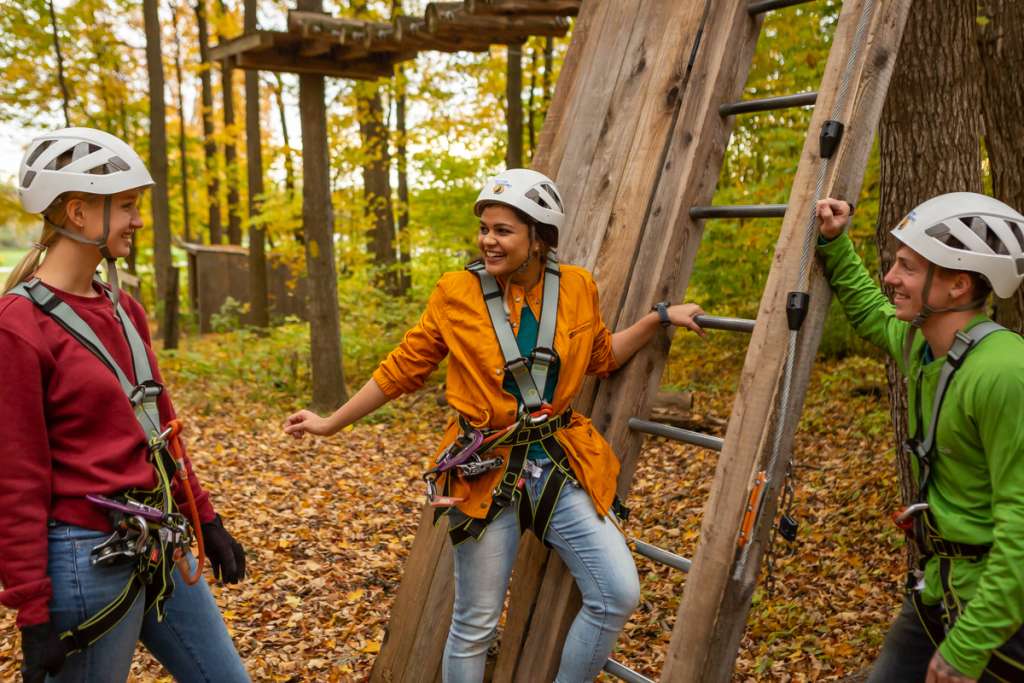 ATVING
Looking to explore the colours by trying something out of the ordinary? Take Off The Beaten Path to the next level and explore the majestic beauty of fall in Muskoka on the latest Yamaha off-road vehicles, including ATVs and side-by-sides. Under the guidance of expert instructors, you'll be able to explore fall in a whole new way. Enjoy some quality time with friends and family and the staff will teach you the rest!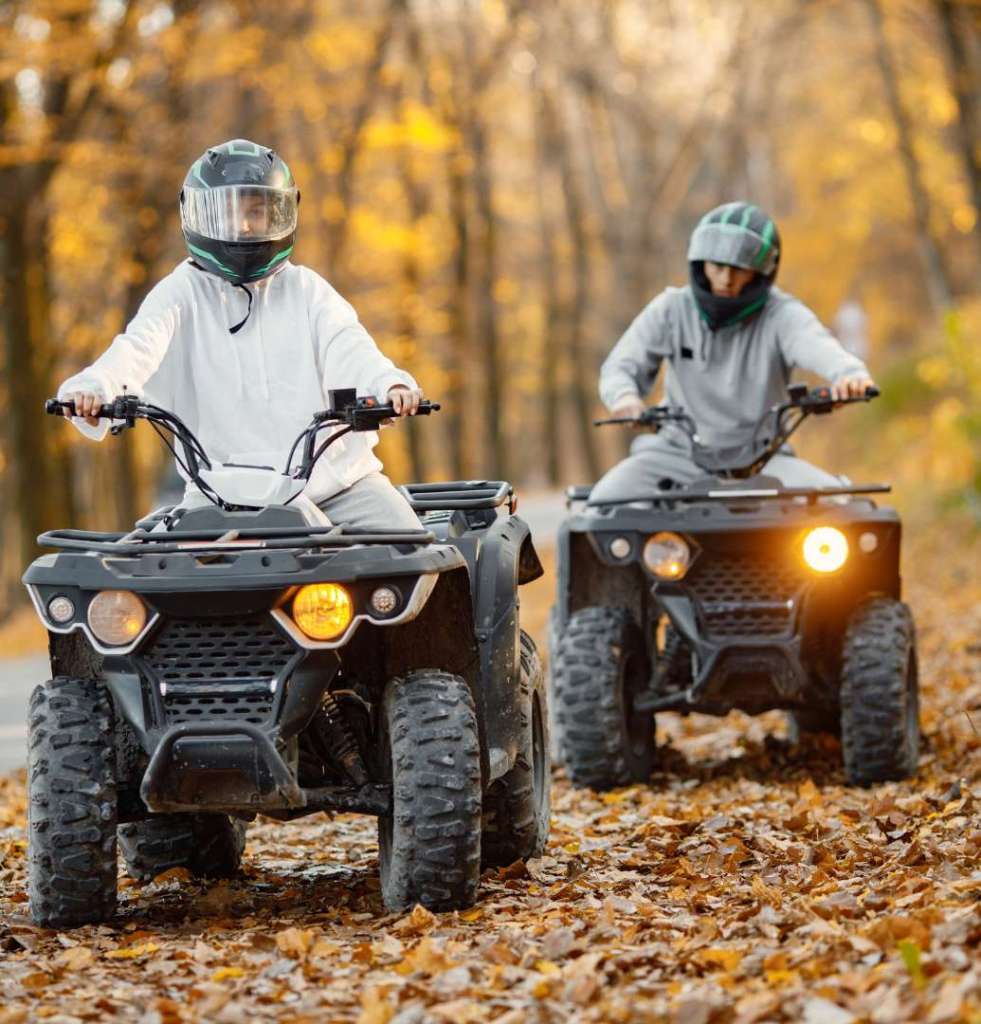 There are countless ways to enjoy Muskoka, making it a great fall destination. A vacation to cottage county helps you unwind and appreciate the smaller things in life. Now that you've starting to visualize your fall getaway, here are some fall packages you can book to experience the most beautiful time of the year!
Included in these packages and resort fee are access to canoes and kayaks, beach and pools, (until thanksgiving, weather permitting) tennis courts, hiking trails, 9-hole golf green fees at Deerhurst Lakeside after 1pm along with other benefits for everyone in your room who's ready to explore.
---