How Deerhurst's Maple Sugar Shack Sweetens Springtime in Muskoka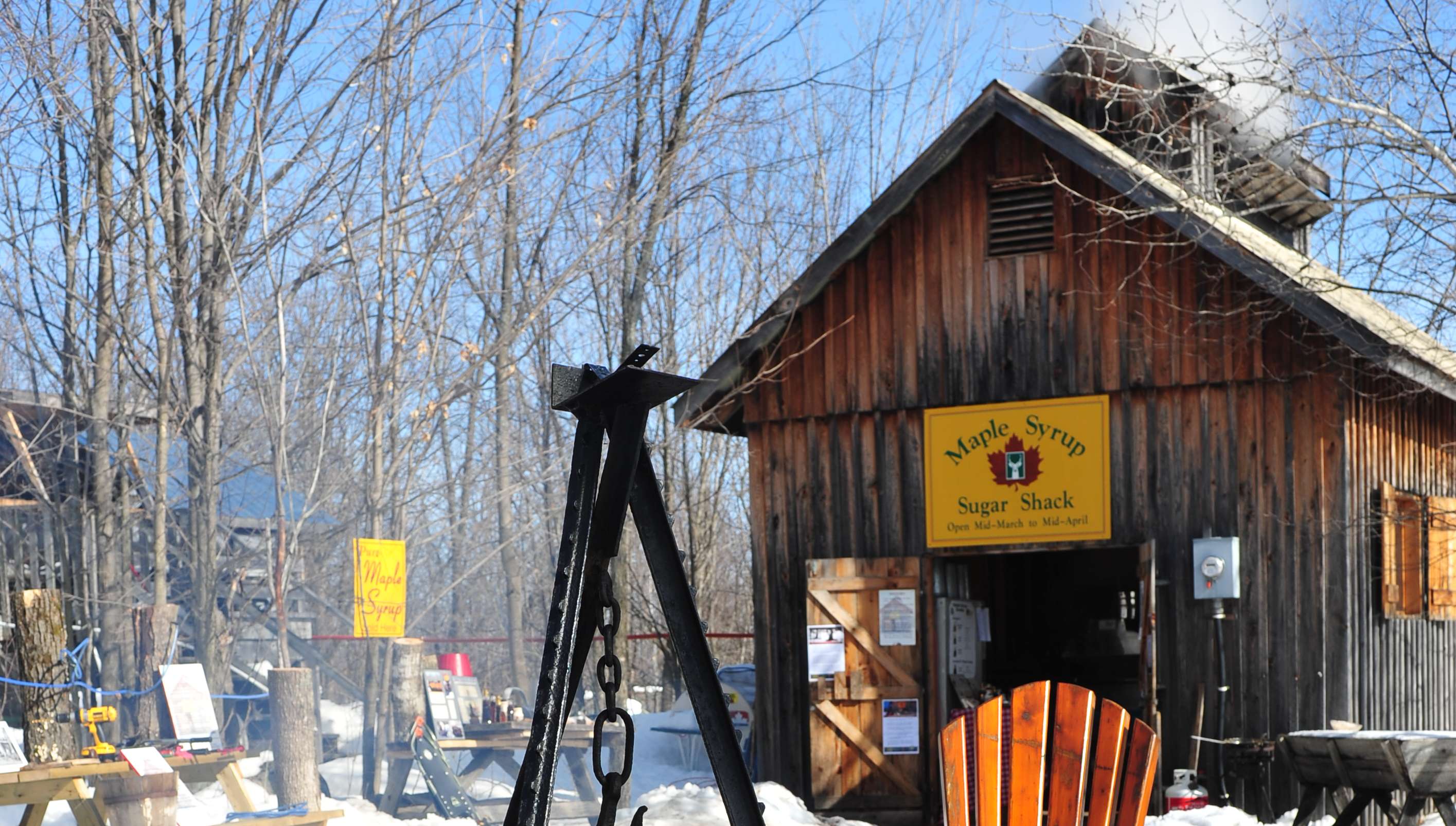 While most of the country spends April obsessing about the spring to come, those in the know appreciate that April is in fact its own unique season: maple syrup season! The warming days of April bring with them to Muskoka this annual tradition, and there's nowhere better to experience a 'taste' of spring than Deerhurst Resort.
Every spring, starting from March Break through to mid-April, guests can drop by Deerhurst's own rustic sugar shack where Brian O'Donoghue of Sweet Muskoka shares the traditional and modern ways of making sticky, sweet, ever-so-good maple syrup. The sun has special warmth at this time of year, so a visit to the sugar shack is a welcome opportunity to venture outdoors. Brian is there whenever the sap is running so his schedule is somewhat by chance.
"Well over a thousand resort guests visit the Deerhurst sugar shack every spring, with many returning year after year," says O'Donoghue. "It's especially popular with new Canadians who are experiencing maple for the first time and are fascinated by this natural phenomena and the historical context of maple within early pioneer settlements." 
In early Muskoka, when imported sugar was too expensive for most families to afford, making maple sugar from sap was an important annual rite. The methods they used—that of using a spike and bucket to gather the sap and a campfire to boil it down—are demonstrated by O'Donoghue for Deerhurst guests. When you consider that it takes 40 litres of sap to make one litre of syrup, the effort involved becomes apparent.
Today Deerhurst Resort is an active and fully-modern syrup producer that has evolved beyond these relatively primitive means.  The modern system, which O'Donoghue reveals, has more than 5 kilometers of tubing funnelling sap through the forest to a large evaporator. This way the resort produces over 1000 litres of syrup every year, which is used in the resort kitchens and is available for sale.
"There's something inherently appealing and so purely Canadian about the whole maple syrup phenomenon," says Laura Kennedy, Director of Marketing. "Its distinctive flavour, which is so good on its own over pancakes or rolled to make taffy in snow, adds just the right touch of subtle sweetness to so many dishes, from soups to mains and of course, desserts. Every year, Executive Chef Golden and his culinary team love creating new recipes with our maple syrup. And every year our guests and dining patrons love tasting what they come up with!"
Highlights of Deerhurst's 2019 3-course "A Taste of Maple" dinner menu,  include a delicious roasted tomato-maple syrup soup topped with maple crème fraîche (a recipe Executive Chef Rory Golden demonstrated on CP24 – see the how-to video here), a maple-cured rainbow trout that screams Cottage Country, and a sinfully good maple-infused crème brûlée for dessert (you did save room, didn't you?).
As Chef Golden stresses, there is a huge difference between real maple syrup and the mass produced syrup we typically find lining supermarket shelves—real maple syrup, for example, turns a stack of pancakes into an otherworldly breakfast. Be sure to taste for yourself!
Deerhurst is a proud participant in the Muskoka Maple Trail, a month-long celebration of the harvest involving restaurants and maple syrup producers alike which culminates a street festival on the last Saturday of the month in downtown Huntsville. As the maple trail's grand finale entertainment, buskers, vendors and more maple-inspired food than your appetite will be able to handle. Learn more at discovermuskoka.ca/muskoka-maple-festival.
Maple sap runs for only a brief window, and so too does the sugar shack at Deerhurst Resort and the maple-menu it inspires. Visit before April 26, 2019 to savour the bounty of the springtime Muskoka woods. 
Written by: Andrew Hind
When exploring the Muskoka Maple Trail, take advantage of Deerhurst's Spring It On special and enjoy up to 20% savings on accommodation, spa and dining — and yes, that is applicable for Deerhurst's Taste of Muskoka menu. Select dates; see details.
Posted March 2019 by Jasmine Chenier.
---