Book Direct for Our Guaranteed Best Available Rate:
BOOK NOW
The Greens Resort Homes at Deerhurst
RE-OPENING UPDATE: Due to provincial Covid-19 measures in place, the resort experience at Deerhurst will be somewhat difference this year for the comfort and safety of our guests and hosts.
See "Your Deerhurst Experience This Summer" for complete details about what Covid-19 measures, activities and dining experiences to expect as the resort re-opens. This information will be continually updated as restrictions ease and the resort experience evolves. Please also be aware that our Reservations office is currently open from 9am – 5pm with limited staffing. For future stay reservations please book online, call 1-800-461-4393 or send an email to info@deerhurstresort.com.
The Greens Resort Home Rentals at Deerhurst
Sporting a relaxed look with modern comfort and Muskoka-inspired ambiance, these Huntsville accommodations are conveniently located near the Deerhurst Pavilion, surrounded by Deerhurst Lakeside golf course – hence their name, The Greens. Deerhurst's resort homes are fully equipped with everything you need for a fuss-free stay without daily housekeeping.
Deerhurst vacation rentals are located just a short 5 minute drive from downtown Huntsville and 45 minutes from Algonquin Park, making them the ideal selection for your Ontario vacation in Muskoka.
View Deerhurst Resort map for accommodation locations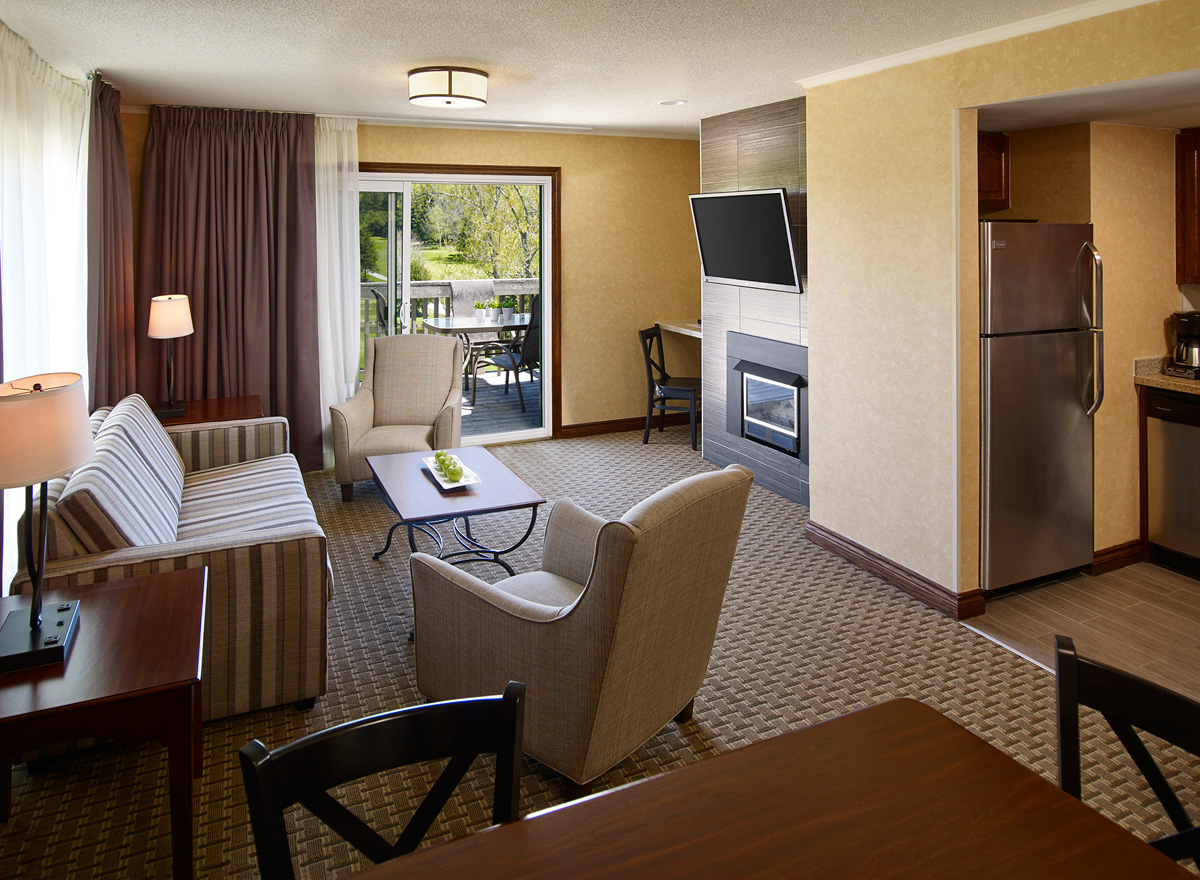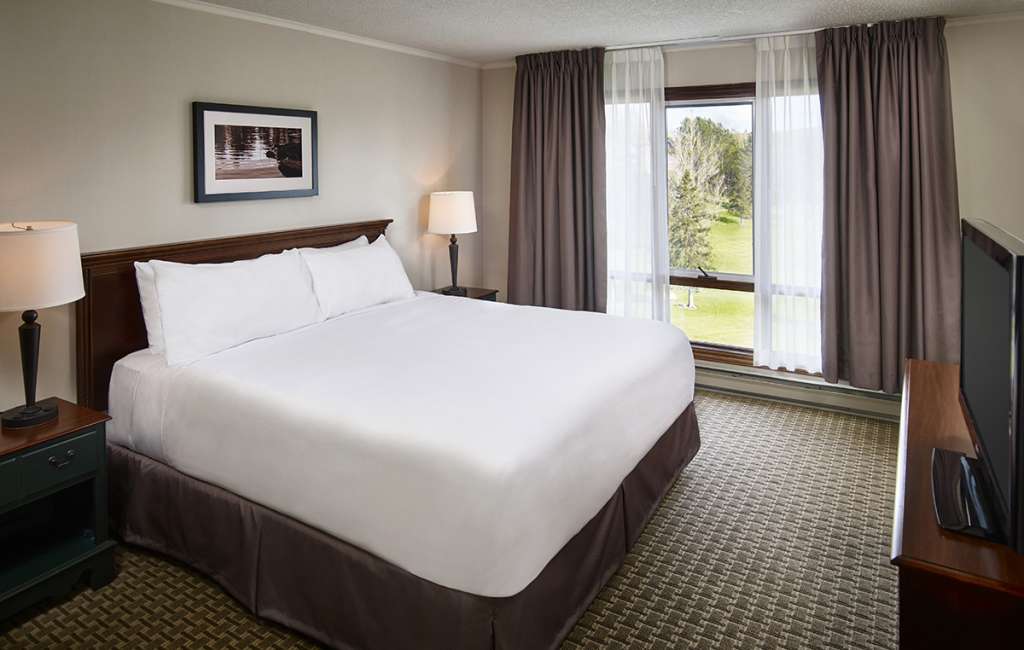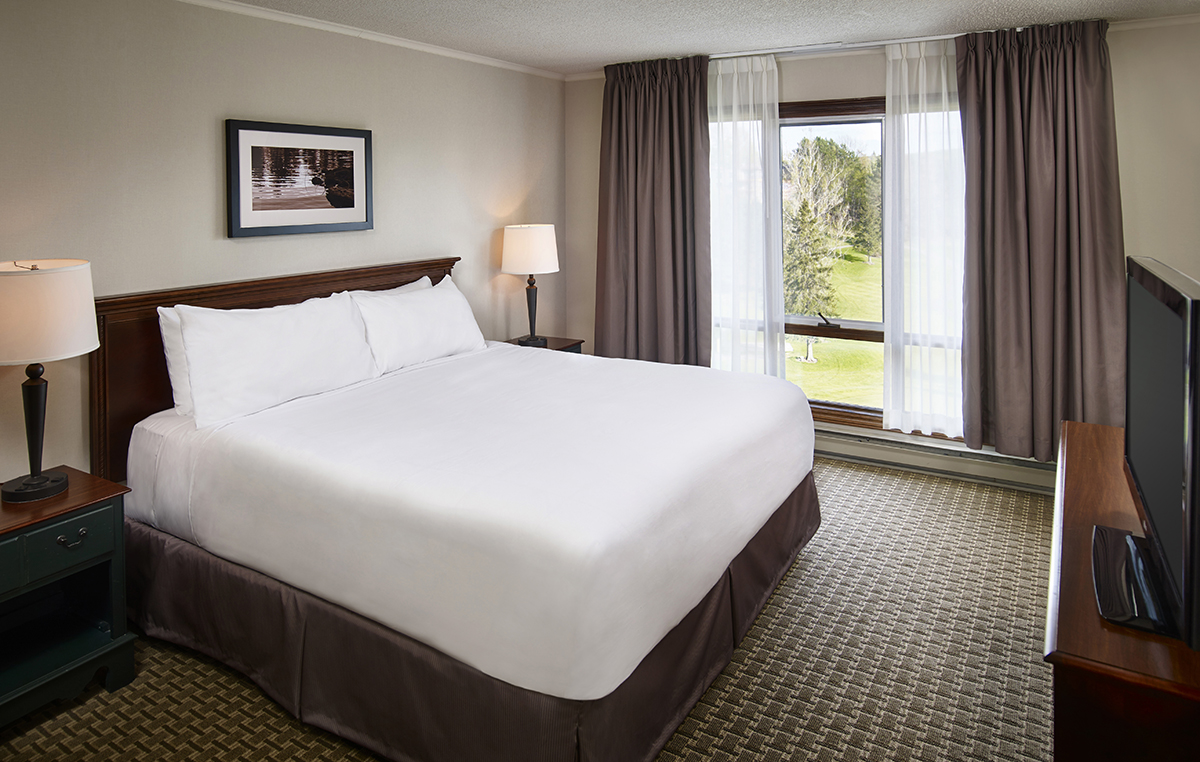 The Greens resort homes come complete with a kitchen with full size appliances, microwave, toaster, kettle, coffee maker, pots, pans, dishes and cutlery, a dining room and a living room with stereo, TV, DVD player, and fireplace. Most feature balconies with various resort views. Layouts and views vary.
No daily housekeeping service is provided in these units. See services provided for this vacation rental accommodation here.
One Bedroom: Master bedroom with King bed; one bathroom.
Two Bedroom: Master bedroom with King bed and a second bedroom with two Queen beds; two bathrooms.
Three Bedroom: Master bedroom with King bed, a second bedroom with two Queen beds, and a third bedroom with one Queen bed; three bathrooms.
or call 1-800-461-4393